LeBron James Makes The Samsung Galaxy Note II Look Average-Sized
Samsung's giant Galaxy Note II is now available on T-Mobile, and will come to all other major U.S. carrier through the month of November. To advertise the 5.5-inch smartphone Samsung enlisted the help of one of the few men on the planet who can make the phone look like a average-sized smartphone, LeBron James.
In a new ad LeBron James, one of the biggest names in the NBA, carries the Samsung Galaxy Note II with him throughout his day. He uses the phone to take photos, tweet, receive text messages, and make phone calls. He also uses the Note II to entertain his kids who use the stylus to give him a red afro in a photo.
https://www.youtube.com/watch?v=Ie0mAnjz1Oc
Throughout the video the Samsung Galaxy Note II in James' hands looks like a Samsung Galaxy S III, or maybe even a Galaxy S III Mini in the hands of an average person. The Note II looks like Samsung made it to fit the basketball player's hands perfectly. It shows that Samsung's market for the Note II isn't just people who want a small tablet that doubles as a phone, it's also people with giant hands that need a larger phone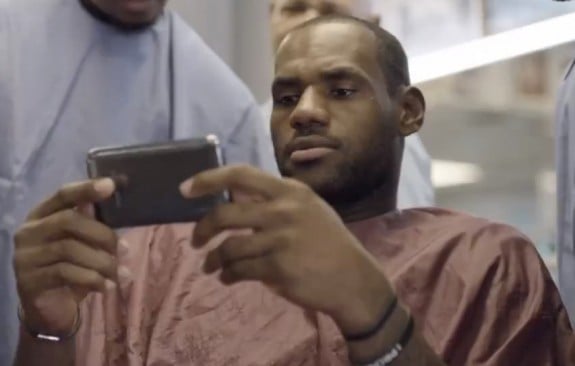 At one point in the video James uses the S Pen stylus of the Note II to type a note, but it comes across as something Samsung included in the ad and not something he'd do everyday. Users with smaller hands, however, will likely want the S Pen for typing in addition to its myriad other uses.
The Samsung Galaxy Note II costs $299.99 on Verizon, AT&T, and Sprint, but costs $369.99 on T-Mobile after a $50 mail-in rebate. The phone has a 1.5GHz quad-core processor, 2GB of RAM and 16GB of internal storage space. It's the first device from Samsung that ships with Android 4.1.1Jelly Bean and an enhanced version of TouchWiz.