Lego Dimensions Impressions: Terrific, Witty and Worrisome
It's hard to imagine that anyone ever wondered how great the experience of toys-to-life games like Skylanders would be if they somehow had to assemble the collectible extras. That no one seems to have ever have had the idea before is what makes Warner Brother's Lego Dimensions game so interesting.
Lego Dimensions is a classic twist on the quickly maturing genre of toys and game combos. With Lego Dimensions, Warner Brother is trying to combine collectibles and accessories from popular franchises with its iconic Lego bend. Admittedly, I was impressed with Lego Dimension's initial presentation and release details. Putting together the puzzle and humor heavy Lego gameplay with figures and a receptacle to place them all on seemed brilliant. The addition of popular franchises like Lord of the Rings, Batman, The Lego Movie and Wizard Of OZ was icing.
Now, fresh from some hands-on time with Lego Dimensions, I'm cautiously optimistic about the game. Those core ideas — collectibles that add to the story — are solid. Some of the puzzles and interactions seem a bit odd, though.
Lego Dimensions – The Gateway Pad and What You Get
It's easy to forget how much there is to Lego Dimensions. Launching September 27th, there's some familiar components, both physical and gameplay wise.
Every Lego Dimensions Starter Pack will come with everything you need to get started. Like other games in the genre there's a base that uses NFC or Near Field Communications technology to directly communicate to the game running on your video game console which player you have. What you get in the box are the bricks to assemble the Lego Dimensions Gateway yourself. Also included are Wyldstyle, Lego Batman and Gandolf figures, they are needed through the game's core experience.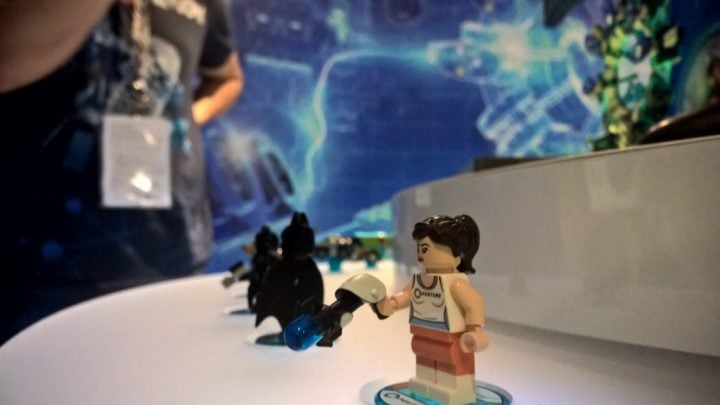 The figures themselves felt sturdy and looked decent but easy to lose due to their small size. They and two vehicles were the first things I saw at my demo station. This Starter Pack also includes a Batmobile, which is crucial for reasons I was about to figure out. Typically, NFC communicators in the toys-to-life category are relatively small, but the Lego Dimensions Gateway is pretty big. It has three different pads with seven different readable areas. The circular, center pad is for figures. Two players split the reader in half during co-operative play.
Lego Dimensions Impressions – Gameplay and Gateways
The first thing I realized is that Lego Dimensions goes above and beyond to put that Gateway at the center of everything you do. My partner and I each selected a character — he decided on Wyldstyle and I stuck to Batman. We placed the figures on the portal and the inner layer of the portal began to glow green.
Contemporaries like Skylanders are action-focused. You're adding new characters in because they have special bonuses or attacks. Lego Dimensions is very different. The game forces you to use your mind to solve the many different puzzles with the three characters you get from the Starter Pack. They each have their own abilities.
In the beginning the puzzles were simple, but before I knew it they became a bit harder. For a time we followed the yellow brick road, listening to Dorothy and Batman drop wise cracks in cut scenes and using Batman's grappling ability to advance in the level. It was at this point that we got our first taste of vehicles. Placing the default Batmobile on the Gateway drops it into the game, but soon we needed to reconfigure it to reach subsequent chapters. Our presenter took some parts off the Batmobile and showed us how to reconfigure it into a new vehicle and have the game recognize it automatically.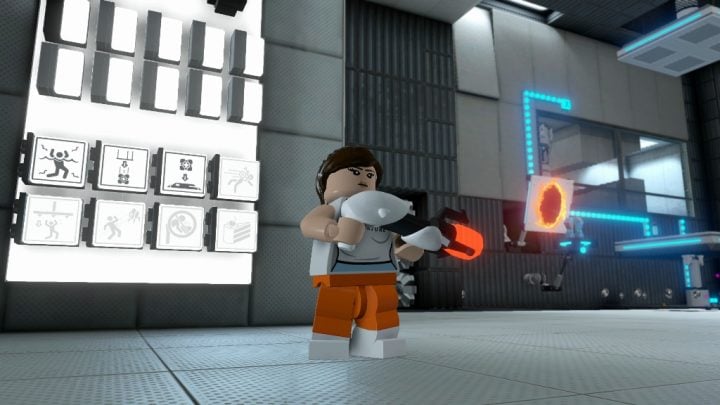 Making it into a haunted house themed on Scooby Doo and through a laboratory from the Portal universe proved tricky for me. Meanwhile, my partner dug deep into his extensive education on all things Portal and Lego related. He dropped different characters onto the portal after being urged to do so by on-screen cues. Using lasers and each of the three character's core abilities, we were able to make it through the level. Leveling up characters with special boxes kept things interesting, even in a pretty extensive puzzle that forced us to use to move around the exterior of a haunted house and use the lights built into the Lego Dimensions Gateway as a glowing compass.
Lego Dimensions Impressions – Should You Buy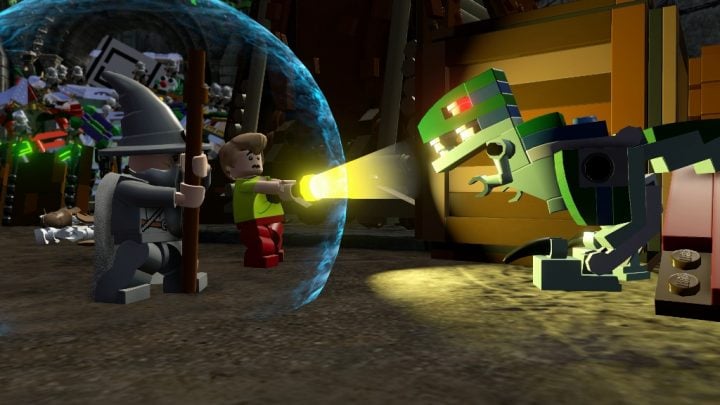 Lego Dimensions takes the familiar toys-to-life genre in a new direction. That the game tries something different in this well-worn category is a feat in its own right. I can see myself immersed in these puzzles for hours. I can imagine inviting a cousin to help me with the puzzles and challenges.
But, I can also see younger kids getting lost at times. Warner Brothers says that the game is rated from children ages to 7 to 14 and I don't doubt that. I do doubt that even some very mature 7 year olds wouldn't have trouble keeping track of the different mini games that involve the Gateway itself. It's great of the game to put the Gateway at the center of all the action, but I can't help but feel like some won't appreciate having to look away from their screen so much.
Read: Lego Dimensions Playsets Get Surprise Reveal
Lego Dimensions arrives on store shelves September 27th for $99 on the Xbox One, Wii U, Xbox 360, PS3 and PS4. Warner Brothers will sell add-on Team Packs themed around DC Comics properties, Scooby Doo and Back to the Future for $14.99. Level Packs with additional gameplay and characters will sell for $29.99.
[ubergrid id=300234]