Lego Dimensions Year 2 Release: What You Need to Know
The world of toys-to-life games got a bit bigger when Lego Dimensions arrived on store shelves. The game, featuring tiny Lego characters that players can drop into their games to complete puzzles and take on enemies, was successful in its first year of existence, it seems. At the very least, it's coming back for another holiday season of games and upgrades, a luxury not being afforded to some other longtime toys-to-life games. The second year expansion is aptly named Lego Dimensions Year 2.
Warner Brothers Interactive announced Lego Dimensions Year 2 in a press release earlier this year. The expansions on the original game include new packs from legendary Warner Brothers franchises – like Harry Potter – big upgrades in gameplay and an all-new story from developer TT Games.
Read: Lego Dimensions Impressions: Terrific, Witty and Worrisome
Here's what you need to know about the Lego Dimensions Year 2 release.
Lego Dimensions Year 2 Playsets & Confirmed Characters
Vortech has scattered his powers throughout the universe that Lego Dimensions characters in habit. Players are to stop him through a mix of combat, platforming and puzzling solving. That's the story that the Lego Dimensions Year 2's kick-off Story Pack brings with it. Players are to snatch up the powers that Vortech has unleashed and use them to stop him.
TT Games is the developer behind the new Year 2 content. Warner Brothers Interactive is back to publish the game and lend it an impressive array of characters from television, movies and comic books.
Three Story Packs are confirmed for the Lego Dimensions Year 2 release. They join the packs that were already available. The Ghostbusters Story Pack is the one that revolves around Vortech. It'll be joined by Fantastic Beats and Where to Find Them sometime between this summer and next summer.  Lego Batman Movie will get its own Stocy Pack in February of 2017. The Ghostbusters Story Pack will include the pieces players need to build Zhu's Chinese Restaurant on their Toy Pad; Abby Yates, a character in the movie will also come with this Story Pack. The toy can be rebuilt to form the Ectozer and the The Perfecto.
Players can use the pack to rip open new dimensions through their Toy Pad. All mini-figures that players purchase for the game can go to a themed Battle Arena where they can battle three other players on their console. Battle Arenas come with different modes and special powers that match their specific property. For example, mini-figures purchased from the Harry Potter universe will unlock a Harry Potter-themed Battle Arena. Players are free to roam themed areas for each franchise too, which sounds like a much-needed feature inspired by the hub worlds of Disney Infinity.
Lego Dimensions Year 2 Release Date
The Lego Dimensions Year 2 release date is scheduled for September 27th. On that date, anyone who has pre-ordered the Year 2 content or plans to buy it can do so. Like other franchises in the Toys-to-Life genre, compatibility is key. Anyone that purchased Fun Packs and figures last year will get to use them in the new content, Warner Brothers says. "All Expansion Packs provide players with continued compatibility to use everything from waves 1-9 interchangeably," the studio confirms in its press release about the Lego Dimensions Year 2 launch.
Players won't be forced to purchase a new set of characters or a new starter pack, two things that can harm a game for this type. Additionally, the Lego Dimensions gamepad that allowed players to transport specific characters and vehicles into the first game, is sticking around too.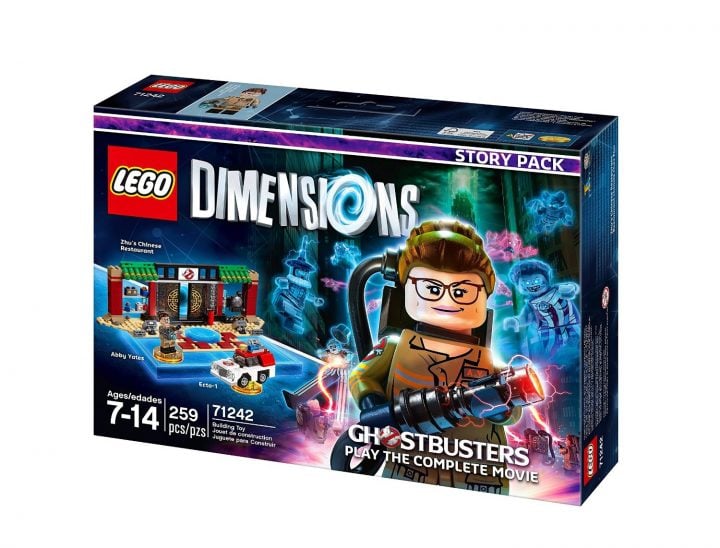 Lego Dimensions Year 2 is coming to every platform that already has a version of the original game. That includes Microsoft's Xbox One and Sony's PS4. Other platforms include the Xbox 360, Sony PS3 and the Nintendo Wii U.
All the Lego Dimensions Year 2 Packs
Fantastic Beasts and Lego Dimensions are the only two franchises getting Lego Dimensions Year 2 release story packs. That being said, plenty of other franchises, properties and characters are getting add-ons for the game. Some of them are from movies produced and distributed by Warner Brothers. Others are popular televisions in their own right.
Confirmed classic television shows include the Adventure Time Level Pack and the A-Team Fun Pack. There's a Mission: Impossible Level Pack coming too, along with a Harry Potter Team Pack. The game will get packs from Lego Batman Movie, The Goonies, Sonic The Hedgehog, Teen Titans Go, Lego City Undercover, Knight Rider, The Powerpuff Girls, Gremlins, Beetlejuice and E.T. The Extra-Terrestrial.
The A-Team Fun Pack, Adventure Time Level Pack, Harry Potter Team Pack, Mission: Impossible Level Pack, Adventure Time Team Pack and Ghostbusters pack will all launch on September 27th. The story pack is available for pre-order at GameStop now for $49.99. The Team Packs are available for $24.99. Lego Dimensions Year 2 Level Packs are $29.99. Fun Packs are the cheapest, at $11.99 each.
Good luck with the Lego Dimensions Year 2 release. The franchise may have come late to the toys-to-life festivities, but it's continuing to add new franchises that enhance the overall experience.

As an Amazon Associate I earn from qualifying purchases.