Lenovo Adds Nice Touches to Touch on x200 Tablet PC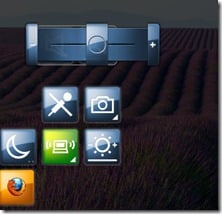 I've never been on the notebook/Tablet/Netbook touch bandwagon. Quite honestly, and perhaps from quite a limited perspective, I've just not seen the usage scenario that makes this a must have for me. Lenovo has been rolling out its latest Touch capable machines, and they just sent me an X200 Tablet with touch enabled. It's running Windows 7, and it operates with a dual digitizer. It is two finger touch only, unlike the T400s that has four finger touch.
I'm anxious to get deeper into using this, because I have to say I am very impressed with how Lenovo has gone about implementing touch on this device. You've seen the videos and InkShow that Xavier has posted about some of this, and I'll be getting one up soon as well. But for now, here are some pictures that point to what I think are some nice usability touches that Lenovo has added.
Suffice it to say that in slate mode, the touch implementation is actually a joy to use. Scrolling through web pages, adjusting screen brightness, or sound volume is easy to do, and in all honestly nicely done. As you look at the pictures below you'll see that Lenovo has given your fingers large targets for many of the controls. That pays off in ease of use. That said, I'm also very pleased with how easy it is to touch and activate controls in programs that don't have touch enhanced controls.
Lenovo makes it easy to add touch icons to its Simple Tap interface so that in slate mode you could use touch to open any of your apps. You have multiple options to open up the Simple Tap launcher, either by using the big red button, or by tapping both fingers on the screen. Both work well, and quickly. I'm detecting no lag at all really in early testing. Again, I'll be working this out heading to recording an InkShow so if you have any questions you want answered let me know.