Lenovo Announces ThinkPad X131e Chromebook For Schools
Today Lenovo announced the new ThinkPad X131e Chromebook, its first ever laptop running Google's Chrome OS.
The new Lenovo Chromebook is a modified version of the existing ThinkPad X131e which runs WIndows 8. The Chromebook has a similar 11.6-inch display with a resolution of 1366×768 with an unspecified Intel processor inside. The X131e weighs just four pounds, and Lenovo claims it has enough battery life to last a full school day.
Like the original ThinkPad X131e, Lenovo made the version running Chrome OS specifically for schools. In addition to the long battery life that means the Chromebook can withstand the abuse of a school day.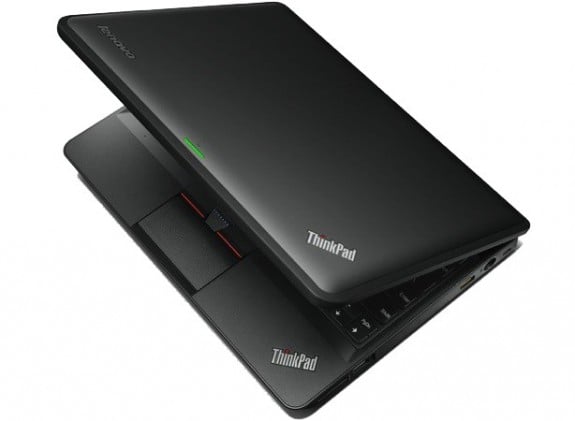 The cover has a rubber bumper and all corners on the device are durable to protect against accidental drops. The hinges of the Chromebook are also durable enough to withstand 50,000 "open and close cycles," which means they won't break as students open and close the Chromebook to take it from class to class.
Chrome OS means it's easy for students to just open the laptop and go online instantly without having to wait for Windows to resume then open the browser. With the included low-light webcam students can video chat with others through Google Hangouts or other video chat services that work in a browser.
The ThinkPad X131e Chromebook also includes and HDMI and VGA port so students can use their own devices to give presentations if needed.
Lenovo will offer custom colors, tagging services and logo etching for schools who purchase the ThinkPad X131e Chromebook. The custom colors and logo etching make it easier to know that each Chromebook belongs to the school, while tagging services make them easier to track when left on a bus or in school.
Lenovo will offer the ThinkPad X131e to schools start on February 26. The company does let average users buy individual units of previous laptops designed for schools, but there's no word that it will sell the Chromebook to individual users, or even businesses.

As an Amazon Associate I earn from qualifying purchases.