Lenovo Beacon Home Cloud Brings Media Sharing to Your Home
At the Consumer Electronics Show, Lenovo introduced a home cloud center called the Lenovo Beacon. The Beacon is essentially a wireless storage device that serves as a local cloud where users host and store their files, photos, and media on a local hard drive.
Users can connect additional HDD or swap out HDD to augment their storage and back up needs. Up to a total of 6 TB can be used with the Becaon, which means two 3 TB drives.
When combined with an Android smartphone or a laptop or PC, files can automatically be backed up to the Beacon or manually synchronized. This allows photos to be viewed on the larger display of an HDTV or videos to be shared with a group rather than be played on a smaller display.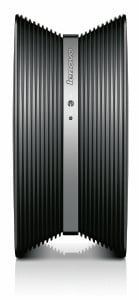 The rig is powered by an Intel dual-core Atom processor and comes with 1 GB of storage natively built-in. There is also integrated WiFi 802.11 b/g/n, Bluetooth 4.0, 3G and Ethernet connectivity. Additionally, you can also plug a USB flash drive into the Beacon to transfer files over.
Beacon lets users upload files either wirelessly or via an onboard USB connection with just the press of one button. Users can seamlessly access files around the home or on-the-go, and Beacon's secure access rights make it a great device to share with multiple users.
There is also an HDMI output port to connect Beacon to an HDTV to control the device, set it up, and view content.
The Beacon will be available in either black or white.
The nice thing about the Beacon is that it's easier to use than more complicated NAS storage options, and users can set up permissions for who can access specific files and photos with advanced access setups.
And if you use an Android phone or tablet, Lenovo also has a special Android app that will allow users to control the Beacon through their phone. Essentially, you can use the touchscreen of your smartphone as a mouse to navigate the Beacon's menu on your HDTV.
As files reside natively on your HDD, the Beacon may be a more secure and cheaper option than cloud-based storage services where files are hosted and stored on a remote server.
Beacon will compete in the same space as the Pogoplug home device and Samsung's HomeSync.