ThinkPad 8 Delivers Full Windows 8 Productivity in a Small Package (Video)
Lenovo's ThinkPad 8 isn't just another small-screened tablet meant to bridge the gap between traditional Windows functionality and the portability that users now crave. Instead, Lenovo is aiming the newly released 8-inch convertible tablet squarely at business users.
Announced and showcased at the Consumer Electronics Show this morning, the $399 ThinkPad 8 takes the traditional 8-inch tablet and packs in all the features business users need.
Like most of Lenovo's mobile machines, the ThinkPad 8 is actually a well-disguised convertible. Users can morph the aluminum-clad device into a Desktop Mode if they have the optional keyboard or dock accessories and Tent presentation mode for users with the ThinkPad 8's detachable cover.
Though impressive, it's the ThinkPad 8's internals that allude to its true business nature. The device sports an 8.3-inch 1920×1200 display, a single MicroUSB 3.0 port and a quad-core Intel Bay Trail processor. Buyers will be able to order a ThinkPad 8 with up to 128GB of on-board storage and LTE wireless network compatibility. This will enable users to access their online files and browse the web even when they aren't close to a Wi-Fi connection.  As business users tend to need a lot of display options for presentations, Lenovo has stuffed the ThinkPad 8 with these too. The device sports Miracast wireless display connectivity and a microHDMI port for connecting to television sets, monitors and projectors.
ThinkPad 8 Hands On Video
Each Lenovo ThinkPad 8 will come loaded Windows 8.1 Pro, the business and professional oriented version of Windows that includes Desktop app compatibility, storage encryption and more. Of course, Lenovo is offering its standard bevy of warranties and accidental damage protection separately from the cost of the tablet. The company is also throwing in a copy of Microsoft Office at no extra charge.
The aforementioned optional case, dubbed the Quickshot Case by Lenovo, is also made for the picture-taker who prefers using their tablet too. Users can peel one edge of the case back and the ThinkPad 8 will automatically power up its 8 megapixel rear-facing camera and Windows 8.1's built-in camera app. The device also comes equipped with a front-facing camera too.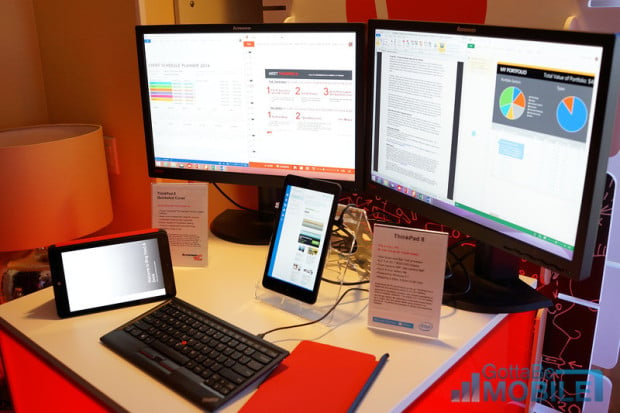 All told, it's a very respectable machine for anyone who's already considering abandoning traditional laptops and desktops in favor of one machine – as long as they plan to purchase the device's optional dock and other accessories. Getting 8 hours of battery life won't hurt this device with business users either.
The Lenovo ThinPad 8 should be available for users to configure and order sometime in late January.

This article may contain affiliate links. Click here for more details.