Lenovo Brings OLED Displays to the Desktop with ThinkPad X1 Tablet and ThinkPad X1 YOGA
As part of their CES announcements this week, Lenovo unveiled the new ThinkPad X1 Tablet, a new kind of modular tablet, and the ThinkPad X1 Yoga, which brings OLED displays to Windows notebooks for the first time.
Lenovo ThinkPad X1 Tablet
The ThinkPad X1 Tablet is Lenovo's answer to supercharged tablets like the Microsoft Surface Pro  – but in typical Lenovo fashion attempts to win customers over via sheer customizability. The base platform revolves around the X1 Tablet, which packs a 12-inch, 2160×1440 display (similar to the Surface Pro 3), up to 16GB of memory and up to a 1TB SSD. There's also built-in WiGig, for wireless docking. What sets it apart from the competition is the crazy assortment of modular accessories that Lenovo has designed for the platform.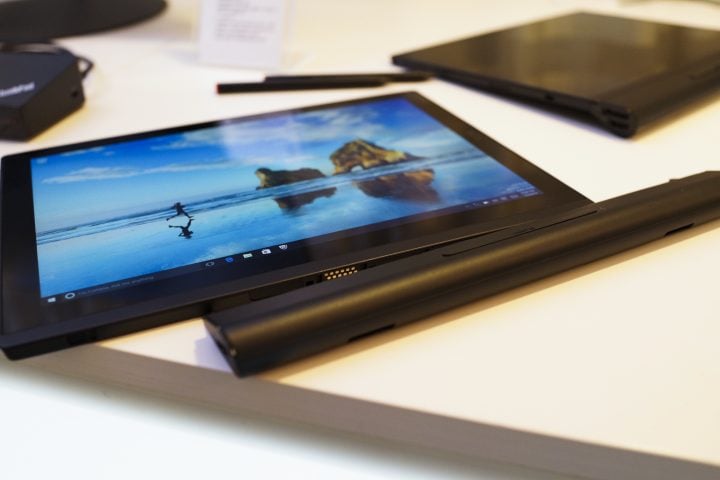 Currently, Lenovo has plans for three different modules: a $149 Productivity module, whose bulbous shape adds an additional five hours of battery life as well as HDMI and docking ports; a $279 Presenter module, which includes a projector (up to 60 inches) and an in/out full-sized HDMI port; and a $149 3D imaging module, which includes an IR camera for scanning in objects and spaces in true 3D space.
Like the Surface, Lenovo includes a pen along with the ThinkPad X1 Tablet, but offers its ThinkPad keyboard in three different colors. Unlike the Surface, however, a removable panel on the back of the X1 allows for in-house repair and upgrades – likely to be a welcome move for businesses looking to save on device repair costs. Alone, the X1 Tablet weighs 1.75 pounds, with the keyboard it's still only 2.4 pounds. You can expect the X1 Tablet to start shipping next month with a starting price of $899.
Lenovo ThinkPad X1 WiGig Dock
Along with the optional modules, which are designed for on-the-go use with the X1 Tablet, Lenovo plans to produce a WiGig dock for when you get back to the desk. Taking advantage of WiGig 1.1 protocols, the technology allows for data rates of up to 4.6Gbps – substantially more than even 802.11ac Wi-Fi. The $250 dock includes DisplayPort and HDMI ports as well as three USB 3.0 ports, two USB 2.0 ports, a Gigabit Ethernet port and combination audio jack. Lenovo is promising the ability to sit your tablet anywhere on your desk and only need to plug in for power; your displays and peripherals should all work wirelessly. It's not the first time a major manufacturer has tried to get rid of all the wires when it comes to docking, but it might be the first time a company is successful. It'll show up later this month for $250.
Lenovo ThinkPad X1 Yoga
The X1 Tablet isn't the only crazy new hybrid product that Lenovo is launching at CES: we've got our eyes on the ThinkPad X1 Yoga. This year, in addition to Lenovo's multifunctional hinge, the X1 Yoga will have an optional 14-inch OLED screen, a first for a Windows-based notebook.
Like the Tablet, the new X1 Yoga comes with Lenovo's Stylus Pen, which means you get a multitouch screen as well as pen functionality. It rests inside the notebook when not in use, which doubles as a charging station; a 5-second charge will net you a promised 100 minutes of stylus use. Lenovo is shipping the Yoga with tech that allows you to use the Stylus Pen in "any app, program, or text field," which means that you should be able to write with one hand while using the X1 Yoga in tablet mode and have the machine convert it to normal text.
While the X1 Yoga will offer WiGig docking, it's optional this time around instead of built in (which seems like a missed opportunity to build a brand around it); other specs include up to a Core i7 CPU, 16GB of memory, a 1920×1080 IPS display or 2560×1440 IPS or OLED displays, optional LTE, and a maximum of 1TB of storage in the form of a PCI-e SSD. Altogether, you can get a stunning amount of advanced technology in a package that weighs only 2.8 pounds – not bad for a 14-inch laptop. The Yoga will start at $1449 when it ships later this month (expect to pay a premium for that OLED).
New mobile accessories
Lenovo rolled out a few new mobile accessories alongside its new ThinkPad lineup – there's a new mouse, new headphones, and a new power adapter. The ThinkPad X1 Wireless Touch Mouse doubles as a normal mouse as well as a wireless trackpad for use when giving a standing presentation during meetings. The clever part of the mouse comes in the form of dual connectivity – pair it with your laptop via Bluetooth, or plug in the included 2.4GHz USB dongle if you need to use it on another machine. It'll be available this month for $70.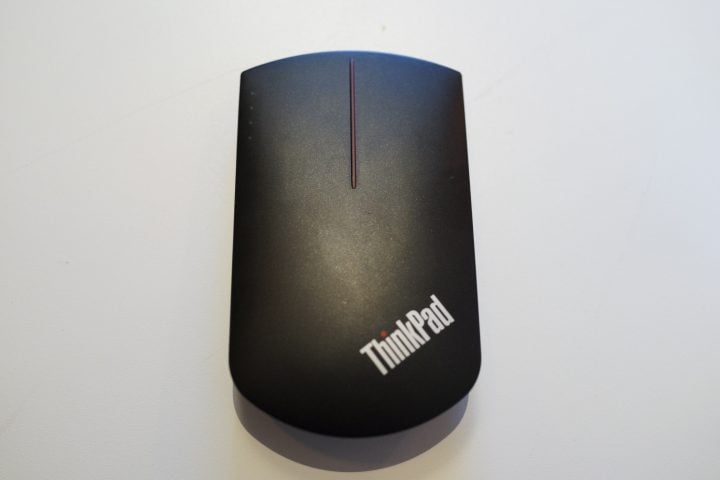 The Lenovo ThinkPad X1 In-Ear Headphones are Lenovo's attempt to cash in on the premium audio segment that's been exploding in popularity. Sleek cables with black ThinkPad look at home next to the rest of the ThinkPad lineup, but there's no telling how they'll sound just yet. In-line controls let you use the headphones with your laptop or smartphone, and they'll be available soon for $70.
The final new accessory introduced by Lenovo is the ThinkPad 65W Micro Adapter, which shrinks the typical laptop charger down to just a couple of inches. It'll work with any Lenovo laptop – ThinkPad or otherwise – that uses the company's rectangular "slim tip" power plug, as long as you can get away with just 65 watts. Like most laptop chargers, the Micro Adapter is global ready, and will ship this April for $80.
New Lenovo ThinkPad Stack Accessories
What's the Lenovo ThinkPad Stack, you ask? Don't worry, you're forgiven if you didn't remember this little collection of devices that stacks together on your desk to share power and connections with whatever mobile device you're using.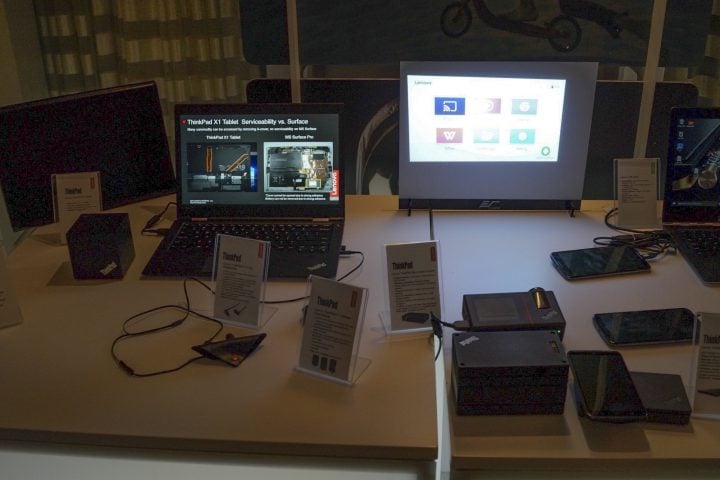 Today's introduction of the ThinkPad Stack Mobile Projector and ThinkPad Stack Charging flesh out the line of products by adding mobile power and mobile displays to a list that already includes items like a wireless hard drive and wireless speaker.
The ThinkPad Stack Mobile Projector will deliver 2 hours of mobile playback at 1280×720 with 150 lumens. It supports wireless protocols like Miracast and Airplay, meaning that both Android and Apple users can easily share content; it also supports other peripherals in the stack, like the wireless hard drive. It'll be available in April for $400.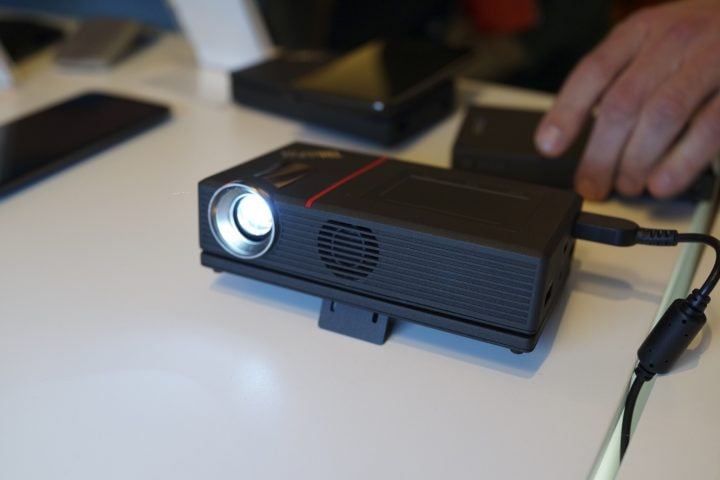 Meanwhile, the ThinkPad Charging Station slips onto the top of the ThinkPad Stack to give you wireless phone charging at your desk. Coming in April for $50, you can add the Charging Station as a traditional inductive phone charger, or you can pair it with the Lenovo Stack Power Bank to wirelessly charge your smartphone from a portable battery bank.
Lenovo also announced that "Business Editions" of the Lenovo MIIX 700 and Lenovo YOGA 900 will ship next month for an undisclosed sum.

As an Amazon Associate I earn from qualifying purchases.