Lenovo Horizon 27-Inch Tablet: Gaming Demo Video
The Lenovo Horizon is a 27-inch tablet and all-in-one computer that offers a collection of great gaming experience and accessories that deliver a better gaming experience on the huge tablet.
After sharing our first impressions on the Lenovo Horizon, we decided to dive into gaming on the tablet. Lenovo also calls this a Table PC, which works out nicely for gaming.
There is a built-in battery that allows users to take the Horizon out of an office or bedroom and into a group setting without lugging a power cable along for the ride.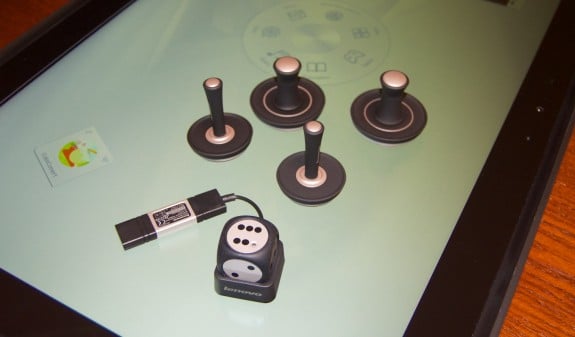 There are a collection of included games and app[s designed to take advantage of the Horizon's large screen and the great gaming accessories, which are included with each unit. These accessories are shown above, and covered in more detail in our Lenovo Horizon gaming video.
Horizon 27-inch Tablet Gaming Demo
Step into a world where tablet gaming takes over a full table and users get a real dice to throw, stickable joysticks and air hockey controls. From arcade style games to tablet top games like Monopoly and Texas Hold 'Em, here's a look at gaming on the IdeaCentre Horizon 27-inch tablet and all-in-one Table PC.
It's great to see that Lenovo is including the three accessories in the package, though we wish there were two e-die so that we could roll both die at the same time in Monopoly.
In the video we take a look at the E-dice and Monopoly. This is one of the most addictive parts of the tablet. I'm a notorious Monopoly addict, but playing through a full game with a stubborn player like myself is tough. With this digital Monopoly we get the fun of rolling a dice, and we can easily save a game to play later. After one session my wife is already looking forward to playing Monopoly again on the Horizon, a rare occurrence on the many gadgets I review.
The E-dice charges with a small dongle and connects wirelessly. We will be reviewing the battery life of the E-dice as we play more.
It would be awesome to get Risk with E-dice support on the Horizon.
Air Hockey is another fun game that comes with the Horizon, made more fun thanks to the included controllers that slide across the screen and don't get stuck on the glass like a finger does.
The stickable joysticks make controlling an arcade style game, like that shown in the video easier, and it's more natural than all touch controls.
While it may not replace the physical cards that some card players enjoy, the Texas Hold 'Em app is a fun way to get up and running in seconds. The chips are set up and it's possible to check your cards without showing off the hand to everyone. In short, it's a fast, fun way to play Texas Hold 'Em with friends.
There is also an Android emulator called BlueStacks that brings popular games like Draw Something to the large 27-inch display. We'll have more on this in the near future.
We haven't had a chance to check out the gaming performance of the system in Windows 8, but for users that want to play console games, there is a HDMI in that lets users connect a PlayStation 3 or Xbox 360 to the Horizon to use the large screen. In the future the Xbox One and PlayStation 4 will also work with this since it is just an HDMI connection.
Stay tuned for our full Lenovo Horizon Review.

As an Amazon Associate I earn from qualifying purchases.