Lenovo Ideacentre 510S Review: The Desktop For Notebook Lovers
The notebook PC gets all the attention. PC makers trot out new mobile devices with pomp and glitz. Retailers feature them on the front pages of their weekly sales ads beside their Back to School smartphone sales. Desktops are often forgotten about. They're seen as devices of old, a form factor that doesn't offer the sleek designs and ease of a use that a notebook or tablet does. Anyone that thinks desktops aren't exciting enough to demand front page billing hasn't taken a look at the Lenovo Ideacentre 510S. It has all the hallmarks of a successful notebook PC.
All-in-ones have been around for years. With an all-in-one, shoppers make a single purchase. Like with a notebook, the display is built-in. So are the web camera, speakers and wireless networking utilities. Because everything is built into the unit itself, there's little in the way of cords to untangle and things to keep up with. The Lenovo Ideacentre 510S is thin, well designed and all-inclusive. It's the desktop for users who know that they're pretty fond of what notebooks have to offer, sans portability.
Lenovo Ideacentre 510S Review: Design & Internals
The Lenovo Ideacentre 510S almost looks like the Chinese computer maker decided to start building television sets. Sitting in front of the device, you'd never know that there were USB ports for connecting extras or an Ethernet jack for connecting directly to a router instead of using the device's built-in Wi-Fi support. You wouldn't even know that there's a web camera.
A 23-inch high-definition display dominates the Ideacentre 510S's front. That display is almost bezel-less, plus it packs touch input for interacting with Windows 10 without the help of a mouse and keyboard. Two stereo speakers sit behind a speaker grill directly south of the display.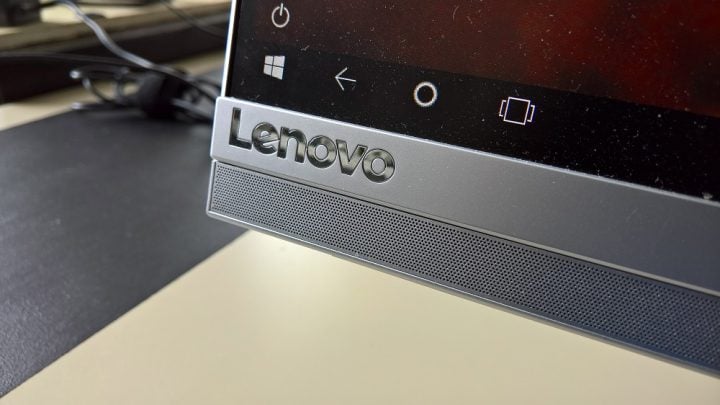 The metal stand that suspends the Lenovo Ideacentre 510S inches above the surface of your desk is painted silver to match the silver skin of the all-in-one itself. It doesn't let you move the display from left to right, but you can adjust the angle backwards and forwards. Desks and countertops come at different heights; it's great that this machine can adjust to those different heights without the help of a stand accessory or you needing to move your head. Viewing angles on the display are superb.
The trappings of a PC have to go somewhere, and for this machine they're in two places. A gently curved bump-out on the back of the machine houses its processor, RAM, 1TB of storage and 8GB of RAM. Two USB 3.0 ports, a headset jack and an HDMI port are back there, too. Online, users can add an NVIDIA GT930A 2G graphics card, but it was not included in the configuration that I tested.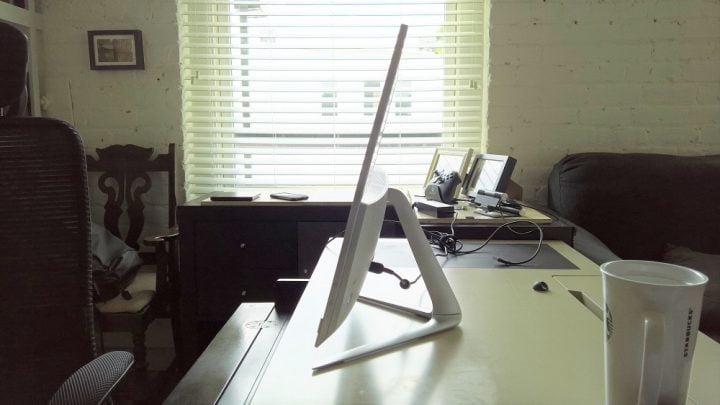 Lenovo is definitely betting that users will let this device go to sleep rather than turning it off completely because it has put the power button on the back of the device. Just in case the company is wrong, an 8GB SSD allows the device to start quickly and open apps faster than other devices with a traditional hard drive would. Two more USB 2.0 ports and the web camera with dual microphones are hidden inside a drawer on the Lenovo Ideacentre 510S's bottom edge.
At its thinnest point, the Lenovo Ideacentre 510S is just 0.28 inches thin.
Lenovo Ideacentre 510S Review: Experience
The Ideacentre 510S is for the person or persons that want an PC that's sophisticated looking, but doesn't go overboard with extras.
Lenovo includes a wireless keyboard and mouse combination with the Ideacentre 510S. They are painted gray to match the body of the machine. Some would argue that Lenovo could have used Bluetooth add-ons to free up the USB 3.0 port that the wireless receiver for the keyboard and mouse combination requires, but I think Lenovo played it smart here. Bluetooth, though everywhere and growing more popular, isn't as easy as just plugging in a wireless receiver. That's another win for simplicity.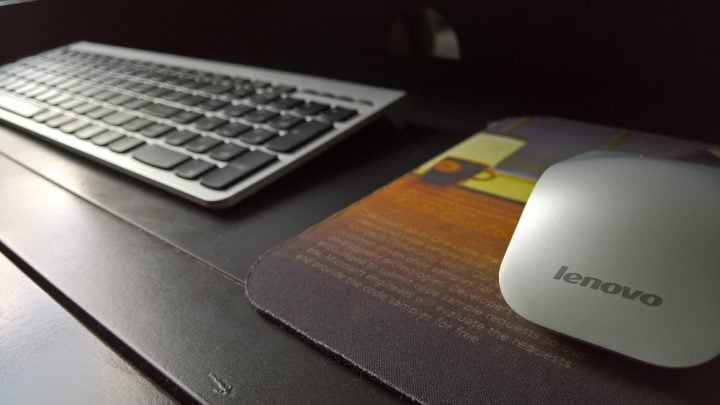 Performance-wise, the Lenovo Ideacentre 510S does fairly well. The 8GB of RAM and Intel Core i5 processor are more than enough for the machine to keep up with every day tasks. The things that typical users would do with this machine, checking emails, browsing YouTube and listening to music work well. Users are going to want to tweak the speaker's EQ settings for the best audio.
You're not playing Overwatch or Quantum Break on the Ideacentre 510S without the graphics card upgrade, but casual games from the Windows Store are just fine. When pushing the machine, expect to hear some fan noise as the processor works overtime. Overall, the machine was quiet, but opening too many tabs in Chrome trigger that fan without fail.
The 23-inch display is able to adjust brightness and fight off glare. It also helps that Lenovo opted to not use a gloss on this display. I started out watching videos on the Lenovo Ideacentre 510S because its 1080p resolution and nearly borderless design lent themselves well to the activity. I should mention that Lenovo also bundles a USB DVD drive with this machine. It works, but I had to borrow a movie to test it.
By the end, I was still watching some video, but I moved the Ideacentre from my desktop to my kitchen island. There I stashed the keyboard and mouse for emergencies and focused on using its touch abilities. Before heading out the door I'd quickly glance at the Live Tiles for Weather, Mail and Calendar. Within a few seconds, I had all the information I needed to start my day.
Read: Windows 10 Review – A Love Affair
When cooking, I used the Cortana personal assistant to set appointments and play music. The speakers can fill a room, even if the microphones have some trouble picking up your commands when the web camera drawer is closed. Windows 10 lends itself well to any type of use someone can come up with for the Ideacentre 510S; just switch Tablet Mode on or off.
I found myself wishing that there was some way the Lenovo Ideacentre 510s could double as a display for my Xbox One. It was just a pipe dream until I discovered the button on the all-in-one's right bezel that allowed me to do just that. With house company over, I demonstrated the feature. I discussed how impressive the feature was. They talked about how they'd use it at home.
Overall, I liked the machine a lot, but have a few complaints. All are related to Lenovo's dedication to keeping the front of the machine as simple as possible.
First, forcing users to search for a power button that they can't see while sitting in front of your device doesn't seem like the best move to me, even though I understand the motivation for doing so. Equally irksome is Lenovo's decision to hide the headset jack on the back of the machine. Due to its position, I guarantee you that your headphone cable will end up dangling across your device's keyboard and getting in the way. I feel like it'd have made more sense to put the headset jack in place of one of the USB 3.0 ports on the device's slide-out web-camera panel.
These issues don't stop the Ideacentre 510S from performing well during every day tasks and being a great way to enjoy video and light gaming.
Lenovo Ideacentre 510S Review: Specifications
| | |
| --- | --- |
| Processing & Graphics | 2.4GHz Intel Core i5 Processor, Intel HD 520 graphics |
| Storage | 1TB Hard Drive with 8GB of RAM |
| Memory | 8GB of RAM |
| Ports & Extras | 4 USB Ports, Intel AC Wireless Internet, Bluetooth 4.0, HD web Camera with dual-microphones, Headset Jack, HDMI Port |
| Display | 23-inch FHD 1080p Display |
Lenovo Ideacentre 510S Review: Should You Buy?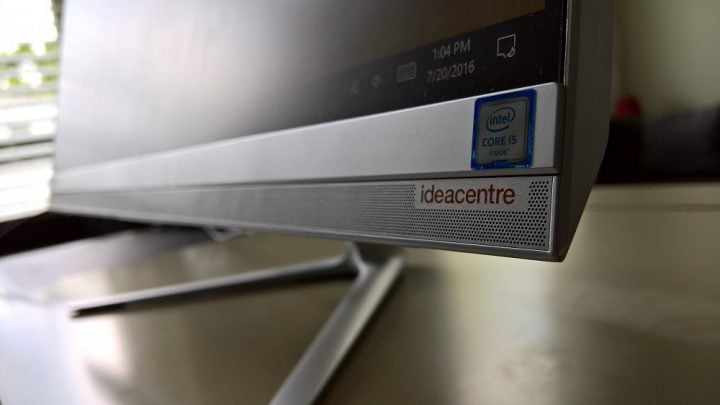 If you already have a mobile PC or don't need one, the Lenovo Ideacentre 510S is a fine all-in-one PC. Aside from some questionable port placement, I have no reservations about recommending this machine to anyone who wants a new desktop that they can sit on a desk or counter, plug in and get going.
Simple and sleek, the Lenovo Ideacentre 510S only misses the mark on port placement. Everything else is well worth the $899 price tag.

As an Amazon Associate I earn from qualifying purchases.