Lenovo IdeaCentre AIO Y910 Review 
If the key to the personal computer's success is its ability to adapt, the gaming PC is an exception to the rule. Components, that is, the processors, graphics processors and hard drives that go into PCs, have improved, but their bodies haven't. Just hearing the words "gaming PC" conjures up thoughts of aggressively styled towers with lots of space for upgrades. Lenovo is hoping to bring the classic gaming PC experience into the modern area. Its Lenovo IdeaCentre AIO Y910 isn't a full-size tower that'll take up the third of your desk not occupied by your display.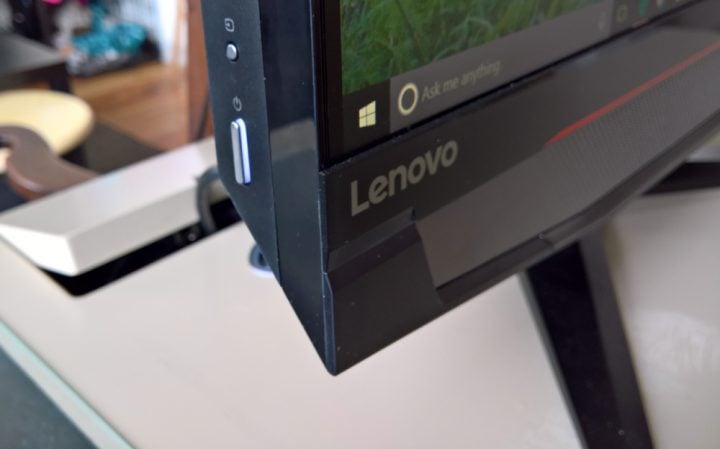 The "AIO" in the Lenovo IdeaCentre AIO Y910's name stands for all-in-one. The desktop, available for $1,799 directly from Lenovo's online store, allows you to make a single purchase and immediately be able to play the most demanding games around on a 27-inch high-definition display. Lenovo's proposition here is simple. The company knows that casual PC gamers are growing in number, and that those already into gaming are looking for simplicity wherever they can find it.
Lenovo IdeaCentre AIO Y910 is able to offer a simple, first-class gaming experience and enough upgrade options that you won't find your investment worthless as the years go by.
Lenovo IdeaCentre AIO Y910 Review: Design
All of Lenovo's gaming PCs are linked by a Y designation, dark aesthetics and red accents. The IdeaCentre AIO Y910 doesn't depart from the design of Y notebooks and PC towers all that much. Every surface is angled. It's a mass of reflective black plastic and textured patterns.
The user-facing side of the device is dominated by a 27-inch QHD display with a resolution of 2560 x 1440 pixels. Lenovo describes this screen as being "edgeless," but it's not. The border is thin enough that your eyes focus on the display, though.
Harman Kardon speakers sit behind a silver and red grille along the display's chin. Below them is a grip that makes it easy to reposition the device. The entire system sits on a stylized Y stand that allows users to vertically adjust the screen's angle. You can't move it from side to side.
Sometime in the future Intel hopes that program and app makers will let you control your PCs with integrated hand gestures and scan real-life objects into the digital world with its Real Sense optics. Today, Real Sense is just a web camera and way to log into Windows 10 without using your password. That's not a knock, it does both of those things just fine, though I find the pop-up area that hold's the IdeaCentre AIO Y910's Real Sense camera a bit wobbly.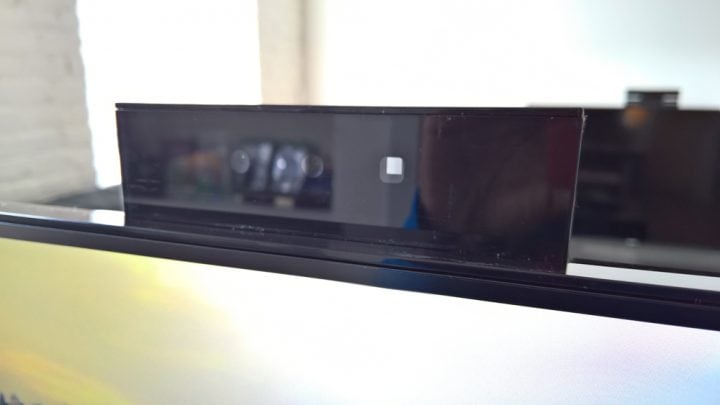 The all-in-one has a spring-loaded headphone stand for those times when you'd rather use headphones. It's functional and nice to have, however, some looking for a gaming PC in this price range might opt for a separate, high-end headphone stand instead. All the ports that one might need to get through a solid day's play are on the right edge. There are separate microphone and headphone jacks, four USB 3.0 ports and an SD card slot. A DVD/CD writer and burner sits on the right edge of the machine, too. Two more USB ports are on the back, plus HDMI in/out ports and Gigabit Ethernet.
The rear shell of the Lenovo IdeaCentre AIO Y910 hides an engineering marvel. Two lightly textured doors sit at either side of the red Y logo on the back of the machine. It's these doors that could make the Lenovo IdeaCentre AIO Y910 near immortal. They provide easy access to storage, RAM and the graphics processor, all of which can be upgraded and changed out after purchasing.
Lenovo IdeaCentre AIO Y910 Review: Internals
Although it's geared up for easy internal updates in the future, the Lenovo IdeaCentre AIO Y910's two configurations are robust enough that you shouldn't find yourself needing updates right away.
Our review unit came with a 6th Generation Intel Core i5-6500 processor, 12GB of DDR4 2133 RAM, a 128GB Solid State Drive and a 1TB standard drive. Through Lenovo's upgrade tool, you can choose the NVIDIA GeForce GTX 1080 graphics processor with 8GB or RAM or the GTX 1070 our model came with.
Performance
The Lenovo AIO Y910 can handle any game you throw at it. Gears of War 4, ran at roughly 70 frames per second in ultra settings. Planet Coaster, a recently released and very demanding theme-park simulation game, ran at ultra settings and full resolution with the GTX 1070 graphics card in the review unit.
The top of the Lenovo AIO Y910 expels heat, which is great. When pushed to its limits, there's lots of fan noise, but you won't encounter this in your average gaming session, even when a game is set at ultra levels.
Lenovo IdeaCentre AIO Y910 Review: Experience
As a gaming PC, the IdeaCentre AIO Y910 shines. I would have been astonished if it didn't. The GTX graphics card, robust processor, ample storage and RAM basically ensured that it would be an excellent experience. There are other things to consider. After all, Lenovo is billing this machine as a complete gaming experience.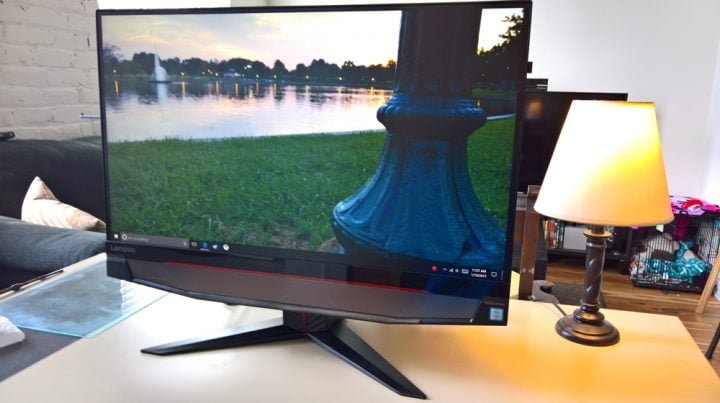 You may find yourself wanting separate speakers, but you can get by with the IdeaCentre AIO Y910's built-in sound bar. When turned all the way up, sound isn't as crisp as it could be. As for the display, I'd have appreciated a touchscreen panel capable of 4K resolution. The panel does have a maximum 144hz refresh rate, which means you won't find yourself in need of a separate gaming monitor purchase for a while. The panel inside the machine is crisp and animations are fluid, but you can't update the display like you can the other components. It seems like Lenovo should have planned a bit for the future there and created online store configurations with other display options.
Software utilities, like the Lenovo Nerve Center and Dolby Audio app, let you fine tune what you see and hear.
Lenovo IdeaCentre AIO Y910 Review: Upgrading
As for upgrading the components that are accessible. Lenovo should be proud, the doors and mounting system built into the back of the machine allow for exactly what the company claims they do. The process isn't without its faults, though.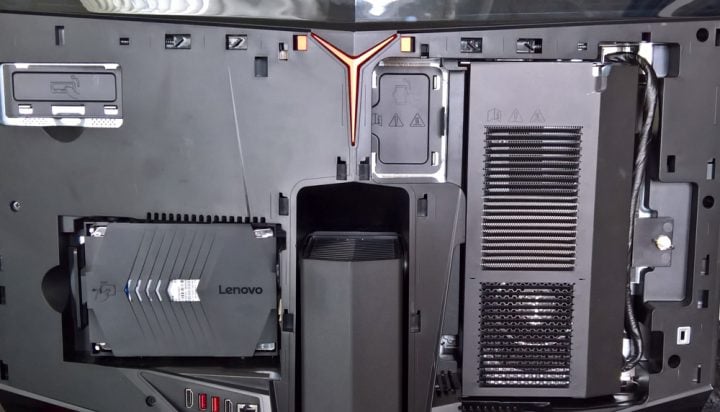 I'd have loved it if the Y buttons that unlock the panels weren't so stiff . You almost feel like you're about to break something every time you try to open the mission. I can't foresee a situation in which you would need to do surgery on the machine often, so it's mostly an occasional inconvenience. Still, it's odd.
Lenovo IdeaCentre AIO Y910 Review: Using It As a Display
As for using the Lenovo IdeaCentre AIO Y910 as a monitor, that worked perfectly fine too. Smartly, the PC's components don't need to be on for this feature to work. When I needed to use the desktop as an external display, I just connected an HDMI cable to the input port and pressed the dedicated input button on the left edge of the machine. The refresh rate and contrast ratio can be changed through Lenovo's dedicated Nerve Center app. So can the Color Mode, though I never felt like I needed to change it.
I do have reservations about the IdeaCentre AIO Y910's build and finish. Despite costing $1,799.99, the entire machine is made out of glossy plastic. This doesn't translate to a very high-end look. Most of the machine feels sturdy, but the plastic betrays the pop-up Intel Real Sense web camera. It often wobbled and wiggled as I pushed down when needing to use Windows Hello to log into Windows 10. I don't think it'll easily break, but it definitely doesn't feel as well designed as the rest of the machine does.
Finally, Lenovo has opted to include simple wired accessories with the device. Buyers will want to factor in the cost of buying accessories to replace what's in the box.
Lenovo IdeaCentre AIO Y910 Review: Specifications
| | |
| --- | --- |
| Processor & Graphics  | 3.2 GHz Intel Core i5-6500 Processor, NVIDIA GTX 1070 with 8GB of RAM |
| Memory & Storage  | 12GB of DDR4 2133 RAM, 128GB Solid State Drive + 1TB Hard Drive |
| Display  | 27-inch 2560 x 1440, QHD Display with Anti-Glare Coating |
| Ports | Dual Microphone ports, 4 USB 2.0 ports, Ethernet, HDMI In, HDMI Out, 3 USB 3.0 ports, media card reader, headset and microphone. Killer DoubleShot Wi-Fi, 80211.AC Wireless Connectivity |
| Extras | Intel RealSense Camera, Built-in HDMI Display, Upgradable RAM, GPU and storage |
| Dimensions & Weight  | 11.8-inches x 8.1-inches, 0.4-inches thick without keyboard. Weighs 2.65 pounds with keyboard. |
Lenovo IdeaCentre AIO Y910 Review: Should You Buy?
If you're looking for a simple setup that can grow with your needs, the Lenovo IdeaCentre AIO Y910 is a great buy. It comes preloaded with the latest graphics cards from NVIDIA and can be upgraded regularly. This machine is perfect for a person looking to get a great experience with a single purchase or two.
Not enough components are upgradable to make the IdeaCentre AIO Y910 the perfect machine for those that find themselves needing the ultimate gaming setup year after. Being able to not upgrade the display is fine, but not having a 4K or touch option available is a misstep. If you want either, you'll get stuck purchasing separate displays and complicating your setup, which is the opposite of the user experience this machine is supposed to guarantee.
Those issues aside, I have no reservations about recommending the Lenovo IdeaCentre AIO Y910 for gaming and entertainment. It's perfect for a dorm or any high-end PC setup. Lenovo hasn't managed to perfectly marry a simple setup and user experience with the expandability that gamers need, but it's come dangerously close.

As an Amazon Associate I earn from qualifying purchases.