Lenovo IdeaCentre Y700 review
PC gaming never faded or went out of style. We've changed around it. Reasonable prices and safe gaming networks made the video game console king of casual gaming these last two decades. That could be changing forever, and we have PCs like the Lenovo IdeaCentre Y700 and Microsoft's Windows 10 operating system to thank for it.
Microsoft and Lenovo hope to make PC gaming more accessible. The IdeaCentre Y700 is a video game experience in a box; it comes equipped with almost all the internal hardware gamers need to get going. An NVIDIA GTX 1070 Founders Edition graphics card is at the heart of the machine. What it doesn't come equipped with, gamers can add easily later. Windows 10 gets users access to Xbox Live, the latest games and built-in support for Xbox controllers and enabled accessories.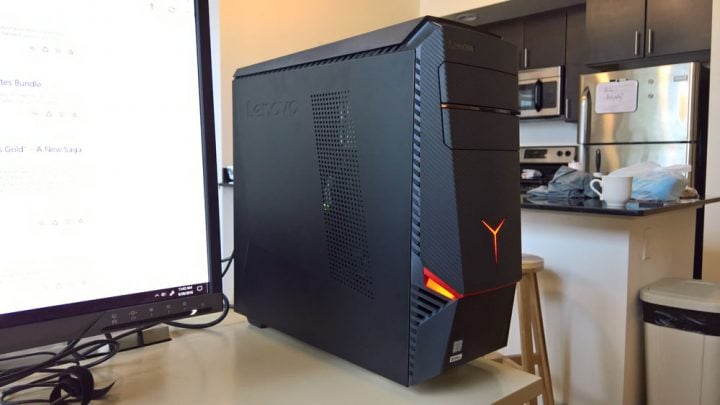 At $1,349.99, the Lenovo IdeaCentre Y700 is a new PC gamer's dream. With a single purchase they can have all the hardware that they must have today and all the room they need to go beyond that tomorrow.
Lenovo IdeaCentre Y700 Review: Design
At a time when cases are heavily designed and angular, the IdeaCentre Y700 stands out as something entirely classic. That is to say, it doesn't follow the latest design trends at all. Lenovo wanted to make sure that gamers had enough space to add new components when upgrades eventually become necessary.
All the extra real estate makes it easy to get components in and out of the case. Tools aren't necessary to add a new hard drive or a stick of RAM. A switch on the back of the desktop, plus a hidden button on the top lets the side of the case pop right off.
The desktop gaming rig isn't a design void either. The front panel and top panel have angular bump outs that add a bit of flourish to the machine. The textured pattern on the front is reminiscent of carbon fiber. There are two cutouts for DVD drives. Below them sit a red Lenovo Y gaming logo and a sort of mouth that's lit by an LED. Gamers love their LED accent lighting. Unfortunately, you can only turn these lights on and off. You can't change their color.
It's not just the interior of the case that's been made accessible for cleaning and upgrading. The front panel with the glowing red logo swings out so that users can clean the fans that sit behind it.
A card reader, 2 USB ports, 2 USB 3.0 ports, a headset jack and a microphone jack sit on the front of the PC for easy access. They're just below a recessed handle that allows you to easily carry the machine from LAN party to LAN party. You'll hardly notice that handle is there, but you'll appreciate it when it comes time to move it.
Lenovo IdeaCentre Y700 Review: Internals
Other device categories are busy removing ports, but gaming PC makers don't have that luxury. Size isn't a concern for desktop PC towers. Even if that weren't true, the case could be made that every port – no matter how unimportant to other users – is essential to gamers.
On the front of the Lenovo IdeaCentre Y700 there is an audio out and an audio in port. Also, there are two USB 2.0 ports and two USB 3.0 ports. The media card reader sits beside them.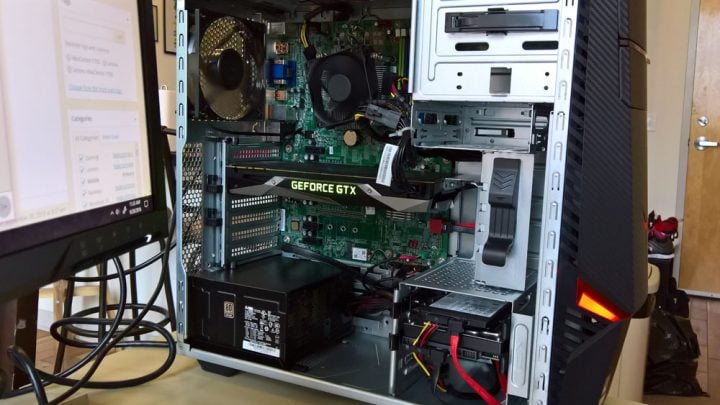 Another 4 USB 3.0 ports sit on the rear of the case. There are 2 more USB 2.0 ports back there. Gamers have no excuse for not connecting all of their essential accessories. Gigabit Ethernet, optical audio, 6 audio ports provide the rest of the essential connectivity. HDMI, DVI and VGA are all baked in. Not a single video output format worth using is left out.
At the heart of the Lenovo IdeaCentre Y700 is Intel's 6th Generation Core i5-6600 Processor. Clocked at 3.30 GHz, you won't find yourself in need of a processor upgrade in the very near future.  The entire system has 8GB of DDR4 RAM. That's not a lot, but the motherboard does support expanding that all the way to 32GB of RAM.
What makes the Lenovo IdeaCentre Y700 an affordable video game powerhouse is the NVIDIA GTX 1070 Founders Edition graphics card. The latest to be made available by the company, it's able to handle any game that you throw at it, sometimes on ultra settings.
You store your games on the 1TB standard hard drive that Lenovo puts inside the machine. The operating system and your most used apps live on a 128GB solid state drive.
Lenovo IdeaCentre Y700 Review: Specs
| | |
| --- | --- |
| Processor & Graphics | 3.3 GHz Intel Core i5-6600, NVIDIA GTX 1070 Founders Edition Graphics Card with 8GB of DDR5 RAM |
| Memory & Storage | 8GB DDR4 RAM, 128GB Solid State Drive, 1TB hard drive |
| Ports & Extras | DVD Reader/Writer, Card Reader, 4 USB 2.0 Ports, 6 USB 3.0 ports, 2 audio jacks, PS/2, VGA, HDMI, DVI, Gigbit Ethernet, 802.11 AC wireless, 6 audio ports |
| Power | 450 Watt Power Supply |
Lenovo IdeaCentre Y700 Review: Experience
Admittedly, I'm one of the millions of console gamers eyeing PC gaming with the renewed interest that I mentioned earlier. I didn't wake up one morning and suddenly decide to play video games on something other than an Xbox One. My interest – and I suspect other console gamer's interests – stems from Microsoft bringing Xbox Live multiplayer to the PC and the battle it and Sony are fighting for the title of Most Powerful Living Room Console.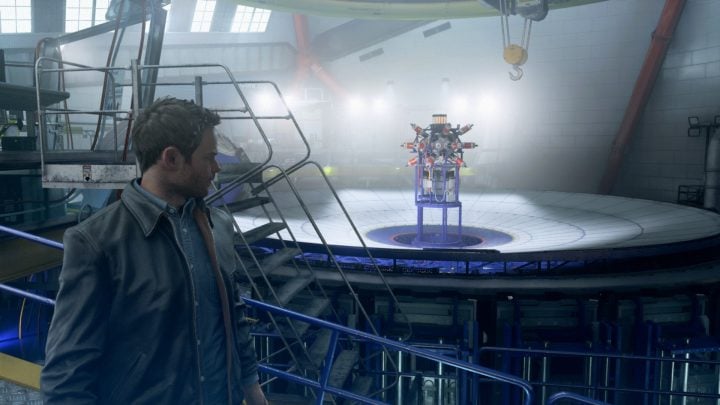 The hardware combination that Lenovo sent scored a 6481 in PC Mark 7. Microsoft's ReCore hovered at around 27 frames per second on the machine, even with ultra mode turned off. It didn't fall below that often, but there was some tearing and stuttering in action heavy sessions. For the best experience, Microsoft recommends 16GB of RAM. That's double the 8GB that's in the Lenovo IdeaCentre Y700 configuration I had. Quantum Break's Ultra setting looked terrific, but only if you stood still, taking away the ultra resolution guaranteed me about 35 frames per second. With that game, Microsoft also recommends at least 16GB of RAM. I should be clear, this was with an NVIDIA G-Sync equipped 1080p display.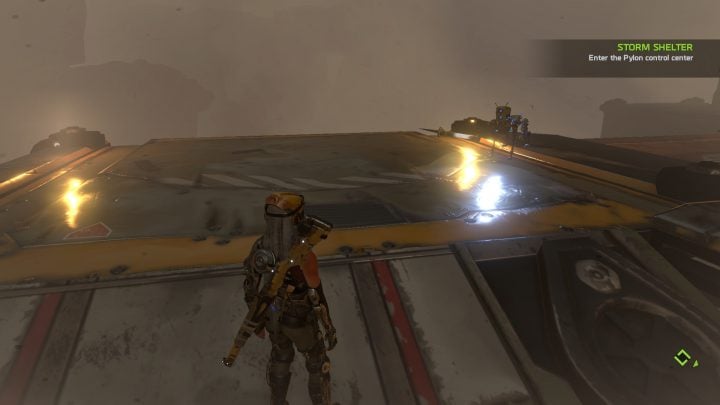 I was able to build a pretty stuffed metropolis in Cities Skylines and maintain 30 frames per second inside the city limits while closely monitoring roads and utilities. It wasn't until I zoomed out and saw less of the simulation on screen that I was able to go higher than 34 frames per second. Bottom-line, gamers have got the necessary hardware ingredients for a superb gaming experience. They're just going to want to add some RAM to get there.
Even as I was pushing the IdeaCentre Y700 into uncomfortable territory, I didn't hear much fan noise. All the ventilation Lenovo provides for keeps the machine quiet and comfortable.
To get you started, Lenovo includes a mouse and keyboard, both of which are serviceable but not ideal. Both are wired and include no gaming-specific features. The mouse doesn't have any buttons for you to customize. The keyboard doesn't have any accent lighting for late night gaming sessions. Clearly, Lenovo is hoping that users will upgrade to its Y Gaming Mouse and other accessories. That's fine, but it takes away from the gaming PC in a Box experience I think they were going for.
Lenovo IdeaCentre Y700 Review: Should You Buy?
The Lenovo IdeaCentre Y700 gaming PC hits some pretty high marks. The hardware inside is perfectly capable of running modern games. In the off chance that buyers find a game that isn't, it's so easy to add upgrades that any new hobbyist could do it.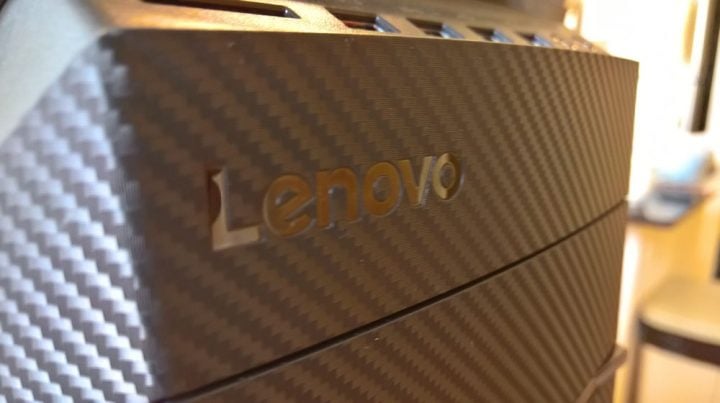 It runs quietly during productivity sessions. It doesn't get loud when you're in a game either. I'd have liked more RAM, but that's not a deal breaker. Neither are the pretty lackluster keyboard and mouse that come with it. Gamers are going to replace them immediately. Every port you could possibly imagine is included on this machine, and they're in ideal locations.
For those looking to quickly and easily get started with PC gaming, the Lenovo IdeaCentre Y700 isn't bad. It's a great choice actually, just remember to factor in the cost of a new keyboard, mouse and a RAM upgrade sooner rather than later.