Lenovo IdeaCentre Y710 Cube Review
We all have this picture in our minds that gaming PCs are black and bulky. We envision their cases with sharp angles and dozens of LED lights. They are loud and tall, all in the name of getting the right airflow to cool processors, graphics cards and whatever else that's been added to them. Your mind isn't making that leap on its own. Most gaming PCs are bulky and do come with a bunch of LED lights. They get you the best graphics possible, at the cost of your back every time you need to move them. You almost need to clear a two-foot area to get them setup. Almost none of that applies to the $999 Lenovo IdeaCentre Y710 Cube.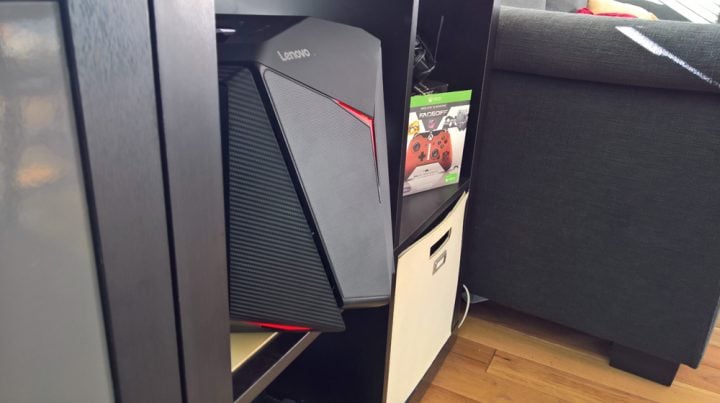 At a time when the majority of gamers are still demanding more space to add more power, the IdeaCentre goes in a different direction. It barely stands taller than an open 15-inch notebook. Its compact size lets it fit anywhere. This and a few other smart choices make it great for users that attend LAN parties frequently. On top of all those things, it has configurations that include NVIDIA's most powerful discrete graphics processor series.
Lenovo IdeaCentre Y710 Cube Review: Design & Internals
It's ironic that Lenovo should decide to call the IdeaCentre Y710, a Cube. To be considered a cube, an object has to be three-dimensional and be equal on six sizes. This machine is more elongated than one might think from its name.
No side of the machine is perfectly straight. There's a mix of matte black aluminum and hardened plastic with a carbon fiber texture running all along its case.
The front is dominated by a forward-facing Y logo. Software settings allow you to decide how bright this logo and a few accent lights at the bottom of the case glow. A mesh grille allows the machine's forward facing fans to gobble up cooler air and force it along the components inside.
Along the top of the machine is a reinforced handle for those that find themselves moving their computer frequently for gaming parties. Red ridges that sit lower in the case than the handle does provide more ventilation. Lenovo has embedded the ports that gamers will need most after setup in front, with additional options in the back. There are two USB 3.0 ports, a microphone jack and a headset jack. The power button sits up here, too.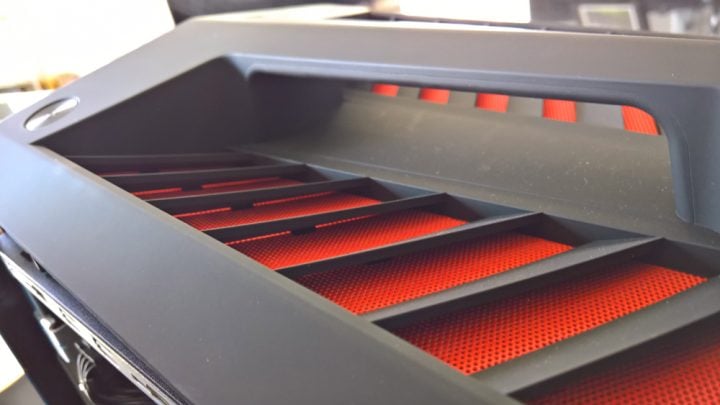 Every other port on the Lenovo IdeaCentre Y710 Cube sits on its rear. There are dedicated audio ports for any elaborate speaker systems that you choose to pair it with, SDIF for optical audio, Ethernet, four USB 2.0 ports and two USB3.0 ports. You can connect keyboards and mice the old-fashioned way using a single PS2 port as well. The motherboard included with all models supports VGA, HDMI and DVI as ways to output video to a television set.
The sides of the Lenovo Y710 Cube have sharply angled vents to allow in more air along the sides. There are also vents at top of each side to feed the PC's best feature.
Lenovo IdeaCentre Y710 Cube Review: Experience and Performance
The constraints of the Lenovo IdeaCentre Y710 Cube meant that engineers had to get creative with how they arranged its internals. It only stands 19.82-inches tall. Gamers demand power, so a full-size graphics card option was necessary for this machine. Space for   other typical components was also necessary.
The PC's hard drive mounts sit directly behind its forward-facing vents. Our review unit came equipped with a 128GB solid state drive. Lenovo doesn't want users installing games there, though, so it included a 1TB 7200RPM hard drive for storing all game installs and files that don't necessarily need to load as quickly as possible. There's enough space here to fit a third traditional hard drive.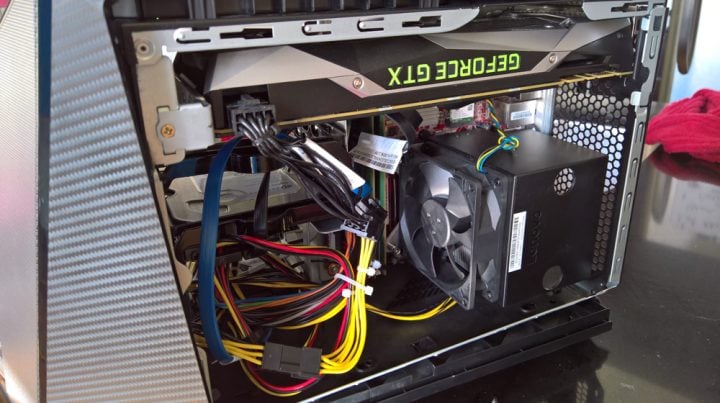 Behind the drive is the motherboard and processor. Ours came equipped with a 3.4Ghz Intel Core i7-6700 processor and 16GB of DDR-2133 RAM. The heat sink's position on the motherboard gives you just enough room to switch out what's in the dual-channel RAM slots. The machine can handle two 16GB sticks of RAM for a total of 32GB of system memory.
The most basic model with Core i5 processors and AMD graphics is $999.99. Our configuration runs $1,349.99 directly from Lenovo's website.
Floating above all of this in our review unit was the NVIDIA GTX 1070 graphics card with 8GB of dedicated RAM of its own. As expected, the card runs nearly the entire length of the case. The higher-end NVIDIA graphics cards are perfectly capable of supporting virtual reality headsets, though we didn't get the opportunity to try one. There's no disk drive option for this machine.
Experience
Lenovo does a pretty great job of balancing upgradability and portability. Before I opened it, imagined a very cramped design with little room for even another hard drive. I was wrong. I'd also imagined that the PC would get very loud as its graphics card, case fan and processor fan all worked to keep it cool while I pushed it to the limits during gaming sessions. This never happened. It remained mostly quiet, and I pushed it pretty far.
Because of an overlapping review unit, I had two Lenovo Y27 Curved Gaming Monitors on hand. I cranked Quantum Break, Gears of War 3 and Planet Coaster at maximum settings and was able to maintain roughly 60 frames per second at 1080P resolution. I didn't notice any tearing or the PC struggling.
Not only was the machine silent, but its diminutive stature meant that it never got in the way of my office setup. The IdeaCentre Y710 Cube sat in a vacant 20 x 20 space in my office organizer. Honestly, this much power in a package this size had me thinking a lot about my current gaming setup. With the multiple monitor setup tested, I decided to go for a console-like experience and connect the device to my television. The move, thanks to the very, very solid carry handle went just fine.
Only two things really disappointed me with the IdeaCentre Y710. Getting the front of the case off so that I could clean it seemed more difficult than it needed to be. Second, Lenovo seems to have decided against building in an Xbox Controller receiver. That was something the company discussed when it unveiled the machine at last year's Gamescom tradeshow.
In the end, I paired the Lenovo IdeaCentre Y710 Cube with my controller using Bluetooth. The audio through the controller wasn't as great as what I could have expected from the Xbox receiver, but it worked just fine. I suspect most gamers will skip right past this and rely on a gaming headset, which can be connected easily on the front edge.
Lenovo IdeaCentre Y710 Cube Review: Specifications
| | |
| --- | --- |
| Processor & Graphics | 3.4 GHz Intel Core i7-6700 Processor, NVIDIA GTX 1070 with 8GB of RAM |
| Memory & Storage | 16GB of DDR4 2133 RAM, 128GB Solid State Drive + 1TB 7200 RPM Hard Drive |
| Ports & Connectivity | HDMI, VGA, Ethernet, DVI, microphone port, headphone port, 4 USB 2.0 ports, 2 USB 3.0 ports, 2 USB 3.0 ports, Killer Wireless n/a/c 1535, Killer Gigabit Ethernet |
| Extras | Carry Handle, Basic keyboard and mouse |
| Dimensions & Weight | 8.12-inches x 19.82-inches x 18.85-inches. Weighs 20.06 pounds. |
Lenovo IdeaCentre Y710 Cube Review: Should You Buy?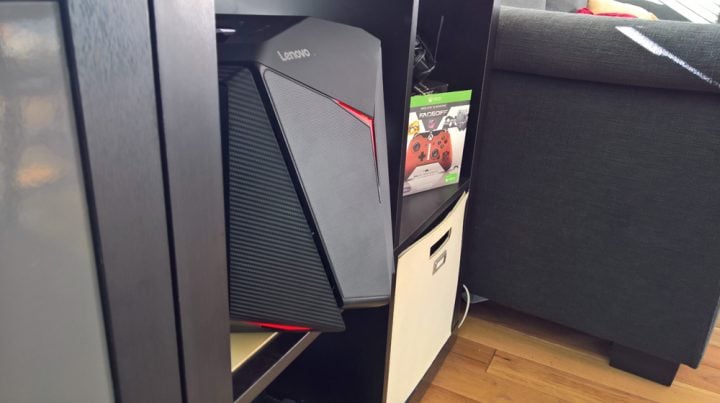 Those in need of a gaming PC with room to upgrade will be greatly served by the Lenovo IdeaCentre Y710 Cube. It's small, but has all the stuff you need for a great gaming experience.
There's enough room to expand its capabilities, checking off a major priority for any gamer. Who wants to keep upgrading their entire chassis every year? Though I'm not much for gaming parties, the small footprint makes it perfect for college dorms and areas where space is a concern. Despite its size, it's compact and runs quietly.
If you are in the market for a small gaming PC, the IdeaCentre Y710 Cube will do the job just fine.