Lenovo IdeaCentre Y900 Review: Future Proof
We move the goal post so often for PC gaming companies that it's a wonder they're able to keep up. First, just running any game was necessary. Then we all graduated to PCs that are capable of high-definition graphics and running at 60 frames per second. Lenovo's IdeaCentre Y900 gaming PC attempts to anticipate where gamers will move the goal post next week, next month and next year.
With the cheaper, but similarly designed Lenovo IdeaCentre Y700 pulling duty as the line's affordable gaming alternative, the IdeaCentre Y900 is free to be a beast. Inside is NVIDIA's GTX 1080 Founder's Edition graphics card, plenty of RAM and an Intel Core i7 processor. Because of these internals, the machine will run any video game buyers throw at it without a single hardware upgrade. When you finally get that 4K display, this machine will be able to power it. The same goes for Oculus Rift VR headsets and virtual reality games.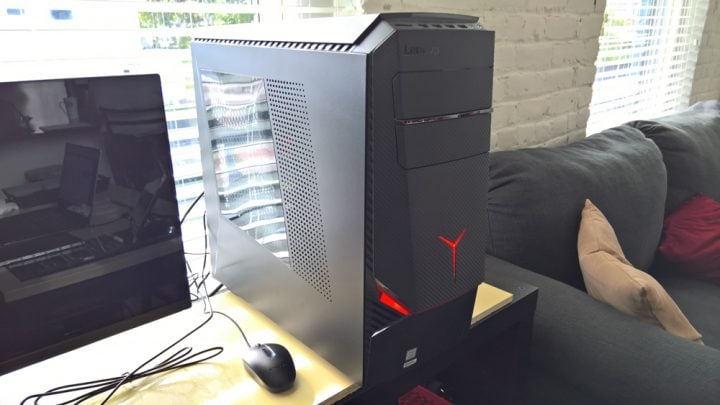 Sure, gamers will need to save some major cash to get all this forward thinking technology. The Lenovo IdeaCentre Y900 costs $2,099.99. At least the machine proves well worth the investment.
Lenovo IdeaCentre Y900 Review: Design & Internals
When Lenovo finds something that it thinks users like, it sticks with it. The IdeaCentre Y900 doesn't just look similar to its cheaper brother. It's the same chassis design entirely – save for a nice addition for hardcore gamers that we'll get to in a bit.
A carbon fiber weave design runs the entire 19-inches of the machine's front panel. It's interrupted a few times. On the lower half of the front panel sits a red accent lamp that gamers are free to turn on and off. Just above that is Lenovo's angry red Y gaming logo. Neither are too flashy, but you can't change what color they glow – at this price point, I think most hardcore gamers would want that option.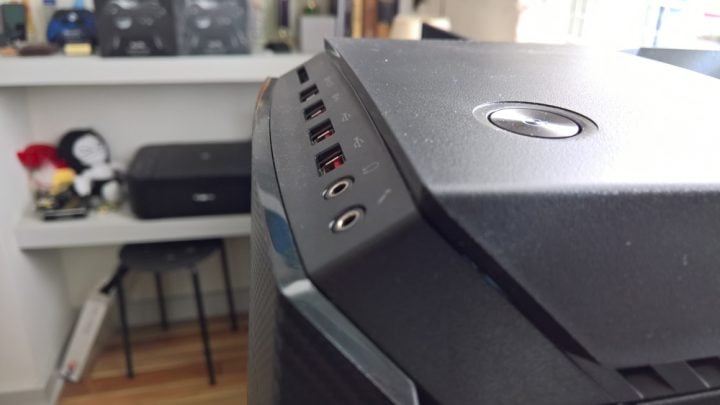 There are two drive bays in the IdeaCentre's frame. Only one of them comes with something in it. There's a tray loading optical drive for DVDs and CDs, but no Blu-Ray, which is kind of an odd omission in a device that costs this much. 2 USB 2.0, 2 USB 3.0, a card reader and two audio jacks all sit on an outcrop at the top of the IdeaCentre Y900. This, too, is a borrowed idea, but it's effective. You won't catch yourself having to pull the machine away from the wall to plug in a joystick or a wired controller.
This area doubles as a handle for moving the machine. I'm not sure you'd want to move all 33 pounds in this way regularly, but for LAN parties, that handle is a nice touch.
With the flip of a switch and a button press towards the back of the case, you can let down the left-face of the Lenovo IdeaCentre Y900 and clean its components. The mechanism for opening the case hasn't changed, but the face of the case has. It's clear so that you can see the GeForce logo shine brightly from the inside of it.
Around back are four more USB 3.0 ports, 2 USB 2.0 ports, 6 audio ports and a legacy PS/2 connector. VGA, HDMI and DVI ports allow you to connect to any display. There's also Gigabit Ethernet, so one of the fastest computers you can buy is capable of supporting the fastest internet connection possible.
Internals
If 8GB of RAM is the minimum for any high-end PC, 16GB of RAM is the minimum for any serious gaming PC. The IdeaCentre Y900 has 16GB of DDR4 RAM. You won't find yourself wanting to add more for a while. The two tier storage solution found in other gaming PCs is present in this one too. The 1TB hard drive is there to store every title in your Steam library. The 128GB SSD is so that your apps and Windows 10 load quickly. One thing worth noting here is Lenovo's decision to include a 7200RPM hard drive instead of the 5200 RPM drive in the IdeaCentre Y700. A speedier mechanical drive is always nice. You notice the difference. The Intel Core i7-6700K process has a 4.00GHz clock speed.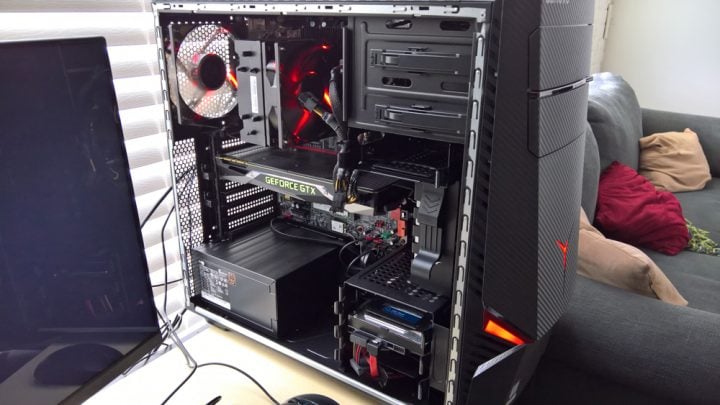 What pulls everything together is the NVIDIA GTX 1080 Founders Edition graphics card. It's got 8GB of GDDR5X RAM built into it already. There's plenty of room in the chassis to add more hardware if you need to without picking up a single tool. You'll need to toy with some of the cables toward the front of the case.
Lenovo IdeaCentre Y900 Review: Experience
Let's be clear right now, the IdeaCentre Y900 is a powerhouse, an absolute powerhouse. Every game that you throw it at in high-definition runs amazingly well. I'm not just talking recent games either. Gears of War 4 runs at a buttery smooth 80 frames per second with a high-definition display on ultra-settings. It did this consistently. With this machine you can go ahead and switch every setting to its highest and still get upwards of 60 frames per second.

You do get a little fan noise, but not too much. It's certainly not as fantastically loud as some other gaming rigs can get. That's likely due to the big vents in the front and back of the machine, the GeForce GTX 1080's vapor cooling system, and rubber caps that insulate the system's components.
Windows 10 starts quickly and Steam runs perfectly. Lenovo worked with Facebook's Oculus subsidiary to make sure that the IdeaCentre Y900 is Oculus Rift VR ready, but I wasn't able to test that experience myself. With the designation, you can be sure you'll get a decent Oculus experience.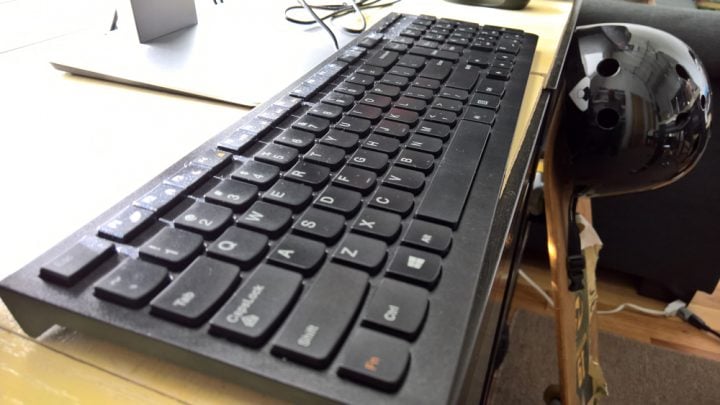 If there's a single negative with the IdeaCentre Y900 it's that Lenovo doesn't include its high-end gaming accessories with this model either. I get that the company is betting anyone that spends this much money on a gaming PC will have the accessories they want to use. That's certainly a fair point, but I'd also argue that including them would have brought this PC much closer to an all-inclusive experience.
Lenovo IdeaCentre Y900 Review: Specifications
| | |
| --- | --- |
| Processing & Graphics | Intel 3.00GHZ Core I7-6700K Processor with NVIDIA GTX 1080 Founders Edition Graphics & 8GB of DDR5 RAM |
| Storage & RAM | 128GB Solid State Drive & 1TB 7200RPM hard drive. 16GB of DDR4 RAM |
| Ports & Extras | DVD Drive, 7.1 Surround Sound with 6 audio jacks, 802.11AC Wireless, Bluetooth 4.0, Gigabit Ethernet, Card Reader, 4 USB 2.0 ports, 6 USB 3.0, 2 front-facing audio jacks, 1 PS/2 Connector, 1 VGA port, 1HDMI port, 1 DVI port, Optical Audio Out |
| Dimensions | 8.12-inch x 19.82-inch x 18.85 inches. 33 pounds. |
Lenovo IdeaCentre Y900 Review: Should You Buy?
The Lenovo IdeaCentre Y900 is the ultimate gaming machine from Lenovo. If you're looking for something pre-made, that already includes the GTX 1080, this isn't a bad buy at all. You've got plenty of room for future expansion and everything you need to get the best gaming experience today.
Just remember to count the costs of replacing the including keyboard and mouse. Also, look out for a Blu-Ray drive if you've already got a decent collection of movies using the format.