Lenovo Ideapad 300 Review
In a world where things are always getting more powerful and more expensive, there's something sweet about any piece of technology that resists change and a high price tag. Yes, we want and need our devices to get more powerful, but progress for the sake of progress isn't always so great. Windows 2-in-1s and expensive Ultrabooks get all the attention these days. What about notebooks made for the average person? There's the no-frills Lenovo Ideapad 300.
The Ideapad 300 doesn't come with ports for new standards that aren't yet essential. It doesn't have a touchscreen display for people who don't want one. What it does have is plenty of ports you can use, a comfortable keyboard and a DVD drive that'll let users keep enjoying all the movies and disc-based software that they've gotten used to over the years. Shoppers get all of this, for as little as $449.99.
Lenovo Ideapad 300 Review – Design & Internals
Classic is the best way to describe the design of the Lenovo Ideapad 300. It's a throwback to the days when not all PC makers were using aluminum enclosures and every trackpad came equipped with two buttons.
The bottom shell and sides of the notebook are a matte ABS plastic that feels sturdy enough, but does flex when forced. Lenovo smartly mixed in some color with a flashy, gloss-heavy lid that's available in red or silver, depending on the buyer's preference.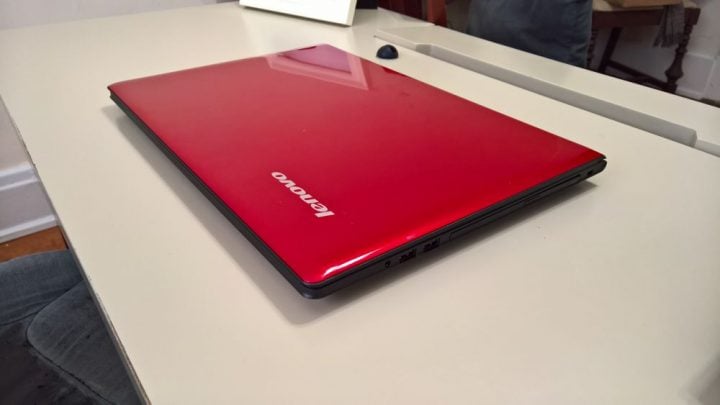 The designers of the machine were clearly inspired by the tactile feeling of a closed notebook. Both the top and bottom lids have a patterned ridge. On the top lid, this ridge is textured to allow users to open the notebook easily from any direction except its rear. All the ports sit just above the ridge on the bottom of the notebook.
Of course, there's Lenovo's rectangular power port. Joining it on the left edge of the device are a fan vent, a VGA connector – yes VGA — Ethernet, HDMI, USB 3.0 port and a media card reader for getting pictures and video off cameras and video recorders. On the right edge of the notebook are two USB 2.0 ports, a headphone jack, lock slot and that aforementioned DVD drive.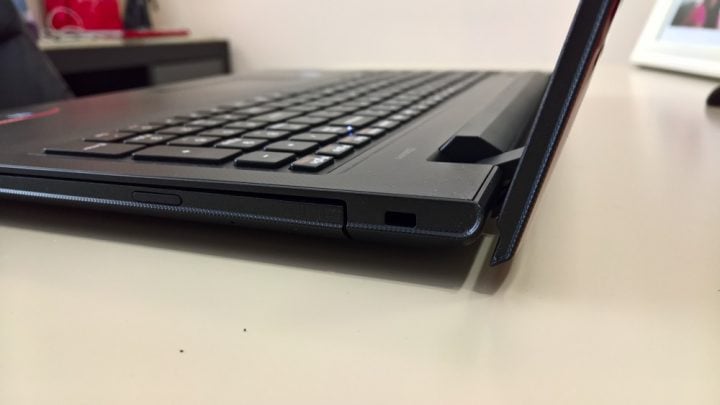 To complete the early 2012 throwback, alcoves on the bottom of the notebook allow users to get access to the notebook's RAM and hard drive compartment.
Inside, the Lenovo Ideapad 300 is a sea of black. The textured keyboard deck feels great under a palm.
Of course, a plastic build and 15.6-inch display do come at the cost of size. The Lenovo Ideapad 300 weighs 5 pounds and is 0.90 inches thick. My guess is that if you're really into ports and the disc drive, you won't mind the thickness at all. After a while your back might mind the weight, though.
Inside
Shoppers gunning for an affordable notebook PC, usually don't need a lot of power. In fact, if affordability is a big concern, power is generally the first thing that a notebook maker cuts to save on costs. The Lenovo Ideapad 300 has two processor options. One is an Intel Core i5 processor and Intel HD Graphics 520. This configuration is more middle of the road. It costs $649. Both the $449 Intel Pentium and Intel Core i5 versions come with the same basic hardware inside.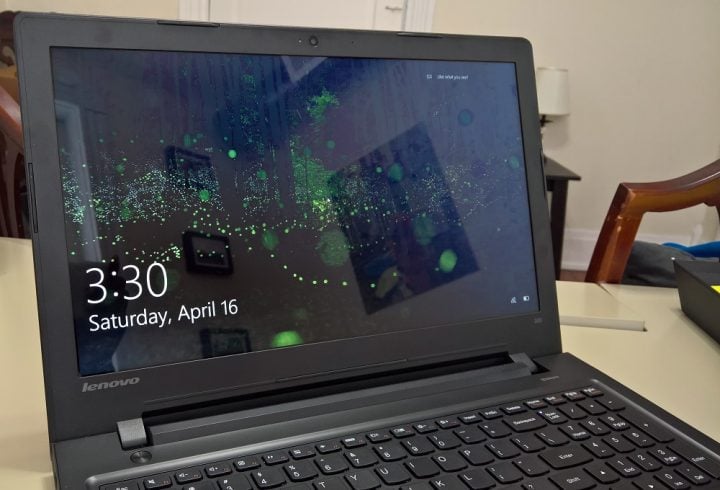 Everything gets stored on a 500GB 5400 RPM hard drive. This makes the notebook slower to start. Moving large files takes some time too, but you get lots more space than you would for the price otherwise. Each version also has a 720p front-facing camera just above the display so that owners can video chat and take selfies. It's a terrible camera, with noise ruining whatever pictures or video you capture in low-lighting. On the other hand, I wouldn't say that having a bad chat camera is a deal breaker.
Lenovo plays up the entertainment qualities of the Ideapad 300 with stereo speakers that users can tweak with Dolby software.
Lenovo Ideapad 300 Review – Experience
Those speakers, the FHD display and dedicated disc drive make the notebook something I wasn't expecting. Really, the Ideapad 300 is a great entertainment notebook. Watching streaming video on the device looks nice thanks to the high-definition display. Tweaking the settings for the speakers is easy, with presets offering quick ways to switch between gaming, music and video sound modes. A nice graphic equalizer provides some needed eye candy for the app. There's no bass to speak of. You can fill a room with sound, though.
The disc drive built into the notebook works well, thanks to Lenovo picking up the slack for Microsoft. The company, betting that optical drives were on the decline, removed some things necessary for Windows users to play DVDs a while ago. Lenovo includes a version of Power DVD and a piece of media burning software to make enjoying and expanding your disc library simple. Meanwhile, Microsoft is charging for access to its own DVD player with the Windows Store.
The button on the DVD drive is too flush, but still accessible. When the IdeaPad 300 is reading a disc, you'll know it. The motor adds a soft vibration underneath your palms. Also, you can hear the drive spinning.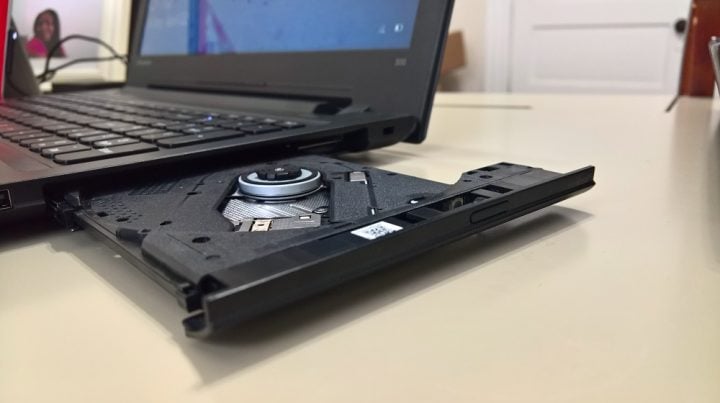 As for everyday productivity, the IdeaPad 300 is perfectly capable of running Microsoft's Office apps or checking email. Browsing websites with lots of ads can get tedious. Microsoft Edge typically froze for just a bit loading some of my favorite websites. Web pages still load, but they take about four seconds more than what they should.
If you're thinking of playing games, this isn't the notebook for you. The casual games on the Windows Store work fine, but you're not getting anything more from the Pentium version of this machine. If you're looking to expand from creating media to editing media such as video, go for the higher-end Intel Core i5 version.
The Ideapad 300's keyboard is nice. It has lots of key travel and good spacing. Lenovo did move the FN key to the right of the CTRL key, but you'll adjust to it. The keys don't feel as tight as more expensive Lenovo machines, but they aren't bad in their own right.
I'm absolutely not a fan of the device's touchpad. The texture isn't off or anything, but I noticed my pointer jumping even after I'd adjusted a few settings. I think the surface could stand to have a little less friction as you move your finger. There is something nice about returning to the classic, two-button touchpad design. The buttons work fine.
Without turning down the brightness, expect around 4 hours of video playback. I was able to stay productive for more than that with display brightness set at the halfway mark.
Lenovo Ideapad 300 Review – Should You Buy?
The Lenovo IdeaPad 300 reminds us of days now gone. In the not too distant past, finding the best notebook came down to having a wealth of ports, expandability and a nice display. You didn't need detachable keyboards or touchscreens.
The Lenovo IdeaPad 300 is great for anyone that still has a notebook from this era on its last leg. It's also great for basic users. Lenovo has thrown enough RAM, storage, display pixels and ports to make this thing feel like a modern incarnation of something you could have purchased at Best Buy in 2012. For those who want options now missing from thin Ultrabooks, this is a terrific machine.
Just remember to opt for the Intel Core i5 processor if you have even an inkling that you need mid-range performance for media editing in the future.