Lenovo Ideapad A1 7-Inch Android Tablet Hands-On
Yesterday Lenovo gave me a sneak peek at their upcoming 7-inch tablet, the A1. With this size screen and Android 2.3 running the show, it may seem like a tablet out of the past rather than the Honeycombified now. But you won't find any Honeycomb tablets that cost just $199 and can fit in a jacket pocket. Slated to come out sometime in the next 3 months, Lenovo hopes to get it in stores for the holidays, though they may miss them by a hair.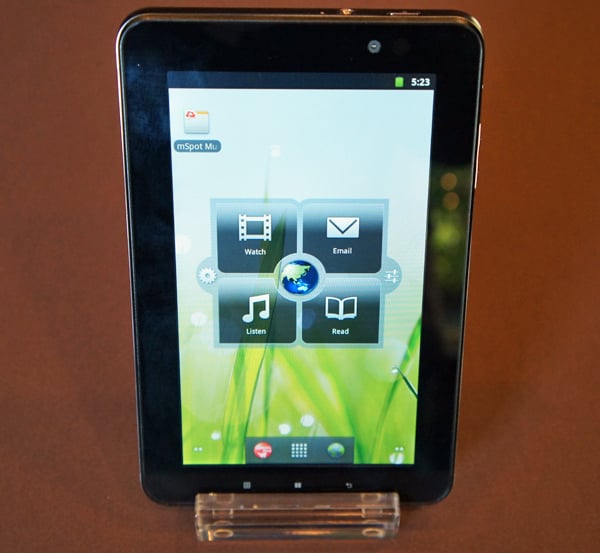 The A1 shares many of the characteristics of Lenovo's other Android tablets. The skin over Android is similar to the one on the Honeycomb versions and the Lenovo Launcher widget takes center stage on the Home screen. The company plans to pre-load a lot of apps, just as with the K1, and mSpot will again provide media purchasing and streaming options.
This will be a pretty durable tablet as well with Gorilla Glass on the front and a magnesium rollcage design underneath the plastic back. Lenovo says this is a first for tablets.
Overall the device is really light and thin — it's about the same thickness as the Galaxy Tab 10.1. It feels even better in the hand than the original Galaxy Tab, which was comfortable to hold. Since the A1 is less bulky, it will not only fit in a pocket but you may not even notice it there after a while.
No details yet on the guts or storage options, and the only ports seem to be micro USB, SD card, and a SIM card slot. This can change, as the units I saw were pre-production. Consumers will get a choice of back colors: white, black, blue, mauve and another to be determined.
At $199, the A1 is less expensive than the Nook Color and likely to attract a similar crowd. Barnes & Noble should take note. As I said, no release date yet, but we'll let you know when Lenovo makes the official announcement.