Lenovo IdeaPad Miix 510 Review: The Bold & The Familiar
Microsoft was trying something new when it launched the Surface Pro. It had user data showing that people carried around both a laptop and a tablet, but whether anyone would embrace a device that wanted to be both was very unclear. The company was making bold moves to ensure that it and its partners would have a foothold in the tablet space. Coming four years after that first Surface Pro, is the Lenovo IdeaPad Miix 510. It's no trailblazer, but it's a bold move for Lenovo just the same as that first Surface Pro was.
Lenovo bet big on Windows 2-in-1s, but not like the Surface. With the Yoga line, it created notebooks that could become tablets. That bet paid off; this year's Lenovo Yoga 900s is the best in its class. Now the company is back to dethrone the tablet-that-can-be-a notebook king with a very similar design, a few upgrades and some cost savings.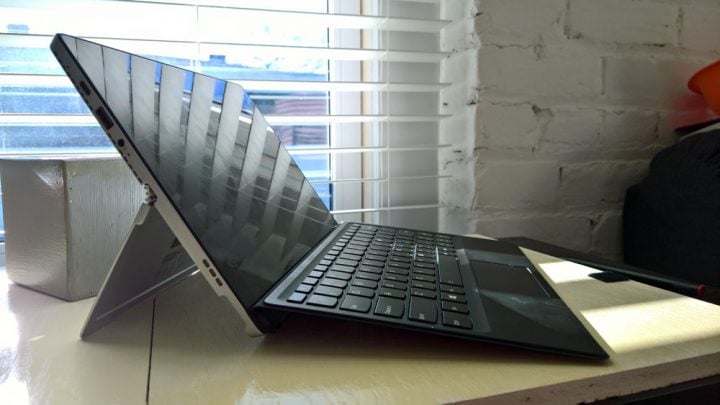 The upgrades and savings pay-off in a big way for the $799 device available at Newegg.
Lenovo IdeaPad Miix 510 Review: Design & Internals
Cloning a successful device never works out well for the company doing the cloning. Companies have to focus on what makes their take unique. For the Lenovo Miix 510, Lenovo very clearly put the focus on cost.
It's most distinctive attribute is the watchband hinges on the back of its Magnesium Aluminum frame that allow the kickstand to extend out and freely adjust. Also on the back is a 5-megapixel camera and the Lenovo logo. The top and bottom edges gently curve to make the device feel a bit thinner in your hands. At its thickest point, the Miix 510 measures 0.4-inches.
A speaker sits on each side of the device above slots that allow you to push the kickstand out. On the right edge is a headset jack, volume rocker and power button. On the left edge is a charging port, USB 3.0 port and USB 3.0 Type-C port. Along the top is a set of vents for the fan that cool the Intel 2.3Ghz Intel Core i5 processor inside.
The front of the IdeaPad Miix features a 2-megapixel front-facing camera and a 12.2-inch 1920 x 1200 touchscreen display. The processor is backed up by 8GB of DDR4 RAM and Intel HD 520 graphics. Everything is stored on a 256GB solid state drive because there's no SD or MicroSD card slot.
Lenovo IdeaPad Miix 510 Review: Experience
This needs to be said right now, the Lenovo Miix 510 is a better deal than the Microsoft Surface Pro 4. There's simply no arguing that since the price and internals don't lie.
Lenovo includes this keyboard and a cover that's essential to its use, at no additional charge. To get an Intel Core i5 processor and the same internals in the Surface Pro 4, you're looking at spending $1,299. You'll still need to purchase a Surface Type Cover, so that's another $129.99.
What Lenovo doesn't do is bundle a digital pen with the Lenovo Miix 510. It's $39.99 extra to take advantage of the 2,048 levels of pressure the Wacom technology inside the device is capable of.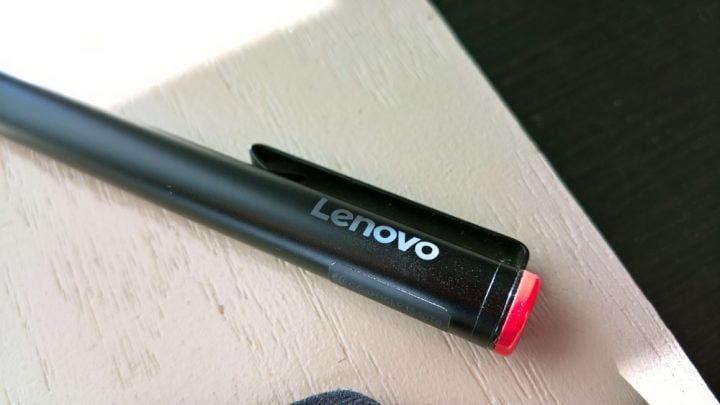 Money isn't everything, though. These are lifestyle devices meant to change the way you work and the way you relax. They're a sum of their parts. There's a lot of good here, but also some bad.
The Miix 510's keyboard comes on strong.
Lenovo bet on durability and a faux leather finish for the IdeaPad Miix 510 keyboard cover. It'll definitely look more professional over the long run than the Surface Type Cover's textured skin. There's 1.5mm of key travel. The spacing and key positioning matches what you'd see in a 14-inch notebook.
Unfortunately, this very comfortable keyboard experience comes at the expense of the trackpad. The trackpad on this device is tiny. You'll long for a mouse.
Lenovo makes trade-offs in other areas too. The Lenovo Miix 510 is more powerful than Surface, but you're looking at significantly less battery life to go with that power. The Surface lasts around 8 hours with minimal settings between charges. At most, you can expect around 7 hours out of the Lenovo Miix 510. At least it was consistent, though, with the right settings I routinely hit that time.
I also routinely heard the Lenovo IdeaPad Miix 510's fans, which kicked on regularly when browsing with Microsoft Edge. This machine has to have a fan because of the Core i5 processor inside. The extra power is worth the ambient noise, but it startled me a little when switching from the Surface Pro 4. My less-powerful Intel Core m3 Surface doesn't have a fan, which makes for fewer distractions when using it on the couch to read or watch videos. On the other hand, when I go to a website or open an app in Windows 10 on the Miix 510, there's no lag or waiting. It just works. That's something I wish I could say about my Surface Pro 4 these days.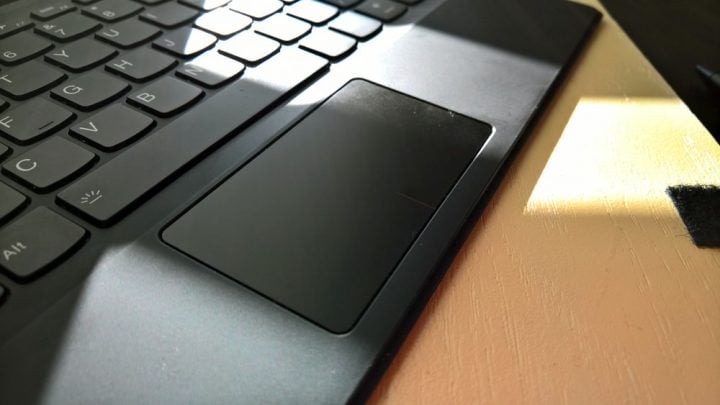 You pay for the power in other ways you might not expect, too. Lenovo opted for a 12.2-inch screen with a resolution of 1920 x 1200 pixels, which is a lot less than what the Surface Pro 4 offers.
The company bills the Miix 510 as a business and productivity powerhouse, but it doesn't offer any way for businesses to enable Windows Hello sign in. There's no fingerprint scanner or retina scanning. Surface has the latter and makes the former optional with a cover purchase.
Lenovo also went with a very strange port line-up that's rooted in the past and present. There's a USB Type-C port just like the ones that every device will offer in the future and Samsung uses today in its phones. USB-Type C is very, very versatile. It's not just for data transfers, it can handle external displays and docks, too.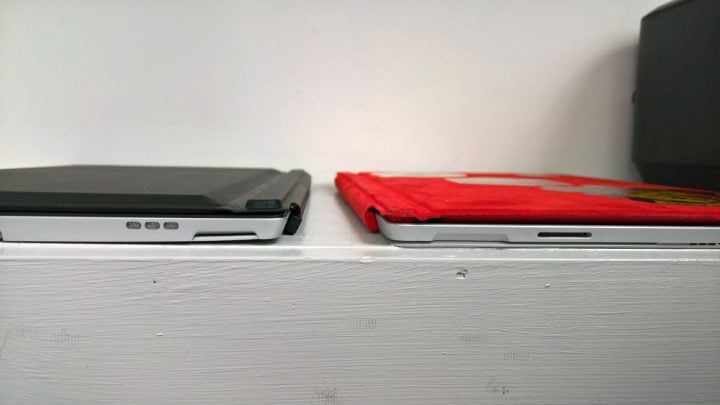 But you'll need to heavily rely on this port and the regular-size USB 3.0 port. There's no dedicated video out  and no MicroSD Card slot. There's no support for Lenovo docking stations or WiGig adapter, either.
Reading and editing in portrait mode made one thing abundantly clear my first week with the Miix 510: the power button is absolutely in the wrong place. I kept accidentally turning the device off trying to read in portrait. Sometimes I'd miss the volume button in landscape and hit the power button instead.
The add-on Lenovo Pen doesn't have an eraser like the Surface, but it performs better. You're able to notice the big gulf in pressure sensitivity between the Wacom technology that the Miix 510 offers and what's included in the Surface as you take notes and draw. There's also less lag with each pen stroke. Lenovo hands this advantage away slightly by charging extra for pen input and not offering a built-in place to store it when not in use, but I'd say they're still ahead.
Luckily, you can also carry the pen in a loop on the free sleeve that comes with the Miix 510. You'll want to stuff the square power adapter in that bag too if you're headed out for a long day.
Lenovo IdeaPad Miix 510 Review: Specifications
Processor & Graphics
2.30 GHz Intel Core i5-6200U Processor, Intel HD 520 graphics
Memory & Storage
8GB of DDR4 RAM, 256GB Solid State Drive
Display
12.2-inch FHD Display with 1920 x 1200 resolution, Wacom Digitizer with 2,048 different levels of pressure
Ports & Extras
1 USB 3.0 port, 1 USB Type-C port, headphone jack and keyboard connector port.

5-megapixel rear-facing camera and 2-megapixel front-facing camera.

Bluetooth 4.0 and 802.11 AC Wireless

Battery Life
7.5 hours of battery life
Dimensions & Weight
11.8-inches x 8.1-inches, 0.4-inches thick without keyboard. Weighs 2.65 pounds with keyboard.
Lenovo IdeaPad Miix 510 Review: Should You Buy?
I can't argue that the Lenovo IdeaPad Miix 510 is better than the Surface Pro 4 for every type of user. It weighs more than the Surface and gets hours less battery life. You can't log in with your eyes or your fingers. It's heavier and thicker than its contemporary, too.
That being said, Lenovo is willing to do what Microsoft won't do: offer power and a keyboard for a reasonable price. Yeah, you're missing Windows Hello and the pen, but you get a more durable add-on keyboard at no additional cost, more storage, more processing power and more RAM for less money than even Microsoft's weakest offering. You also get a USB Type-C port, which is going to come in handy as more monitors and smartphones come with it.
If you want a tablet that can become a powerful laptop for a reasonable price, the Lenovo IdeaPad Miix 510 has you covered. That's not bad for a company who until recently focused on notebooks that could become tablets.