Lenovo IdeaPad S10-3t Netbook Convertible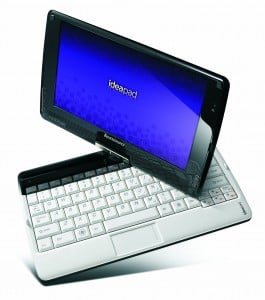 Lenovo's introducing the S10-3t, a convertible netbook that comes complete with a capacitive multi-touch display. This is the first touchscreen display in an IdeaPad of any kind and I'm looking forward to checking it out this afternoon here in Las Vegas.
According to a Lenovo spec sheet, the S10-3t will come with either a 1.66 GHz Intel Atom N470 or 1.83GHz Intel Atom N450 processor, up to 2GB of RAM, up to 320GB hard drive and Intel GMA 3150 graphics. The base configuration weighs in at 2.76 pounds with the standard four-cell battery. An optional eight-cell 'hybrid' battery ups the ante to 3.31lb. The four-cell battery is rated at 4hrs and the eight-cell is rated at 10hrs. Real-world battery life will vary of course. The spec sheet also mentions WWAN, and WiMax, leaving the door open for carrier partnerships.
On the software side of things, the S10-3t will ship with Windows 7 Starter, Home Basic or Home Premium. Users will have the option of booting into Quickstart 2.0 to get online quickly for those times they don't want to wait for Windows to boot up. I personally don't find much value in these secondary OS's, but it's there if you need it. One piece of software that sounds more useful is DirectShare, an application that can be used to sync the S10-3t with another PC.
The base price for the S10-3t is going to be about $500 with the slower processor and a four-cell battery. Exact pricing hasn't been set on the version with the 1.83GHz processor, 320GB hard drive and eight-cell battery, but I expect it to be in the $600 range.