Lenovo IdeaPad S12: First Notebook w/NVIDIA ION
Lenovo's officially introduced the first notebook to feature NVIDIA ION graphics. This new graphics platform offers outstanding graphics performance without sacrificing too much battery life. The IdeaPad S12 will be available in the U.S. soon for $449. I got a chance to play with a pre-production IdeaPad S12 and shot a quick video.
The IdeaPad S12 joins the ranks of "netbooks" that should probably be classified as ultraportable notebooks. The full-sized keyboard, 12″ display and ION graphics mean that the S12 is fully capable of being a primary computer for those with basic needs.

NVIDIA's ION graphics make it possible for the S12 to playback high-def content without missing a beat. You can also play advanced video games, such as Call of Duty 4 on computers equipped with NVIDIA ION graphics as long as you tone down some of the settings. I wouldn't recommend buying the S12, or any other affordable netbook with high-end gaming in mind, but these capabilities sure are amazing considering where the netbook and sub-$500 notebook market was just a year ago.
The S12 is very similar in appearance to the newly introduced S10-2. The IdeaPad S12 has a 12.1″ WXGA display, Intel Atom N270 processor, 1GB of RAM and 160GB hard drive. It has a few more ports than the S10-2, including a third USB port, ExpressCard slot and an HDMI port when configured with NVIDIA ION graphics.
The IdeaPad S12 I saw had a three-cell battery, but a six-cell battery will be standard on U.S. models. The six-cell battery is rated to for up to six-hours of battery life. The IdeaPad S12 weighs 3.7lbs with the six-cell battery.
There will be three U.S. SKUs at launch:
1) S12 1411Ubk 12.1LED Atom-N270, 1GB-DDR2, 160GB, Intel Integrated graphics, XP Home, 1.3M, 6Cell, Black $ 449.99
2) S12 1411Uw 12.1LED Atom-N270, 1GB-DDR2, 160GB, Intel Integrated graphics, XP Home, 1.3M, 6Cell White $ 449.99
3)S12 1411Ubk 12.1LED Atom-N270 1GB-DDR2 160GB   NVIDIA ION, XP Home 802.11bg 1.3M, 6Cell Black $ 499.99
The $449.99 versions of the S12 will come with Intel GMA 945 graphics. Lenovo will sell the S12 with VIA Nano processors overseas.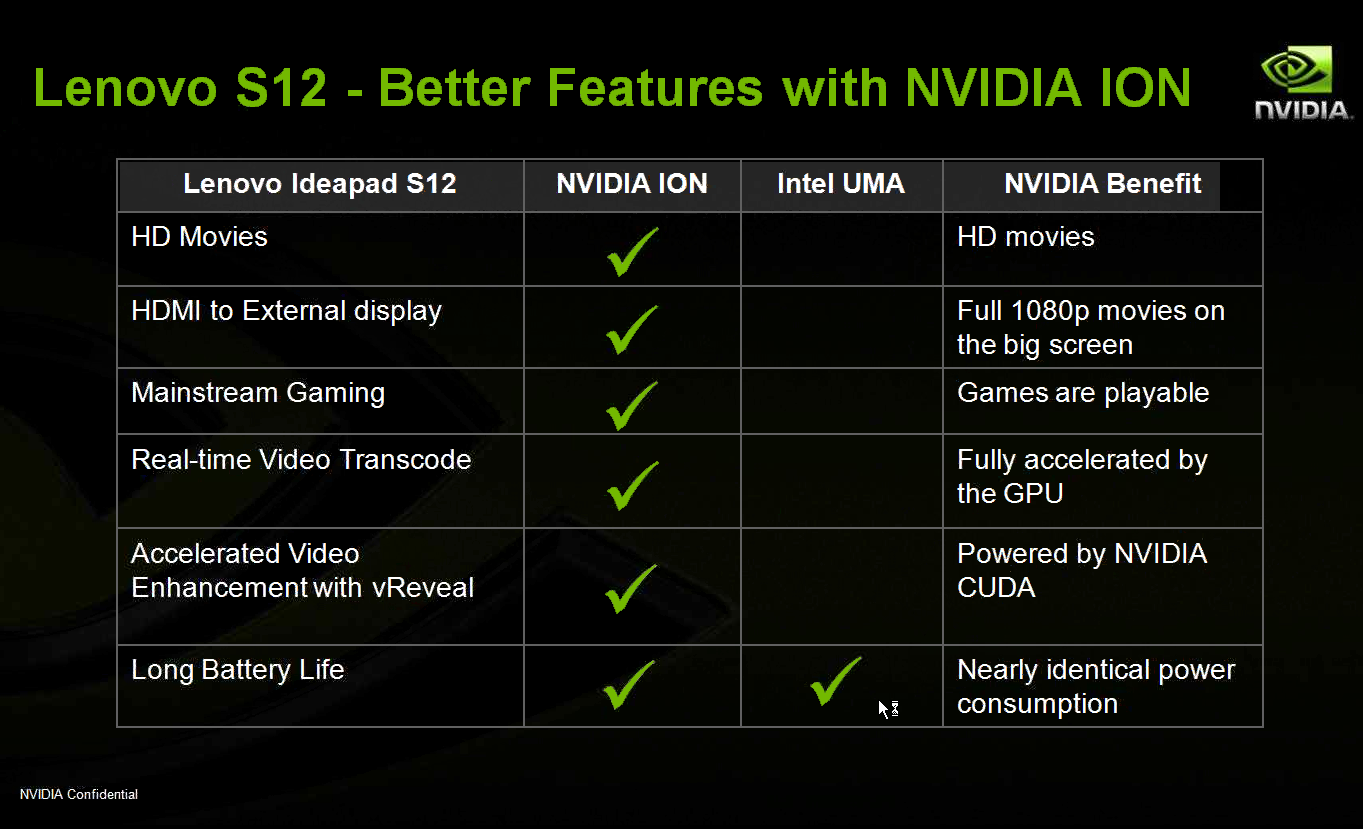 This is a video that demonstrates how well NVIDIA ION can play back high-def content on an ION reference design:

And another video showing an NVIDIA ION reference design handling Call of Duty: Modern Warfare