Lenovo IdeaPad U300s Ultrabook Unboxing and First Impressions
Lenovo's new IdeaPad U300s ultrabook arrived not too long ago. Yes, it's yet another ultra thin, ultra light laptop. But what I think you'll appreciate about this one is that it's not trying to be a MacBook Air clone. At least, not on the outside.
The U300s is aesthetically in line with Lenovo's other high-end IdeaPads with the squarish sides and non-standard metal covers. For their ultrabook, Lenovo made the design skinnier and lighter to excellent effect.
This notebook weighs just 2.9 pounds, a hair heavier than my netbook. With a thickness of just 0.59 inches it will probably fit into my purse, too.
With a professed 8 hours of battery life, this could be an all-day laptop I can carry everywhere even if I'm not sure I'll eed it. This is exactly why I liked netbooks.
The minimalist vibe of the U300s begins with the box, which isn't fancy but does have a compartment for everything.
Opening the lid the minimal design continues, and that's not a bad thing. Though simple, the U300s strikes an elegant pose just as a premium notebook should.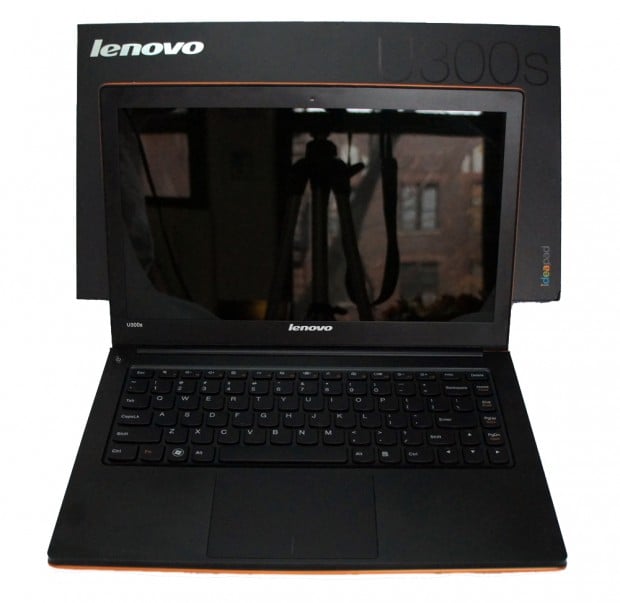 I'm glad to see the island-style keyboard. So far it's very easy to type on and offers decent tactile feedback. This isn't a ThinkPad, so I don't expect the very best, but I do expect good.
The touchpad is a large clickpad — okay, perhaps some MacBook Air did creep in here… — which so far hasn't given me any trouble. I'm going to go gesture-tastic on it later.
So far, this laptop has made a good impression on me I'm going to put it through the ultimate test over the next few days: getting all my wordcount in for NaNoWriMo. I'll have a review up over on Notebooks.com soon.

As an Amazon Associate I earn from qualifying purchases.