Lenovo Ideapad Y900 Review: Defining What Ultimate Gaming Machine Means
I'll admit, I've never thought about what the ultimate gaming laptop would be like, just how it'd perform. Every so often I dream about owning a PC that can handle any game that I throw at it. The Lenovo Ideapad Y900 makes the case that there's something to the Ultimate Gaming PC beyond horsepower.
The Ideapad Y900 is the biggest, beefiest, heftiest machine you'll ever come in contact with. It's aggressive looking, just as every gaming notebook in the Y series has been. Lenovo's dedication to creating the Ultimate Gaming Notebook manifests itself in ways you wouldn't necessarily expect in this notebook. It's those details that make the Ideapad Y900 worth Lenovo's $2,499.99 asking price.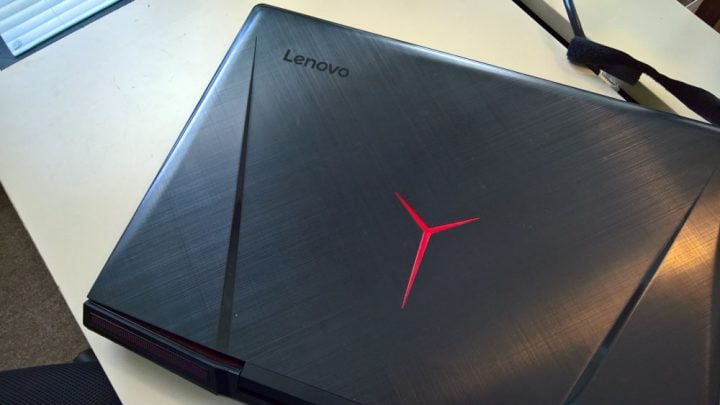 Lenovo Ideapad Y900 Review: Design
Typically, using as few words as you can to describe something is a writing best practice. I've heard "huge" and "gargantuan" used to describe other products in the Lenovo Ideapad Y gaming family. Neither begins to describe the 10-pound Ideapad Y900.
Its body is primarily made up of a dark plastic, though the lid and bottom use slightly textured metal. A Y logo shines brightly from the top lid when the 17-inch notebook is powered on. A massive array of triangular air vents and speaker grills sits on the bottom of the notebook.
The red accents and familiar look continue once you open the Ideapad Y900. A fake mesh design above the keyboard tricks your mind into thinking that its JBL subwoofer and speakers are directly facing you. A glowing led strip that's centered around the hinge that holds the notebook's display upright runs through this would-be speaker grill. The JBL speakers and subwoofer actually pour sound out of the notebook's bottom.
All of the input devices on the Ideapad Y900 are lit by LED lights. This way, you know exactly where your fingers should be without turning on an extra light source. The trackpad has a perimeter LED that tells you where to land your finger swipes and taps. There's textured plastic around the trackpad that acts as a palm rest. Though it's more gentle on the forearms than the angular plastic would be, it caused my forearms to sweat a little.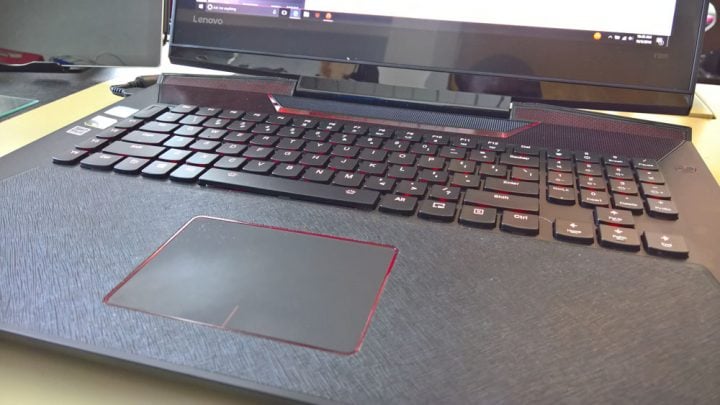 This wouldn't be a contender for best gaming notebook purchase if it didn't include a dedicated number pad. They're essential for enjoying most action heavy games where there are a lot of commands to keep track of. Lenovo also throws in a bonus set of dedicated Y keys on the left side of the keyboard.
Lenovo Ideapad Y900 Review: Internals
All of the Ideapad Y900's ports are on its left and right edges. The right edge holds power, DisplayPort, HDMI 1.4, Ethernet, USB Type-C and two USB 3.0 ports for connecting joysticks, external keyboards and other devices you deem essential to your gaming experience. A media card reader, two audio jacks, two USB 2.0 ports and a lock slot sit on your left.
Oh boy, does the Lenovo Ideapad Y900 come stuffed with the necessary hardware to deliver high frame rates and great visuals in any game.
A 2.7 GHz Intel Core i7-6820HK processor is at the heart of this notebook. It's backed up by 16GB of DDR4 RAM and an NVIDIA GeForce GTX 980M graphics card that has 8GB of dedicated RAM on its own. To offer the best in start-up and app performance, Lenovo has included a 256GB solid state drive. You can store games on it, but the company hopes that you'll use the 1TB traditional hard drive that's built into the notebook for that.
Probably for both performance and battery life reasons, the Ideapad Y900 has a 17.3-inch display with G Sync technology that only reaches standard HD resolution. Gamers will need to add a 4K display to their home setup if their hearts are set on taking advantage of that screen technology.
Traditional gaming hardware makers are finding themselves besieged by in-house brands from PC's biggest names. Acer, Asus and HP are all making big moves in the space. Each is trading on performance and design.
Tiny details and software upgrades are how Lenovo hopes to stand out. It tries a lot with the IdeaPad Y900, some of which pays off.
The Keyboard
These aren't your normal key mechanisms hiding behind the red colored caps. Instead, Lenovo's engineering team has added smooth mechanisms behind their faces. They're more satisfying to press because they have more travel than most notebook keyboards. Each has back lighting that shines from its edges and place in the keyboard deck.
Lenovo's teams are to be commended for using shortcuts on the number pad to offer quick ways of changing basic settings without ever having to leave your game. Technology inside the keyboard cuts down on input delays. I like this keyboard, I like it a lot.
Turbo Switch
The first thing I noticed looking over the Lenovo Ideapad Y900 was on the keyboard deck, but not the keyboard itself. There's a rectangular switch above the programmable keys labeled, "Turbo." With the mere press of a button, gamers can overclock the Ideapad Y900. A visualization surfaces to let you know exactly what's happening with the CPU, fans and GPU.
Available CPU power goes from 3.60 GHz to 4.10 GHz. By including a Turbo button for overclocking on-demand, Lenovo is taking a technique that hard-core PC gamers spend a lot of time learning about and researching, and offering it up to anyone.
Lenovo Ideapad Y900 Review: Experience
I often hit Lenovo and every other PC maker for including software extras that don't enhance Windows 10. I'm humbled by the software utilities that the IdeaPad Y900 includes. The Nerve Center acts as an always accessible way to take granular control of the notebook. If you don't want to use the mechanical Turbo switch, there's also a software switch for overclocking the machine there. It includes other software trinkets, too.
You see, the lights behind the keys, flanking the trackpad and adding visual flair above the keyboard deck can all be customized. You're free to set them to whatever color you want. Smart gamers will use this to their advantage, the Nerve Center lets you set which regions have which colors so that your mind knows exactly where to put your fingers. I used one preset slot to leave the keyboard red. The other two I customized to my favorite games. Highlighting the WASD keys alone saved me a few seconds while settling into a game. Nerve Center boasts support for prioritizing network traffic to games, too.
Cities Skylines, Planet Coaster, Halo 5 Forge, Quantum Break and ReCore acted as my go to games for this review, with me spending most of my time in ReCore. The IdeaPad Y900 routinely hit about 40 frames per second in that game. I made it a habit to max out each game's visuals. Cities Skylines hovered at about 37 frames per second when zoomed into a complicated metropolis. Zooming out increased it to about 58 frames per second. The Ideapad Y900 scored a 4077 in GeekBench 4's single core processing tests and 12268 in its multi-core processing tests.
I consistently noticed two things I think are interesting. First, flipping the Turbo barely had an effect on how many frames per second the IdeaPad Y900 achieved, but did get me faster rendering times in Adobe Premiere. I expected that it would, given just how prominently the button is featured in the notebook's marketing. Also, Lenovo's cooling techniques mean that even when you are overclocking the machine, the fans don't get obnoxiously loud. You and everyone in your immediate vicinity will still be able to hear it, but they aren't ridiculously loud. That is, unless, you're pushing the IdeaPad 900 to its absolute max. Then things do get loud.
The 17.3-inch display has great viewing angles in any lighting situation.
One thing I would caution users against is gaming too long without the notebook's power cable. With the screen brightness at a comfortable level, the notebook lasted about an hour unplugged. That's probably why Lenovo doesn't let users flip on Turbo Mode without the notebook being plugged in. With productivity apps, you're looking at around four hours with 75% screen brightness.
Lenovo Ideapad Y900 Review: Specifications
| | |
| --- | --- |
| Processor & Graphics | 2.7 GHz Intel Core i7-6810HK Processor, NVIDIA GeForce GTX 980M graphics card with 8GB of RAM |
| Memory & Storage | 16GB of DDR4 RAM, 256GB Solid State Drive & 1TB 5400 RPM Hard Drive |
| Display | 17.3-inch FHD Display with a resolution of 1920 x 1080p with G-Sync |
| Ports & Extras | 2 USB 3.0 ports, 2 USB 2.0 ports, USB Type-C Thunderbolt, HDMI 1.4b, DisplayPort, Ethernet, Media Card Reader, 2 audio jacks |
| Battery Life | 4 hours |
| Dimensions & Weight | 16.73-inches x 12.4-inches, 1.42-inches thick. Weighs 10.1 pounds. |
Lenovo Ideapad Y900 Review: Should You Buy?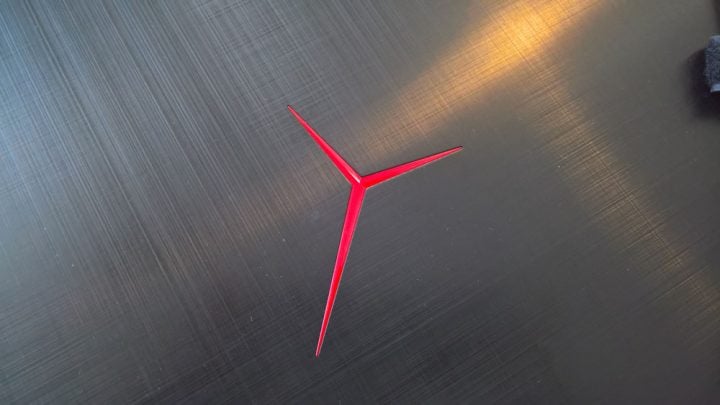 The internals of the Lenovo Ideapad Y900 scream best-in-class gaming machine. No one can argue that. It's the details that drive that point home, though.
The keyboard is fantastic and so is the software that you manage it with. Though loud, the mechanisms behind each key are comfortable and solid. After spending a lifetime on regular keyboards, they have me ready to go mechanical as soon as I can.
As neither all-day battery life nor heft are a concern for gamers that really need the best performance and most options possible, I have no reason not to recommend the Lenovo Ideapad Y900. It's speedy, includes a lot of storage for your game collection and runs quietly most of the time.

As an Amazon Associate I earn from qualifying purchases.