Lenovo IdeaPad Yoga 13 Review: Ultrabook Convertible With Flexibility
The Lenovo IdeaPad Yoga 13 is a new type of notebook that is part notebook and part tablet. This new category of computer, dubbed Ultrabook Convertibles by Intel and its partners, runs on Windows 8.
In order to switch between a tablet and a notebook, Lenovo designed special hinges that swivel around, allowing the Yoga 13 to go from notebook to tablet, and two positions in between. Each of the four positions can be used at a number of angles for the best experience while watching video, playing games and working.
This notebook includes the new Windows 8 touch friendly Modern user interface with Tiles and an app store, which functions best while the notebook is in tablet mode, and a full featured desktop mode that looks a lot like Windows 7, allowing users to run regular Windows apps and run windows side by side
[ratingbox]
The IdeaPad Yoga 13 is one of the most exciting computers we've reviewed in a few years. While it's not perfect, it is a good tablet and better notebook.
There are some tradeoffs when using an Ultrabook Convertible like the IdeaPad Yoga 13. Lenovo did not include a backlit keyboard and the touchpad is too sensitive to palm touches. While in tablet mode, the keyboard is the back of the tablet, and even though it is not active, users will need to adjust to the odd feeling of the back and the design that is thicker, heavier than an iPad.
The IdeaPad Yoga 13 is not a direct iPad replacement, but for users that are looking for a dual-use device, the Yoga 13 is a good choice.
Pros

Tablet and notebook in one
Responsive Touch screen with Windows 8
Hinge allows for multiple positions

Cons

No backlit keyboard
Keyboard exposed in tablet mode
Lower than average battery life
IdeaPad Yoga 13| $999

IdeaPad Yoga 13 Review Guide

Related IdeaPad Yoga 13 Review Articles

Buy the IdeaPad Yoga 13
IdeaPad Yoga 13 Video Review
The IdeaPad Yoga 13 hands on video below shows off the Yoga 13's various positions and highlights the various uses for each position.
IdeaPad Yoga 13 Design
The IdeaPad Yoga 13 looks like a regular Ultrabook while closed, measuring slightly thicker than the 13-inch Macbook Air's thickest point. Lenovo chose to use the same book-style design as the U300 Ultrabook. The Yoga 13 weighs 3.4 pounds, which isn't bad for a notebook, but more than double the weight of the iPad and the Microsoft Surface RT tablet, making the heft quite noticeable while using it as a tablet.
It's clear Lenovo designed the IdeaPad Yoga 13's hinges to make up for the awkward weight and size for a handheld tablet. The dual hinge design allows the notebook to open all the way to tablet mode, but it is also designed to place the Yoga 13 in two additional modes. The tent mode and stand mode, can turn a table or bed into an impromptu stand for watching videos, reading, casual gaming and other tablet activities.
The hinge is solid, holding the display in place while playing Fruit Ninja or Angry Birds during normal touch, users that push hard or who plan to play games on the Yoga 13 with children may need to rely on tablet mode. When in tablet mode a magnet keeps the lid secure to the back of the notebook, so it does not flap around while holding the Yoga 13 on one side.
While in tablet mode the keyboard is exposed on the back of the device. While it is not active, it is odd to touch and hold. Lenovo sells a keyboard cover for $40 to fix this issue, but it should have included this accessory in the box.
Lenovo placed a power button on the front end of the Yoga 13 so it is easy to press when in notebook or tablet mode. Users will also appreciate the volume rocker on the left side of the notebook when in landscape mode. This offers fast access to volume and Windows 8 media controls. There is also an orientation lock button. There is a Windows button at the base of the display that allows users to call up the Windows 8 tablet mode from inside any app.
The Yoga 13 includes one USB 3.0 port, one USB 2.0 port, a microphone and headphone jack and a HDMi port to connect to a monitor or HDTV. Lenovo learned from earlier Ultrabook mishaps and built an SD card reader into the edge of the notebook. The power adapter is small enough to carry around easily and connects through a proprietary connection.
Using the Yoga 13 in notebook mode, the Ultrabook convertible is just like using a traditional notebook, but in tablet mode it may take some adjusting for owners used to a dedicated tablet like the iPad or an Android tablet.
IdeaPad Yoga 13 Display
The IdeaPad Yoga 13 features a 13.3-inch display with an above average 1600 x 900 resolution that makes it easy to compare multiple windows or documents in the traditional Windows Desktop mode or to see many Tiles and play games in the Windows 8 Modern user interface.
The touchscreen supports 10 finger multi-point touch, which means users can play the piano or drums with an app from the Windows 8 app store and multiplayer games which require mutliple touch points. The Yoga 13 screen is responsive to touch, delivering a fun experience for gaming and navigating Windows.
Windows 8 includes a number of gestures to pull up settings, use apps and switch between apps, all of which work well on the Yoga 13's touch screen.
The display is sufficiently bright, and offers wide viewing angles as it's possible to share a movie or TV show with a friend, especially in tent or stand modes, which bring the screen closer by tucking the keyboard under or behind.
IdeaPad Yoga 13 Keyboard and Touchpad
While Lenovo is known for making some of the best notebook keyboards, the Yoga 13 falls short of this legendary standard. The key size is decent, though the right shift key is small and out-of-place. The right side of the keyboard is home to several keys that most users won't press as often as shift or backspace.
The keys are comfortable, thanks to a slight curve that guides fingers to the center of a key. Key travel, the distance a key moves while typing is ok, though not as good as on other Lenovo notebooks. There is no mushiness to the keyboard even in the center where many notebooks fall short.
The large glass touchpad supports Windows 8 gestures, and does it well. We ran into some odd behavior while using two finger scrolling on some Internet Explorer pages, which prevented the touchpad from continuing to scroll. It's not clear if the touchpad is to blame or the software, but Lenovo is reportedly working on an update to fix touchpad issues.
IdeaPad Yoga 13 Performance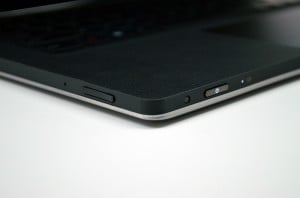 The IdeaPad Yoga tested features a 1.7GHz Intel Core i5 third generation processor, 4GB of RAM and a 128GB SSD, but only 50 to 60 GB is available to the user.
The Yoga 13 is fast to boot, starting up in under 10 seconds and resumes from sleep in three to four seconds, though it can take an additional few seconds to be usable if the display orientation needs to change. Switching between apps and running multiple apps in Desktop mode and in the Modern mode did not cause any slowdowns.
Users shouldn't expect to play games like Call of Duty: Black Ops II, but casual games like Angry Birds and others like Portal 2 run fine on the Intel 4000 HD graphics processor, though graphics will need turned down slightly.
The IdeaPad Yoga 13, like most thin and light notebooks, doesn't deliver amazing audio quality  but it is better than most notebooks this size. The audio quality is good enough for listening to music and movies without having to break out the headphones.
IdeaPad Yoga 13 Battery Life
The IdeaPad Yoga 13 offers mediocre battery life compared to Ultrabooks which often claim 8 hours of battery life. During our testing the Yoga 13, it typically lasted 5 to 5.5 hours while browsing the web, editing documents and playing various Windows 8 games.
Competing Ultrabooks without touch often last for 6 to 7 hours under similar conditions. The Yoga 13 battery performance isn't bad, but it falls short of lasting a full workday so some users will need to carry the charger when on the move.
Software and Apps
The IdeaPad Yoga 13 runs Windows 8 and offers access to a number of apps for productivity and gaming in the Windows 8 app store. While the selection is not as good as iTunes or Google Play, many of the big names are there. From Angry Birds to JetPack Joyride and entertainment apps like Netflix and Hulu Plus, users will find enough popular apps to get started.
The Windows 8 desktop environment offers a place to install and run standard Windows apps, to which there is almost no limit. There is no built-in DVD drive so users will need to download programs from the Internet or invest in an external optical drive.
Is the Yoga 13 Worth It?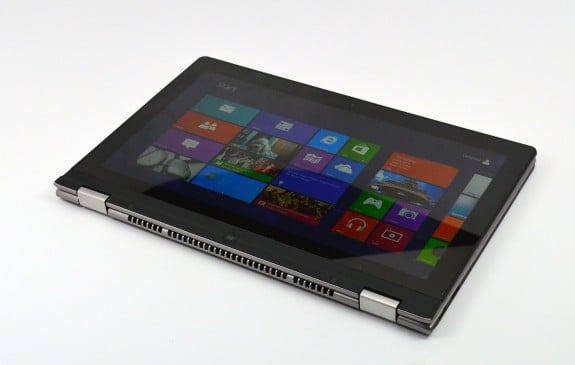 The IdeaPad Yoga 13 is one of the most exciting notebooks we've used in a long time thanks to Lenovo's adventurous design, but there are a few issues. The Yoga 13 is good at being a tablet and good at being a notebook, which makes for a good overall experience, but Lenovo needs to address several issues before the Yoga 13 is a perfect Ultrabook convertible.
Despite the shortcomings, the IdeaPad Yoga 13 is one of the first viable tablet + notebook devices to arrive on the market with Windows 8, and the starting $999 price is the lowest for an Ultrabook convertible.
IdeaPad Yoga 13 Gallery
IdeaPad Yoga 13 Specs
1.7GHz Intel Core i5 third generation processor
Intel HD 4000 Graphics
4GB RAM
128GB SSD
Windows 8
13.3-inch Display with 10 Finger multi-touch and 1600 x 900 resolution
1.0 MP 720P front facing webcam
1 USB 3.0, 1 USB 2.0, SD card reader, HDMI, combo mic/headphone jack
13.4 x 8.85 x 0.66 inches
3.4 pounds