Lenovo IdeaTab A2107, A2109 and S2110 Tablets Land at IFA 2012
Lenovo took the wraps off three new Android Tablets, including one consumers could pick up at Best Buy as early as last week, during the IFA 2012 show in Berlin Germany.
The new Android tablets run the range from 7-inch to a 10-inch tablet with a keyboard dock. These new tablets offer a mix of price points, sizes and connectivity options.
Lenovo's latest Android tablets include Android 4.0 Ice Cream Sandwich and full access to the Google Play Store. Lenovo emphasizes the build quality of these tablets, which include rollcages.
IdeaTab A2107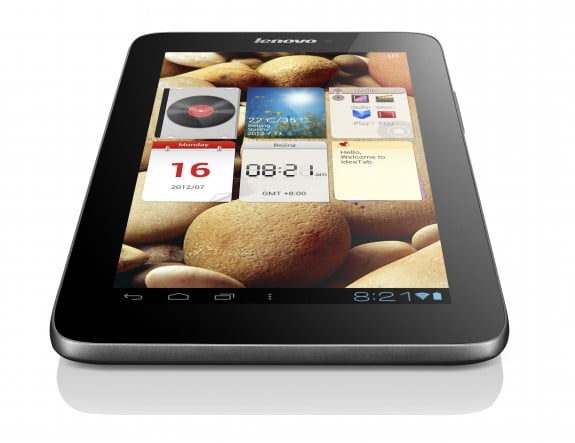 The Lenovo IdeaTab A2107 is a new 7-inch Android tablet from Lenovo that offers an interesting an attractive mix of features in the small tablet space. The A2107 runs a 1GHZ Cortex A9 processor with 1GB RAm and supports up to 16GB of built-in storage, with support for a Micro SD card to add more.
Lenovo's 7-inch Android tablet is running Android 4.0 Ice Cream Sandwich, and it includes 3G and GPS. Lenovo doesn't announce which carriers the 3G works on, but during a briefing Lenovo said that it will support GSM and CDMA, giving hope for AT&T and Sprint or Verizon in the U.S.
The A2107 uses a 7-inch display with a 1024×600 resolution and support for 5-point multi-touch. The display is rated for 350NIT brightness. There is no pricing or U.S. release date available for the IdeaTab A2107.
IdeaTab A2109
The IdeaTab A2109 is a 9-inch tablet from Lenovo, and despite the similar model number, doesn't share much with the smaller A2107 tablet.
Lenovo switches to a 1.2GHz NVIDIA Tegra 3 quad-core processor for the 9-inch A2109, and drops the option for 3G connectivity. This model uses a 9-inch 1280 x 800 resolution display and supports up to 16GB of memory with a Micro SD card for expansion.
The IdeaTab A2109 is already on sale at Best Buy with a retail price of $299, a tempting price for a tablet of this size, though it would be more attractive with Jelly Bean.
IdeaTab S2110
Lenovo also announced the IdeaTab S2110, an Android tablet with an optional keyboard dock, a combo we first got our hands on at CES 2012.
The IdeaTab S2110 boasts up to 20 hours of battery life with the included dock, and runs on a 1.5GHz Qualcomm Dual core processor with 1GB of RAM. There are 16Gb and 32GB models available.
The 10.1-inch display offers a 1280 x 800 resolution with support for 10 finger multi-touch, a 420nit brightness rating and 178 degree viewing so users can share the screen. The tablets includes a Micro USB port, Micro HDMI connection and SIm Card slot for 3G connectivity.
The IdeaTab S2110 retails for $449, but deals on Lenovo bring the price down to $399 for the tablet and $499 for the tablet and keyboard dock.

As an Amazon Associate I earn from qualifying purchases.