Lenovo Inherits Nexus 6 Duties Along With Motorola Purchase?
Lenovo is now rumored to be the manufacturer of the last Nexus smartphone after its acquisition of Motorola Mobility from Google. According to the lastest rumors, Lenovo may be tasked with producing the Nexus 6.
Lenovo would be joining a list of Nexus producers, including HTC for the Nexus One, Samsung for the Nexus S and the Galaxy Nexus, and LG for the Nexus 4 and Nexus 5 smartphones.
It's still unclear what Google's plans are for the Nexus lineup, but when the company had acquired Motorola Mobility, it was believed that Android OEMs and partners–like LG, Samsung, HTC, and Sony–were concerned that Google-owned Motorola would get favoritism in making the company's Nexus phones. Fortunately for consumers and competition, that was not the case.
Now, with Motorola being spun off to be operated under the helm of Chinese PC-maker Lenovo, it looks like Motorola may be given a shot at making a Nexus 6 smartphone. This may be one of the last Nexus smartphones ever to be released under the Nexus branding. We had reported earlier that leaker Eldar Murtazin had claimed that Google will be killing off the Nexus branding all together within a year or so in favor of going with releases under the Google Play Edition.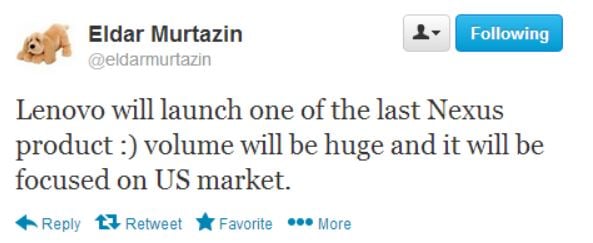 Now, Murtazin is making claims that the last Nexus will be from Lenovo and will have a strong U.S. emphasis.
"Lenovo will launch one of the last Nexus product, volume will be huge and it will be focused on US market," Murtazin wrote.
Motorola had long been rumored to be in the running to make a Nexus phone. The company was a huge supporter of Android and together with Verizon and the Droid branding served to put Android on the map with consumers. It was the first to launch an Android Honeycomb tablet under the Xoom branding. At one point, it was rumored that Motorola would be enlisted to create the Nexus 5, but that didn't happen and rival LG was tasked with that duty instead.
Though Murtazin had been a credible leaker of Nokia and Symbian when Symbian was a major force, his track record in recent years is more mixed so this rumor should be taken with a grain of salt.

As an Amazon Associate I earn from qualifying purchases.