Lenovo Intros Yoga 11: Windows 8 RT Convertible Notebook
Lenovo introduced the Yoga 11 convertible notebook tablet at a press event in New York this evening. The 11.6″ notebook features a dual-hinge design that allows the display to fold back 360-degrees and convert into a tablet.
Lenovo is refreshing its notebook product line just in time for Microsoft's Windows 8 consumer release, which is slated for an October 26th release. The Yoga 11 runs Windows 8 RT, a lighter version of Microsoft's new operating system that's optimized for mobile platforms.
The Yoga 11 is nearly identical in appearance to the Yoga 13, its 13.3″ brethren. However, the Yoga 11 relies on a NVIDIA Tegra 3 processor rather than an Intel Core processor. Until now Tegra 3 processors have typically appeared in tablets, such as the Google Nexus 7, an Android 4.1 device. The power-sipping Tegra 3 helps the Yoga 13 run for up to 13 hours on a single charge.
The Windows 8 touch interface can be used in each of the device's four 'modes' Yoga 11's five-point multi-touch display. The Yoga 11's tablet mode is the most interesting of the four 'modes' and the primary reason to look at a convertible notebook in the first place.
The Yoga 11 measures just 15.6 mm thick and weighs in at 2.8 pounds, which is quite light for a notebook. Users looking to carry and manage a single device rather than both a notebook and a tablet will benefit from this all-in-one design, but they may be annoyed by the relative heft when in tablet mode.  As with all things convertible, the Yoga 11 has its tradeoffs.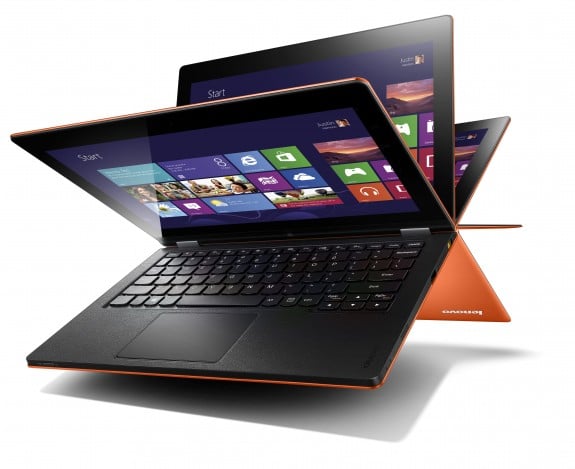 Of course the Yoga 11 can be used as a traditional notebook. The keyboard has the same layout as Lenovo's latest ThinkPad notebooks. The palmrest area has a comfortable soft-touch finish and a roomy touchpad.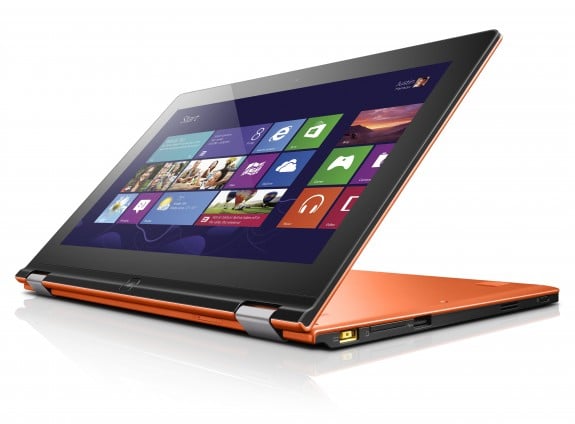 Lenovo calls the above Yoga 11″ position "Stand" mode, which is a nice way to get the keyboard out of the way when watching videos or presenting content to others.
This photo shows the Yoga 11 in "Tent" mode, which looks cool, but isn't as practical as the other three modes.
The Yoga 11 may serve as a primary computer for some users, but others will find the inability to run traditional Windows software and 64GB of storage too limiting.
The convertible tablet comes with Microsoft Office 2013 RT, which means users will be able to create and edit Office documents and presentations on the go.

As an Amazon Associate I earn from qualifying purchases.