Lenovo LaVie Z 360 Review: Same PC, Better Deal
In the early days of the Windows 2-in-1 we wished every notebook made by one of Microsoft's partners was a refashioned version of the notebooks we already loved. Some companies tried that to great results. Lenovo is now trying it with its Lenovo LaVie Z 360 Windows 2-in-1.
Fashioned from the regular Lenovo LaVie Z, at $1599.99 the Lenovo LaVie Z 360 has some killer upgrades. Forget the matte display from the earlier version, this one has a glossy covering and a touchscreen display to match. A hinge allows the LaVie Z 360 screen to collapse in on itself in seconds, becoming a tablet with 9 hours of battery life.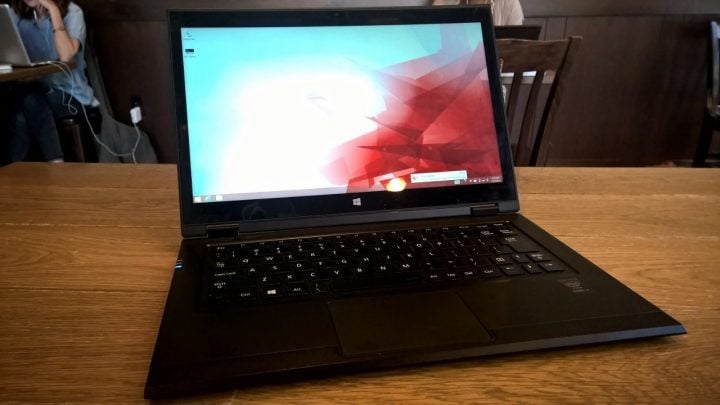 Read: Lenovo LaVie Z Review 
With other Window 2-in-1s we have to ask ourselves whether buying a system defined by its compromises is a sound investment. The same is true of the LaVie Z 360, but whether it's worth purchasing over its nearly identical brother is a very relevant question too.
Lenovo LaVie Z 360 Review – Design
As one might expect of a device design plucked from a notebook that already exists, there's very little that's new to the LaVie Z 360. That puts users in an interesting position. Those who liked the LaVie Z and its quirks will appreciate every inch of the LaVie Z 360. Really, you get the good, the bad and the slightly improved.
The outside shell of the LaVie Z 360 is understated. A simple Lenovo word mark with no extra frills sits on the lid. A lightweight skin covers the LaVie Z 360 and adds some durability and texture. You'll get no scratches while stuffing it into your bag with other equipment or even a sharp object. Opening the lid of the LaVie Z 360 reveals a straightforward keyboard deck and a ridiculously gorgeous 13.3-inch display. Lenovo uses the same material that the outer shell is made off to cover the keyboard deck and sit around the display's frame. Notification lights for Caps Lock, Power and Charger sit on the left of its keys.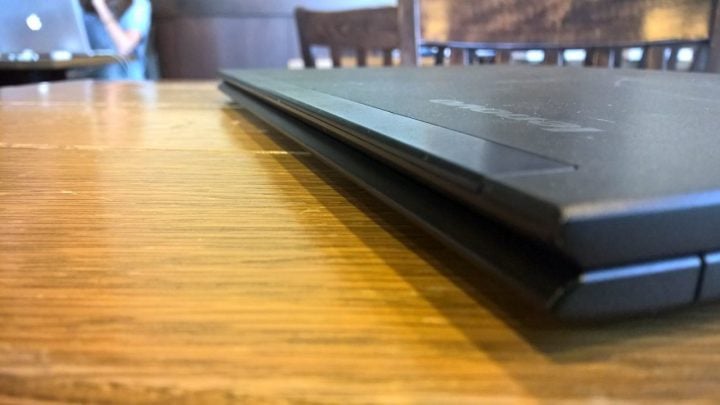 Because the LaVie Z 360 is a Windows 2-n-1 Lenovo smartly decided to use a glossy surface for the display. This gives it slicker, better feel when swiping. That gloss also means that you pick up some reflection that's just not a problem on its notebook brethren. The trade-off is definitely worth it for the pop in color that results from it. You'll notice lights and other reflections along the black border, but nothing too outrageous. Frequent outdoor users might not approve though.
Pushing the display in on itself gets you into tablet mode. To compliment the display Lenovo has embedded a touch-sensitive Windows button just below the LaVie Z 360's display. Lenovo made other allowances for touch users too, adding recessed volume buttons to the left edge of the LaVie Z 360's rigid frame.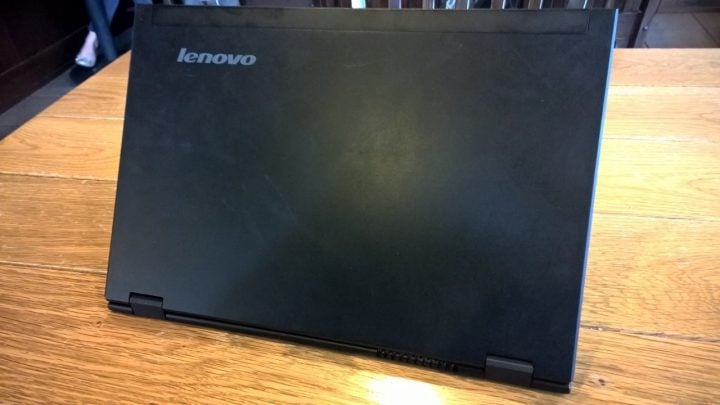 The Lenovo LaVie Z made a name for itself by being the lightest notebook you can buy. It weighed in at 1.87 pounds and was just 0.7-inches thin while packing a ridiculously fast Intel Core i7 Processor. This model keeps the processor, but packs on a little weight. Its physical footprint is the same, but the LaVie Z 360 weigh's 2.07 pounds. You absolutely won't notice the difference.
Lenovo LaVie Z 360 Review – Internals
Internals are identical besides that touchscreen. That's a short way of saying the LaVie Z 360 is just as astonishingly speedy as the LaVie Z.
Lenovo offers very little in the way of customization internal. You can get up to a 256GB SSD, which is what the model the company sent me came with. An Intel Core i7-5500U processor provides all the horsepower you need for everyday apps and the web. Lenovo rates the device for 7 hours of completing tasks and 9 hours for video. 2 USB 3.0 ports, an HDMI out, SD card reader headset jack and 720P webcam complete the experience. There's 8GB of RAM, letting you multitask to your heart's content.
Internally, I have no complaints with the LaVie Z 360. Getting everyday work done is great. The fan is whisper quiet too, almost breaking down the wall between PC and device in your mind. That's a wall defined by the annoying quirks that you have to put up with for PCs. For example, ridiculously loud fans. You can edit some video or play a demanding PC game with it. The processor and RAM are definitely up to it. In these situations a fan kicks in, reminding you of its true nature.
Lenovo LaVie Z 360 Review – Experience
In some ways, the LaVie Z 360's transformation into a Windows 2-in-1 fixes some issues I had with the original version.
The physical volume control buttons make dealing with its unorthodox keyboard layout easier to adapt to early on. You'd need giant saucer like hands to make use of most of the function row keys on this thing and the original. Key travel and layout are still huge issues for this machine. Though its frame is sturdy, its matte black skin still feels very cheap.
Being a Windows 2-in-1 does allow you to easily justify some of the original's very apparent shortcomings though.
When reviewing the LaVie Z I struggled to understand why normal users would sacrifice on build quality, keyboard and price for a notebook this absurdly light. "Somewhere there has to be a notebook that has a great keyboard, feels sturdy, looks nice and is light enough," I said. It's a lot easier to swallow those compromises here because the LaVie Z 360's thinness and weight makes it great for tablet users. In a sea of overweight, bulky notebook-like convertibles, the LaVie Z 360 shines.
The new lease on life isn't without compromises, though. Having a tablet mode reveals other issues not on full-display before. There's an exhaust vent that blows hot air out the bottom of the device in tablet mode where your hand is guaranteed to sit. It can make for a pretty uncomfortable experience if you're doing anything processor intensive. You feel like you're going to break the display sometimes when you're flipping it back. Also, it turns out there is something worse than a completely flush power button: completely recessed volume buttons that you need to use more often.
Lenovo LaVie Z 360 Review – Specs
2.40 GHZ Intel Core i7-5500U Processor
Windows 8.1
13.3-inch IPS Display with 2560×1440 resolution
Intel HD 5500 Graphics
8GB of RAM with 256GB of SSD Storage
Bluetooth 4.0, SDXC card slot, 2 USB 3.0 ports, Built-In HDMI Port,
Lenovo LaVie Z 360 Review – Should You Buy?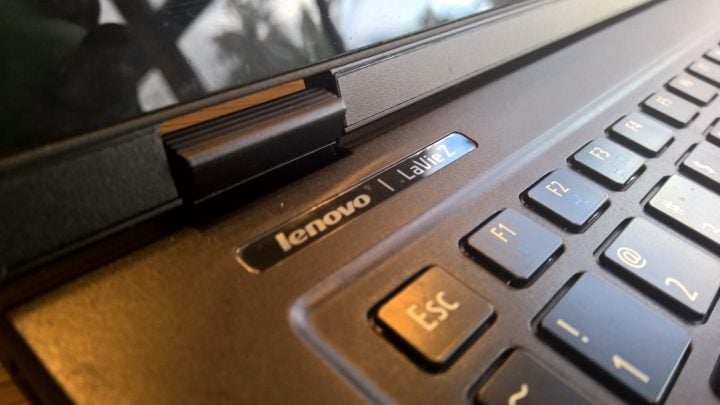 The 13.3-inch touchscreen is gorgeous and the 2-in-1 capabilities better justify its compromises. Overall, I think the LaVie Z 360 is a well-rounded, better machine than the classic LaVie Z. Even better, its terrifically thin body and light chassis make it a clear Surface Pro 3 and performance tablet competitor. Microsoft's coming Windows 10 update has an automatic Tablet Mode feature that'll make the LaVie Z 360 shine.
At $200 more than the regular $1,399 Lenovo LaVie, this machine is better hands down. Don't waste money on a separate tablet purchase, spend the extra money and future proof your investment.
When compared to other Windows 2-in-1s you're getting a good deal too. Microsoft's Surface Pro 3 with similar processor and storage costs $1549 from the Microsoft Store when not on sale. You then have to spend another $125 on a Type Cover. Sure, I'm no fan of the keyboard on the LaVie Z 360, but at least you're getting the compromised notebook experience for included.