Lenovo Project Tango Smartphone Release Confirmed
Lenovo has silently been working with Google for the past year to create and release a Project Tango smartphone. Blending Google's crazy experimental 3D aware and mapping technology into mainstream consumers smartphones. Today at CES 2016, Lenovo confirmed these ambitions, gave a live demo, and confirmed a summer 2016 smartphone release date.
Nearly two years ago Google showed off this tech for the first time, and last year started selling early developer kits with a big price tag. However, Lenovo wants to change that by offering a consumer-ready version for under $500.
Read: Google's Project Tango is the Tablet You Want, But Can't Have
Project Tango essentially uses three cameras and sensors to map in 3D the space and environment around us. Like a full 3D mapping of an office, living room, buildings, shopping malls and more. Giving mobile devices awareness of the physical world around it, and even let users interact with it. Below are more details on the first consumer Project Tango smartphone by Lenovo, coming this summer.
During a quick announcement at CES Lenovo took the stage to confirm it has a bold plan that will take Google's experiment and turn it into a feature, deliver games, and more to mobile phones. The company thinks this is one of a few key technologies of the mobile future.
For a quick recap, here's what Google had to say regarding how it works while announcing Project Tango nearly two years ago:
"App developers can transform your home into a game level, or create a magic window into virtual and augmented environments. Project Tango-enabled devices can recognize places they've been before, like your living room, the office, or public spaces. Unlike GPS, Project Tango motion tracking works indoors, allowing users to navigate precisely through a shopping mall, or even find a specific item at the store where that information is available. Using the sensor in the device, Project Tango devices can also capture the 3D dimensions of the room, giving measurements that can be used to help you when shopping for furniture or decorations."
Project Tango is a wild and crazy technology, but we've known about it for nearly two years. The problem was it has only been available to developers, and was priced out of reach for most. This is where Lenovo comes in.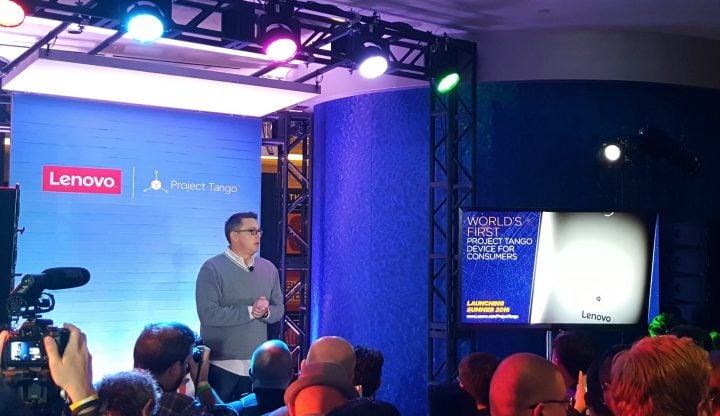 The Lenovo Project Tango smartphone will be between 6 and 6.5-inches in size, cost under $500, be powered by the latest Qualcomm Snapdragon processor and be released in the summer of 2016. In fact, Lenovo said it will "absolutely be released this summer, and absolutely be less than $500." That said, no actual products were shown off at the event.
Everything from shopping, virtual reality, gaming, virtual pets that can walk around your own room in a virtual world and more can all benefit from Project Tango. Perhaps the best news aside from the phone, is a new Project Tango App Incubator. Developers will be able to submit app ideas, get help from Google or Lenovo, and select apps will be pre-installed and ship with the phone upon its release later this summer. Stay tuned for more details.