Lenovo Reveals Stunning IdeaPad Y700 Gaming Notebooks & Extras
Lenovo, makers of the ThinkPad series of productivity notebooks and convertibles, has its sights set on making very big moves in the PC gaming space too. This week the company unveiled a new slate of IdeaPad Y700 notebooks and accessories sure to boost its profile with Windows PC gamers.
Lenovo announced its new slate of gaming machines this afternoon, refreshing their line-up of devices just after Microsoft's release of Windows 10 and ahead of the holiday shopping season. All of these notebooks are coming in the holiday time frame.
The Lenovo IdeaPad Y700 is a top of the line, mobile gaming system for users who'd like to interact with their gaming PC just like they do with their phone sometimes. A basic version of the machine will start at $799 and grow depending on what things shoppers want to add. There are customization options galore, with the IdeaPad Y700 supporting new 6th Generation Intel Quad Core i7 processors, 16GB of DDR4 memory and up to an NVIDIA GTX 960M 4G GDDR5 graphics card. Shoppers also have the option of AMD-centric machine with up to an AMD Carrizo A10 FX-8800P processor.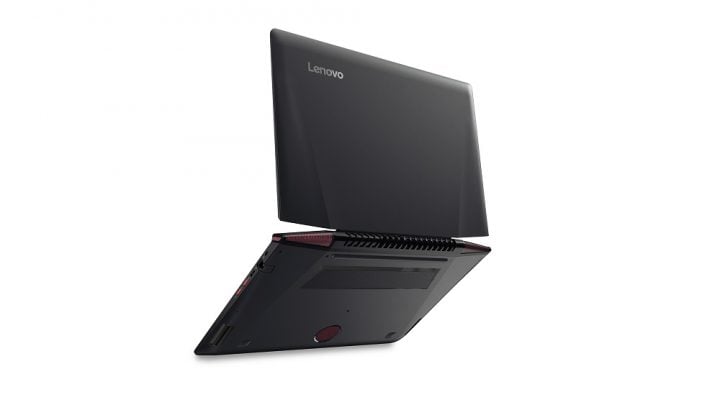 Lenovo is smartly preparing the Lenovo Y700 with the future in mind, giving buyers the option to add an Intel RealSense camera to their customized system if they're not big on touchscreens. Intel RealSense has made a name for itself with the automatic unlocking feature included in Windows 10. Some forget that the camera is also terrific for gamers because it can interpret hand gestures and act as a web camera for anyone big into Twitch streaming their PC games. The entire machine is red and so are its backlit keys. A 15.6-inch 1080P display, HBL speakers and subwoofers, and 802.11 a/c complete the experience. There are two USB 3.0 ports, a single HDMI port, a single USB 2.0 port, a headphone jack and an media card slot that accepts SD cards.
Lenovo has other versions of the IdeaPad Y700 available too. There's a version with a 17.3 inch 1080P display with anti-glare coating too. The 15-inch version will weigh 5.7 pounds. The 17.3-inch version a bit heavier, at 7.7 pounds. To be clear, only the 15.6-inch version of the Lenovo Y700 has a touch screen option. Lenovo is breaking out pricing for the AMD version of the Lenovo Y700. Configurations for it start at $949 this holiday.
Having a robust, mobile PC for gaming is half the battle. Finding just the right complementary accessories is the other half. Gamers need responsive keyboards, crystal clear headphones and nice bag to put all of their gaming stuff in. Lenovo has all of these things and more coming this September.
The $139.99 Lenovo Y Gaming Mechanical Switch Keyboard has media controls, macros for switching to different key combinations and built-in audio jacks to help manage cables. An adjustable mouse complete with weights and high-resolution movement is coming for $69.99. Lenovo calls this the Lenovo Y Gaming Precision Mouse. The Lenovo Y Gaming Surround Sound Headset complete with in-line controls, 7.1 surround side and configurable ear cups will cost $69.99. A water proof mouse pad and $99.99 Gaming Active Backpack are coming September too. Lenovo didn't share pricing information on the mouse pad, specifically.
Read: Windows 10 Review – A Love Affair
The new Lenovo Y700 configurations are perfect for gamers. Windows 10 will compliment them nicely since Microsoft too has a renewed focus on PC gaming. Windows 10 includes a dedicated Xbox gaming app that'll let users create online parties and voice chat over its Xbox Live service with Xbox One owners. The company also has three major video game releases for Windows 10 in the works: Gigantic, Fable Legends and Gears of War Ultimate Edition. Gamers can take screenshots and record video directly through the Xbox app in Windows 10 – even if they purchased the game from somewhere else.

As an Amazon Associate I earn from qualifying purchases.