Lenovo S10 Netbook Gets Video Overview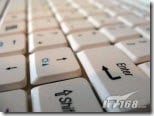 The folks over at Hot Hardware gives a brief video overview of Lenovo's S10 Netbook. In the video, you can see how tight the keyboard is, which is common among devices in this sector. One of the drawbacks of having a netbook is re-familiarizing yourself with the downsized keyboard and hand cramps and CTS pain.
A pet peeve I have with the various Netbooks out in the wild now, including the S10, are the 3-cell batteries that last less than 3 hours. Why would a manufacturer make an ultra-portable device without giving it a decent battery run time? What's the point of being mobile if you're tied to an outlet every 2 hours? A 6-cell battery would double the battery life and the weight of the Netbook will insignificantly increase to a tad over 3 lbs depending on chassis weight. The extra half-pound or so is well worth the extra battery run time, I think.
Photo Credit: EEEPCNews.de