Lenovo ThinkPad Helix 2015 Review
The Lenovo ThinkPad Helix 2015 is a computer that comes at the Windows 2-in-1 problem from a fundamentally different angle than most of the machines we've seen from Microsoft's partners. Lenovo has focused on providing notebooks with hinges that allow their displays to be flipped in on themselves. Microsoft produces its own Windows 2-in-1 that does things differently. Its Surface Pro 3 is really a tablet, with a detachable keyboard accessory and traditional notebook internals. The $800 Lenovo ThinkPad Helix 2015 is interesting because it's one of the few devices to embrace a well-defined third way of approaching the 2-in-1 market.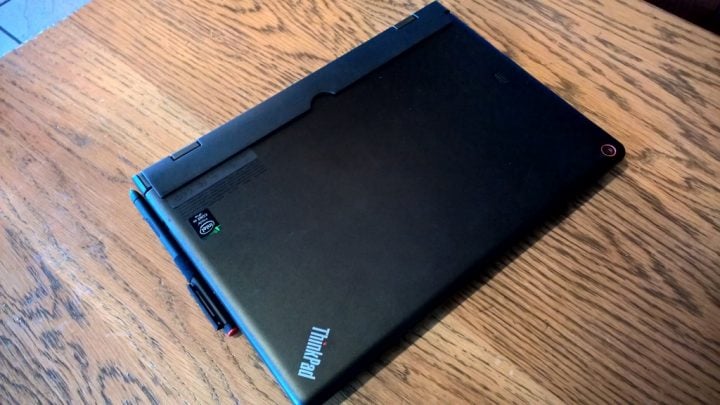 The Lenovo ThinkPad Helix 2015 is fundamentally a Windows notebook. Using some pretty nifty design ideas, Lenovo allows users to remove the ThinkPad Helix 2015's display when they want a tablet experience. Any other time, the ThinkPad Helix 2015 looks and feels like a standard ThinkPad notebook, with a very comfortable touchpad and keyboard to match. Buyers can mix and match ThinkPad Helix 2015 keyboard docks to create their ideal experience. It's a brilliant idea.
Lenovo ThinkPad Helix 2015 2015 Review – Design
The ThinkPad Helix 2015 is a whole made of two halves. The notebook itself consists of a tablet display and a keyboard dock that the display plugs into.
The tablet half of the system looks like someone simply chopped off a notebook's display. Its lower edges are pretty hard, providing a visual cue for the user when they're ready to dock to the rest of the system. Decked out in a matte black plastic, the ThinkPad Helix 2015's tablet half acts as the brains of the operation. Contained within it are all the things that make the package work like an audio jack, processors and storage.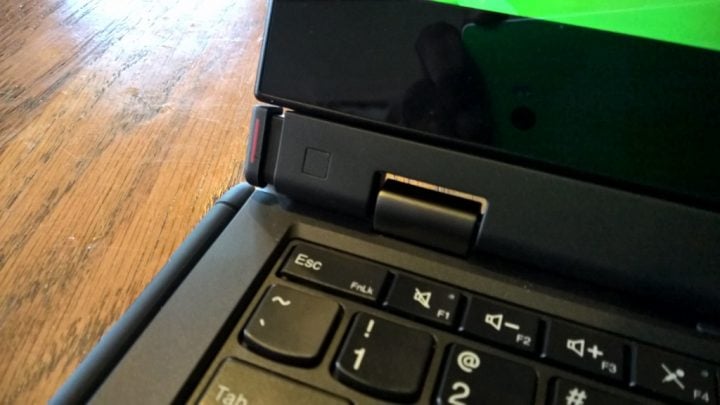 On the ThinkPad Helix 2015 2015 tablet's back is a traditional ThinkPad logo, two speakers, a fingerprint reader and a five megapixel camera for capturing memories and adding pictures to notes. On the ThinkPad Helix 2015's edges are a headset jack, volume buttons, mini HDMI port and a single USB 3.0 port. An embedded line wraps around the ThinkPad Helix 2015's tablet half, giving the sea of black a hint of design. All of these ports have covers so that they blend in with the rest of the tablet's design and protect them from damage. Port covers aren't necessarily a new idea, but they are an interesting one. Most device makers swore off port covers years ago, hoping to make it easier for users to access what they need. A red ring around the camera lens in the upper left corner provides something for your eyes to focus on.
On the front of the ThinkPad Helix 2015 is a 11.6-inch FHD display, embedded in a rather large bezel. That bezel is there to provide a pace to grab the ThinkPad Helix 2015 in tablet mode without interacting with its touch screen display. A touch sensitive Windows button sits embedded in the bezel. There's a power button and a dedicated screen rotation lock button too, which is very handy. On its own, this half of the ThinkPad Helix 2015 can run for 5 hours, according to Lenovo, which isn't impressive by tablet standards at all.
This half of the ThinkPad Helix 2015 fits into one of ThinkPad Helix 2015 keyboards with a snap and are disconnected from them with a simple button press. Lenovo hopes that the standard ThinkPad Helix 2015 Ultrabook Keyboard will work for most users and that the ThinkPad Helix 2015 Ultrabook Pro Keyboard will set productivity-minded users up for very productive days and nights.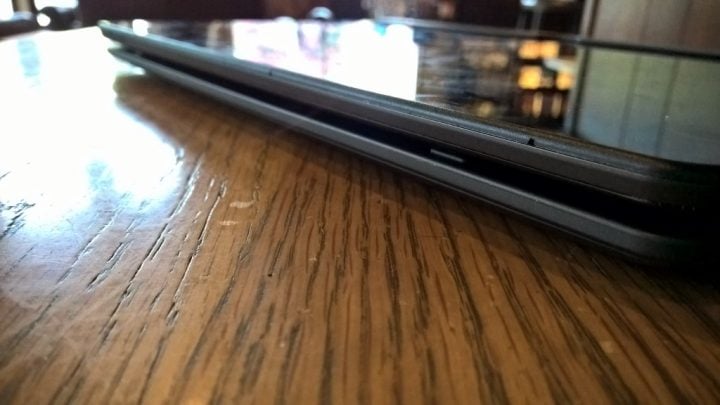 The ThinkPad Helix 2015 Ultrabook Keyboard comes with the standard Lenovo ThinkPad Helix 2015, packing a spacious touchpad and large ThinkPad keys. Mostly, it sticks to standard experiences, offering add-on HDMI and USB ports. The ThinkPad Helix 2015 Pro Keyboard makes things more interesting and it's the one we spent the most time with.
The ThinkPad Helix 2015 Ultrabook Pro Keyboard packs the same keys as the standard version, but also throws in a digitizer pen, pen holder, and full ThinkPad, TrackPoint support. This keyboard adds another full-size USB 3.0 port and a Display Port for outputting video to an external monitor or television. A built-in battery allows the ThinkPad Helix 2015 with Ultrabook Pro Keyboard to run 12 hours together, which I can confirm is possible from first-hand experience.
Lenovo ThinkPad Helix 2015 2015 Review – Internals
The ThinkPad Helix 2015 is like most Windows 2-in-1s in some respects. Inside the body of the ThinkPad Helix 2015 is all the regular power users need to get work done.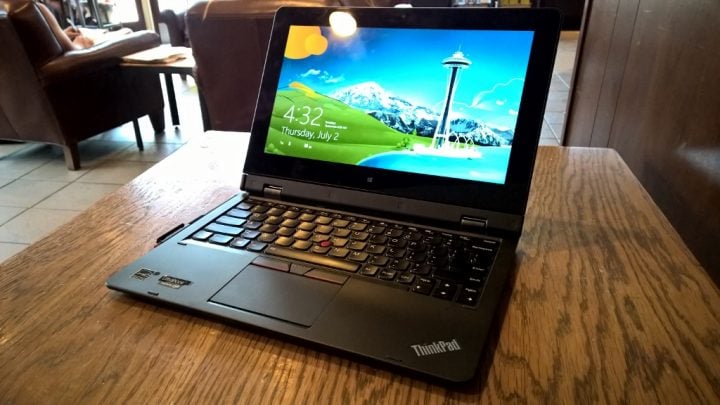 The model I tested came with an Intel Core 5Y71 processor and 8GB of RAM. Lenovo's website allows users to configure the machine with less storage and 4GB of RAM. Though its Intel HD 5300 Graphics aren't a true replacement for a dedicated graphics card, no one but gamers will notice. Every app loads fast, every program performed fine. 3D games like Star Trek Online aren't the best looking, but this isn't a dedicated gaming machine.
You can store games, apps and just about anything else on the ThinkPad Helix 2015's built-in SSDs. My testing model came with the 256GB SSD that perfectly balances store space and speed. Those stereo speakers on the back of the ThinkPad Helix 2015's tablet half are Dolby Stereo Speakers and they sound terrific, but lack bass.
Lenovo ThinkPad Helix 2015 2015 Review – Experience
Stand, Tent, Laptop and Tablet modes are the Lenovo ThinkPad Helix 2015's specialty, but I'm not necessarily sold on the idea that Tent and Stand Mode are anything that regular people will use daily. We've seen these modes and the ThinkPad Helix 2015 form factor isn't a radical departure from what Lenovo has done with these modes in the past. Tent Mode and Stand Mode are fine for watching videos and giving tabletop presentations, but not much else. It's the Tablet Mode and Laptop Mode that potential ThinkPad Helix 2015 customers should care about.
In Laptop Mode the ThinkPad Helix 2015 performs admirably. The ThinkPad Helix 2015 Ultrabook Keyboard turns the Helix into a notebook that's just as competitive as anything Lenovo has put out. The keys are comfortable, with just the right amount of spring. The TrackPoint, Trackpad and extra ports perform as expected. Even better, the battery life upgrade you get is well worth it. Whether that's worth $399 extra to you is something only you can decide, but power users will love it. Lenovo makes other Helix keyboard add-ons just as nifty. The Standard Ultrabook Keyboard costs $129. There's a Folio available for $119, which is a pretty nifty idea too.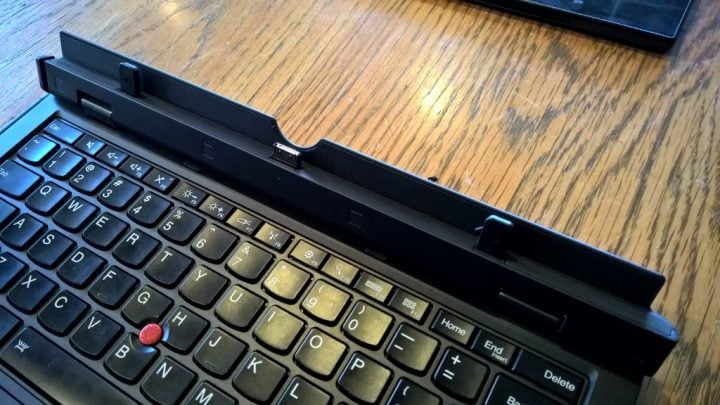 As a notebook the machine is excellent, but a 2-in-1 is only as good as its weakest transformation. The real problem with the Lenovo ThinkPad Helix 2015 involves its Tablet Mode.
The display is terrific, the internals of the tablet function just fine. Even the digitizer pen for taking handwritten notes functions reasonably well. Lenovo included a fingerprint reader for unlocking the machine, which worked well and become even more convenient when the ThinkPad Helix 2015 receives its free update to Windows 10 in late July. I am willing to give Lenovo the benefit of the doubt on the port covers that completely line one end of the ThinkPad Helix 2015 tablet. Attractive and convenient they aren't, but they do protect the device from the elements. Almost none of that makes up for the way the ThinkPad Helix 2015's tablet portion feels in the hand. It feels cheap, almost as if you might break it.
For starters, connecting to all of those docks means that the ThinkPad Helix 2015 isn't very ergonomic. You never realize how awkward sharp edges feel in the hand until you live with it a while. In landscape those hard edges are where most people will hold the tablet half of the ThinkPad Helix 2015.
In this era of natural build materials and metal it's rare that you see a device flex. All the ThinkPad Helix 2015 does is flex in your hand. Pick up the ThinkPad Helix 2015 at one end and you can hear the rest of its shell creak under its own weight. The difference in quality is even more obvious when you plug the ThinkPad Helix 2015 into the Ultrabook Pro Keyboard, which is very sturdy.
Lenovo ThinkPad Helix 2015 2015 Review – Conclusion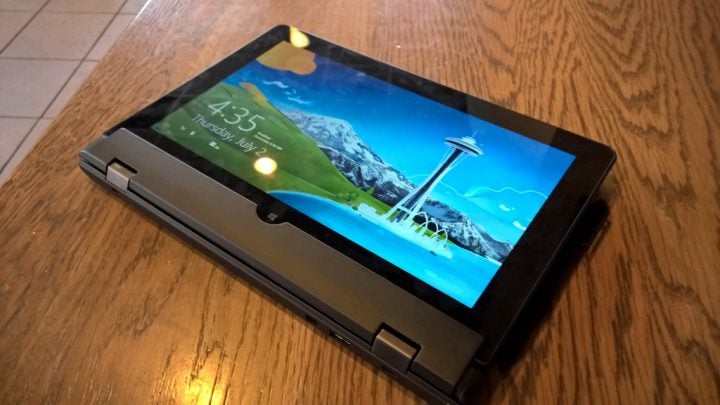 There's some much to like about the ThinkPad Helix 2015. Lenovo took a pretty interesting idea and ran with it, introducing different keyboard accessories for different kinds of users. If you're looking for a professional grade convertible that nails the notebook experience instead of the tablet experience the Lenovo ThinkPad Helix 2015 2015 is it.
If what you're looking for is a quality tablet experience above anything else, I'm sorry to say there are better options. Powerful processor or not, the ThinkPad Helix 2015's tablet experience is only redeemed by the optional pen and dedicated rotation lock buttons. Performance is stellar, but what you want in a tablet is portability and build quality above reproach. Performance comes with a pretty steep battery life cost.
The ThinkPad Helix 2015 is terrific for replacing a notebook, but only barely passable as a tablet. Choose your priority and act accordingly.

This article may contain affiliate links. Click here for more details.