Lenovo ThinkPad Stack Review  
If everything was portable and adding new capabilities was as easy a connecting Lego blocks, what would you do? It's a question I asked myself after getting my hands on the Lenovo ThinkPad Stack.
ThinkPad Stack isn't a phone or even a Desktop PC. Instead, it's a mixable set of accessories that extends the capabilities of devices you already own. The idea is simple, those who don't stay in one place can pick up the stacks and get some of the same conveniences independent devices offer.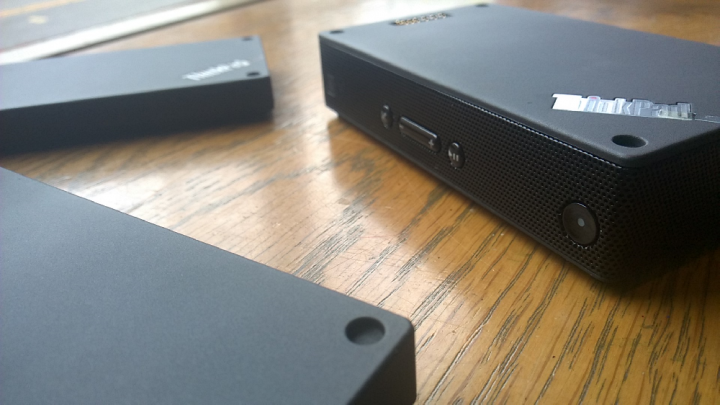 Lenovo ThinkPad Stack Review: Design & Internals
Selling for $389, ThinkPad Stack is both familiar and foreign. Made up of four different parts, each of the matte black boxes with ThinkPad logos are part of a larger puzzle.
Joining a Bluetooth speaker are a battery pack, a wireless router and a USB hard drive. The ThinkPad Stack gets its name from the way these different accessories work together. The top of each component in the ThinkPad Stack has a female plug. Each has a male plug-in the bottom. Magnets embedded in each piece of the Stack lock everything together when components get close enough.
Each Stack item is a perfectly capable accessory in its own right. Power buttons align on the left on three of the four devices.
Speaker
The thickest and most visually pleasing part of the ThinkPad Stack is a wireless speaker that uses Bluetooth technology to communicate with smartphones and tablets. Sound blasts out from three sides of the device. It has an internal battery and playback controls in case the user is far away from whatever devices it is paired with. There's also a microUSB port for charging and an audio-in jack for devices where you'd rather use a physical connection instead of Bluetooth 4.0. Lenovo smartly used a built-in microphone and a mute button so that this device is perfect for conference calls.
Hard Drive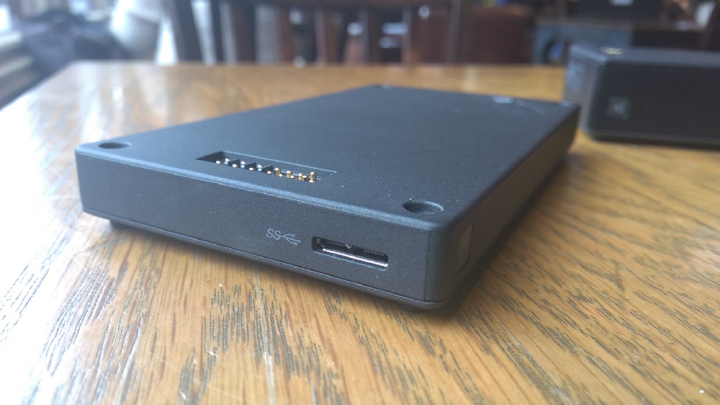 Just because users are away from their PCs doesn't mean they don't need extra storage. The ThinkPad Stack includes a USB 3.0 hard drive that has 1TB of space to store documents, photos, videos and mission critical information. A microUSB cable supplied with this hard drive makes connecting to it for speedy transfers pretty easy. A bright green light lets users know when there's a data transfer happening.
Router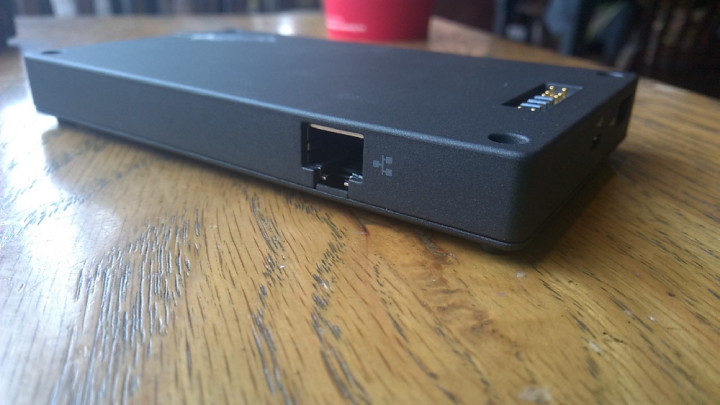 I'm obsessed with making anything that I can wireless. The wireless router included with the ThinkPad Stack has gotten me closer to that dream than I've ever been before. A microUSB port on this device makes connecting it to other devices a breeze. There's also a full-size USB port which gives users all the options they need without dongles. Connect a mobile internet dongle to this router and it can relay that signal to every device connected to the network. Buyers configure the router using free software provided by Lenovo. I connected this router to an Ethernet cable in a hotel room to avoid having to connect all of my devices separately for internet access. It doesn't have its own battery.
The router supports 802.11 A/B/G/N standards, making it compatible with anything you have in your pocket that needs an internet connection.
Battery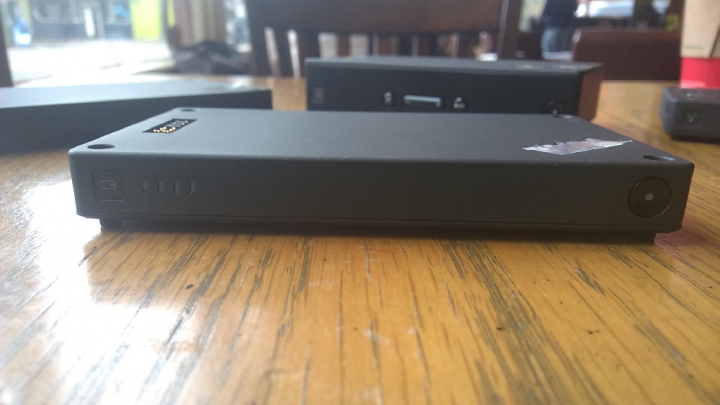 Finally, there's the 10,000 mAh battery. Lights on the outside of the battery let users easily see how much power they have left. Full size USB ports let smartphones or tablets charge directly from the battery. There's a MicroUSB for charging it too.
Separately, each piece of the ThinkPad Stack experience is fine. They're all rugged and durable, with their own batteries when necessary. Lenovo sells them separately, but only together can you truly appreciate the brilliance of ThinkPad Stack. In fact, only together does their rather high purchase price make sense for some of these components.
Lenovo ThinkPad Stack Review: Experience
To answer my initial question, I traveled a lot with the ThinkPad Stack. I loaded the hard drive with music and then streamed that music in hotel rooms using the Bluetooth speaker. I trekked to two different libraries and let my smartphone charge in my pocket while en route for weeks. I connected three of the different components together while at home and used them as network attached storage.
The battery, which lets you charge your smartphones and tablets, can power the entire stack. Lenovo says that when users do this they get 48 hours of Bluetooth media playback. That's 40 more hours than on its own. The battery pack can power the router too, making it infinitely more usable as a wireless router when paired with a mobile internet modem from T-Mobile, or Verizon. When paired with the battery and the router, the hard drive can be used wirelessly too.
Performance on the battery and the hard drive were pretty solid. I carried the battery sometimes on its own, giving my Lumia 930 a charge when I didn't want to go hunting in the local coffee shop for a power plug. The Bluetooth speaker performed well too; it easily filled my office and a few hotel rooms with sound. It was particularly useful during one very long conference call that I just didn't want to use headphones for.
I was decidedly less impressed by the wireless router though. For one, getting it set up with the iPhone, Android and Windows companion apps was a challenge. Sometimes, the software wouldn't detect the router. I'd have liked to see a SIM card slot for the router so it could be used as a modem itself, or even a mobile modem added to the ThinkPad Stack line-up. Making it easy to manage with iOS and Android apps was definitely a nice touch; the iOS app proved very useful on a trip when carrying my Windows Phone just wasn't an option.
Lenovo ThinkPad Stack Review: Should You Buy?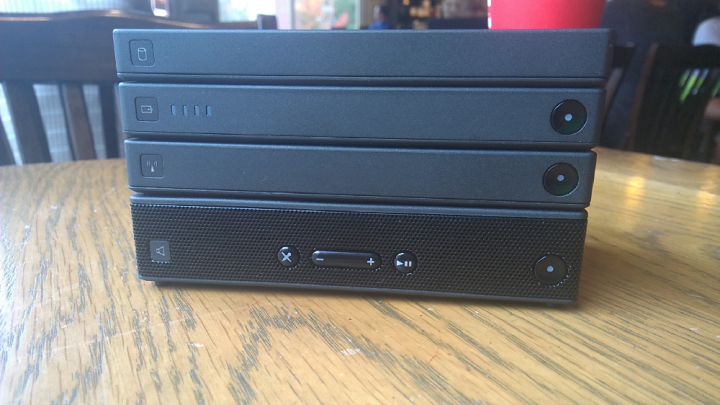 Rugged and durable, each part of ThinkPad Stack hints at a future in which we can take what we need anywhere, mixing and matching for the accessory we need at that time.
I liked the Lenovo ThinkPad Stack components as separate devices and grew to love them once I combined them together. Lenovo sells each of the different components separately, too, something I'm glad they're doing for cost reasons. The ThinkPad Stack Bluetooth Speaker is $99.99. The Power Bank is $69.99. The ThinkPad Stack Wireless Router and hard drive come in a single package for $219.99. As mix and match accessories, they're great.
Whether you should purchase the entire set in one swoop is up in the air. If you think you might need two out of the three components, getting the entire thing is definitely the way to go. It's pricey, but the ThinkPad Stack is a frequent traveler's dream. If you travel often, it's definitely worth looking into.

This article may contain affiliate links. Click here for more details.