Lenovo ThinkPad Tablet 10: Surface 3's Arch Rival Arrives
The Surface 3, Microsoft's high-end answer to Apple's MacBook and iPad, is itself getting some worthy competition later this summer. This August plans are set for the launch of the Lenovo ThinkPad Tablet 10, a Windows 2-in-1 aimed at businesses and high-end users who need a tablet and PC but in a more durable package.
Lenovo announced the ThinkPad Tablet 10 at its TechWorld event in Beijing, China this week. It's at TechWorld that the company gave industry insiders and technology press an in-depth look at their new line-up of PCs and accessories.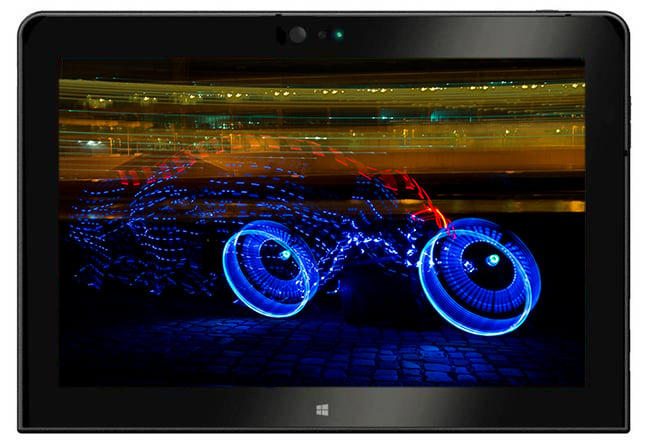 The Lenovo ThinkPad Tablet 10 is the company's first big move into the new frontier that is Microsoft's Windows 10 operating system. With Windows 10 Microsoft hopes to correctly blend the notebook and tablet into a single device that users can carry with them. Therefore, it's understandable that Lenovo is positioning the ThinkPad Tablet 10 as the only machine professionals need for everything in their lives when it arrives in August beginning at $499.
The ThinkPad 10 looks almost exactly like a tablet. It's covered in the same hard matte material that have made other ThinkPad machines capable of taking a beating. Only two versions of the ThinkPad 10 are coming, a model with an Intel Atom Z8500 processor and another with an Intel Atom 78700 processor. Having Intel processors means the ThinkPad 10 will be able to run programs downloaded from the web – like iTunes – and apps downloaded from the Windows Store without a problem.
A 10-inch 1900 x 1200 WUXGA display with multi-touch dominates the Lenovo ThinkPad 10's front-face. Lenovo will let buyers configure the ThinkPad 10 with either 2GB of 4GB of RAM and 64GB or 128GB of storage. Both versions will include an audio jack, a microphone array, front-facing 1.2 megapixel camera, 5 megapixel rear-facing camera with flash, Bluetooth 4.0, a single USB 3.0 port and 802.11ac wireless internet are included too.
It's the extras that make the ThinkPad 10 a worthy competitor for Microsoft's Surface 3. First, Lenovo says that the ThinkPad 10 will last for roughly 10 hours, an hour more than what the Surface Pro 3 does and just as much as what the Surface 3 offers. Second, Lenovo is taking a page out of Microsoft's book and focusing on some key tablet scenarios.
Read: Surface 3 vs Surface Pro 3
Every ThinkPad 10 will come equipped with what Lenovo calls WRITEit. WRITEit is a Lenovo made app for note-taking. Additionally, Lenovo has its own competitor for the Surface Pen included with the ThinkPad 10. Called the ThinkPad Pen Pro, it'll let ThinkPad 10 users take notes and navigate Windows 10 without using a mouse and keyboard. Another way the ThinkPad 10 competes with the Surface 3 and Surface Pro 3 is accessories. Most PC makers barely dip their toes into building an accessory ecosystem for their Surface 3 and Surface Pro 3 alternatives. Lenovo is diving in with a keyboard, dock and cover all coming for the ThinkPad 10. The company is promising that more is on the way soon.
The Surface 3 and Surface Pro 3 are designed as catch-all devices. They can be used for business and pleasure, but they lack some business specific features that some large enterprises need.. Lenovo is taking advantage of this weakness with The ThinkPad 10, adding in a fingerprint reader and DTPM encryption. Having DTPM encryption means there's a processor inside the ThinkPad 10 protecting data and ensuring no one gets access to records and documents they shouldn't have. Lenovo will also let buyers add 4G LTE wireless data compatibility to the ThinkPad 10, something that's coming in a future Surface 3 upgrade but isn't available on the Surface Pro 3.
Lenovo has only said that the basic version of the ThinkPad 10 will launch soon. Depending on how it is configured, the ThinkPad 10 could cost some users a bit more. The Surface 3 itself costs $499 without any accessories.