Lenovo ThinkPad X1 Carbon (2016) Review: Flawless Execution
With every evolution of the notebook PC, our expectations get a bit higher. We're years into the Ultrabook craze and not a single company has managed to create the perfect one. Doing so is difficult. Users need thin profiles, great battery life and decent internals. The $1,269 ThinkPad X1 Carbon is Lenovo's latest attempt at getting the formula for the perfect business and professional ultrabook just right.
Touchscreens are out in this year's ThinkPad X1 Carbon. A fingerprint reader for use with Windows 10's Windows Hello feature is in. Also back is the world-famous ThinkPad keyboard and the X1's seriously thin profile.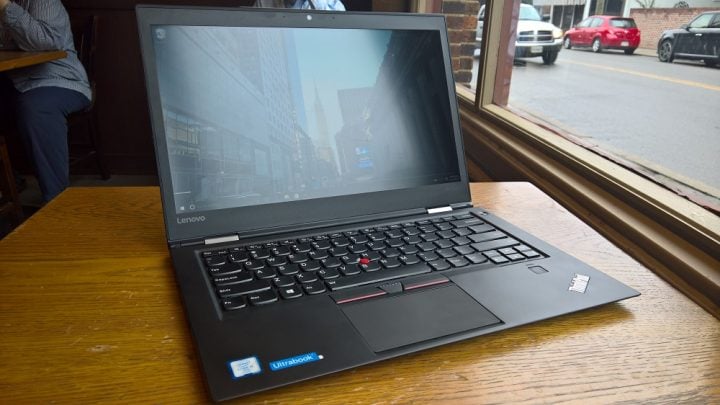 It's taken them a while, but I think the company might have succeeded in building the ultimate thin and light machine ThinkPad.
Lenovo ThinkPad X1 Carbon (2016) Review: Design & Internals
Lenovo continues the all-black and angled affair that the ThinkPad line is known for. Closed, the ThinkPad X1 Carbon is a charcoal slab that's cold to the touch. Set into its lid is an angled ThinkPad logo with a glowing red light that indicates when the machine is on and when it's fast asleep. The machine gets its name from the rigid carbon frame that ensures the keyboard deck doesn't flex.
The power port, OneLink port, Display Port and USB 3.0 port with external charging sit on the left edge of the notebook. On the right edge are the headphone jack, two more USB 3.0 ports, a full-size HDMI port and the Kensington lock slot.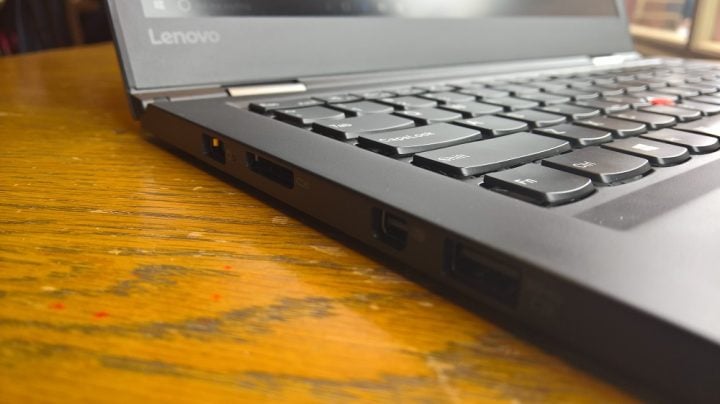 Facing away from the user are two metal-clad hinges, an exhaust port and slots for adding in a SIM Card for mobile data and an SD card. The speakers also face away from the user, but on the bottom area of the notebook, not the back edge.
Tapered edges on the front of the notebook below the palm rest make this notebook feel even thinner than it is. From top to bottom the ThinkPad X1 Carbon is 0.65-inches at its thickest point. The lightest configuration weighs 2.6 pounds, but different options that Lenovo offers online can change that weight.
Ridiculously thin devices have forced even business users to get used to doing their work with less horse power. Other premium notebooks aimed at the same crowd as the ThinkPad X1 Carbon have gone to Intel Core M3 processors. These PCs don't win any spec wars, but are whisper quiet because they don't require a fan.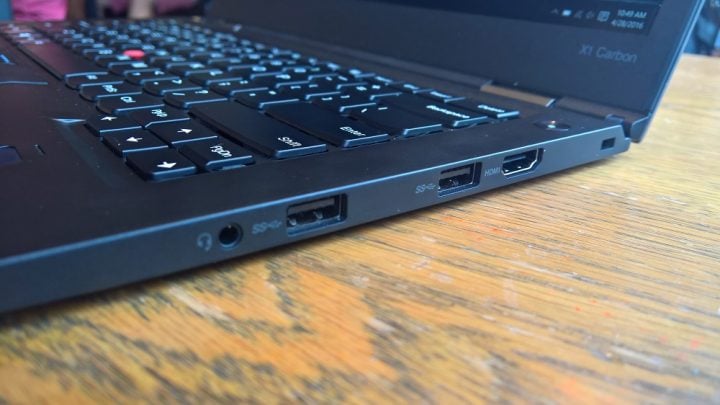 My ThinkPad X1 Carbon did have a fan. One was necessary to cool the Intel Core i5 vPro processor. The machine can be upgraded to an Intel Core i7 vPro, 16GB of RAM and a 512GB SSD online. Mine came with 256GB of storage and 8GB of RAM. vPro processors allow enterprise IT departments to lock down their employee's machines. This works hand in hand with the fingerprint sensor that sits below the right side of the ThinkPad X1 Carbon's keyboard.
Lenovo ThinkPad X1 Carbon (2016) Review: Experience
A lot of PCs look good on paper and online, but the experience falls apart once you've got it in your hand. Raw specifications can act as an early warning based on your needs, but intangibles are also involved. Business users demand a decent keyboard and solid battery life. Both are things that the ThinkPad X1 Carbon nails.
Lenovo says that the X1 Carbon can last as long as 11 hours total. Watching video, I was able to almost hit that number. Certainly, the notebook offers what I'd classify as all-day battery life. For a week solid, I used the machine to get through a daily routine that started at 7AM and ended at 4PM. I did have to tinker with the display brightness to get past 9 hours, but that's an occupational hazard anyway. Heavier applications that lean on the processor certainly put a dent in the notebook's lofty battery life.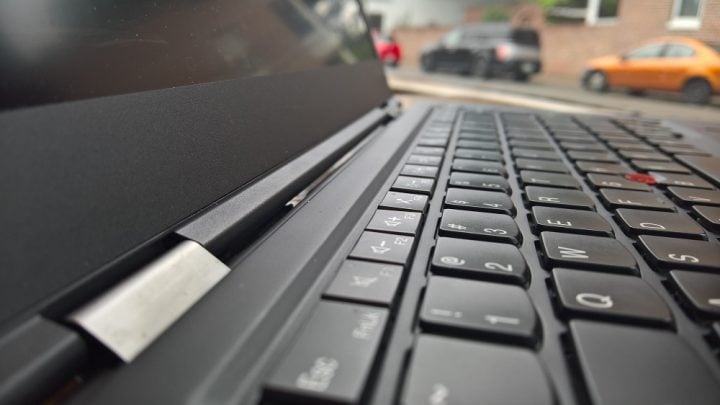 They also trigger the notebook's fan. Let me be very clear, you can hear this fan as you work. Push the machine and you can hear it from a foot or two away. The extra processing power is absolutely worth the noise compared to fanless Ultrabooks. Video editing on it wasn't great but productivity apps sung.
Both of the X1 Carbon's screen options are capable of reaching 300 nits in brightness. My version of the machine came loaded with the 14-inch 2560 x 1440 WQHD display option that has to be seen to be believed. Not only is it bright and crisp, but Lenovo has opted for a semi-glossless display. The display has it all, inky blacks and viewing angles that can't be beat. Glare, which is a constant problem for me on gloss heavy displays, isn't a problem either.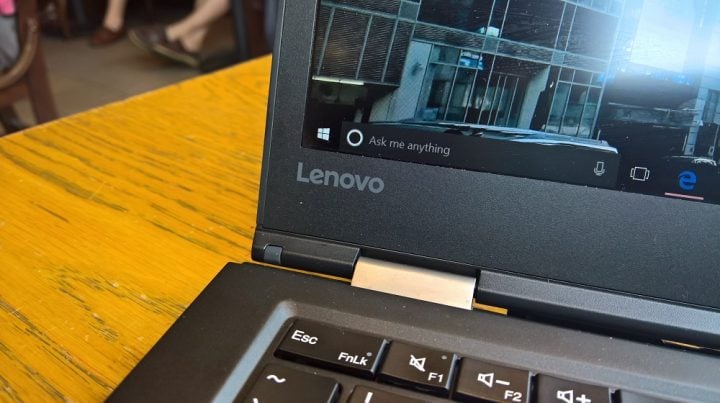 Having been an early convert to the Windows 2-in-1 craze sweeping the PC landscape, I expected that the Lenovo's decision to not offer a touchscreen screen in this model might be a problem. It wasn't. After a few days of poking at this display and having nothing happen, I got used to relying on the very, very nice and accurate trackpad built in. The ThinkPad X1 Carbon's keyboard is comfortable as all ThinkPad keyboards are.
I love that Lenovo provided three USB ports when other Ultrabooks are ditching them to save space. What I didn't like was that some of these ports are in odd places. The SIM card slot and SD card reader sit on the spine of the notebook, making them pretty awkward to use. Sure, you're not going to switch out your notebook's sim card very often, but you might be very into photography or capturing images for work. Putting the SD card out of reach feels odd.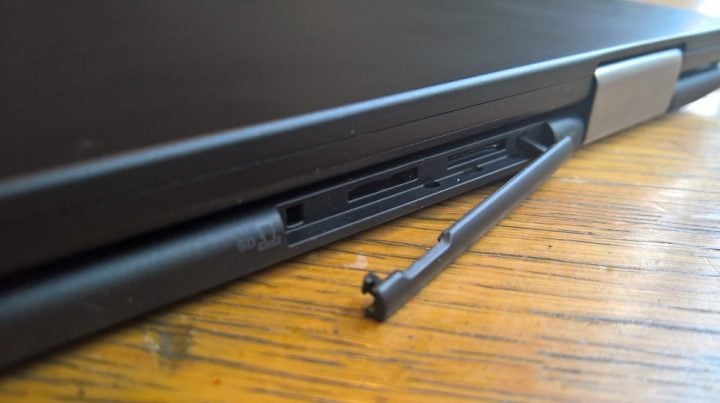 Odder still was Lenovo's decision to not include a Thunderbolt or USB 3.0 Type-C port in the ThinkPad X1 Carbon. I've grown used to speedy photo transfers on other PCs with the technology and would have liked to see it here. Its absence doesn't mar the notebook, but is obvious just the same. A little future proofing for a standard that's almost certain to grow in popularity wouldn't have hurt. A wireless technology called WiGig allows the notebook to communicate with a dock wirelessly.
I'm not impressed by the 720p front-facing web camera but it's at least serviceable thanks to auto-focus. Stills look more like paintings than photos due to some blurriness.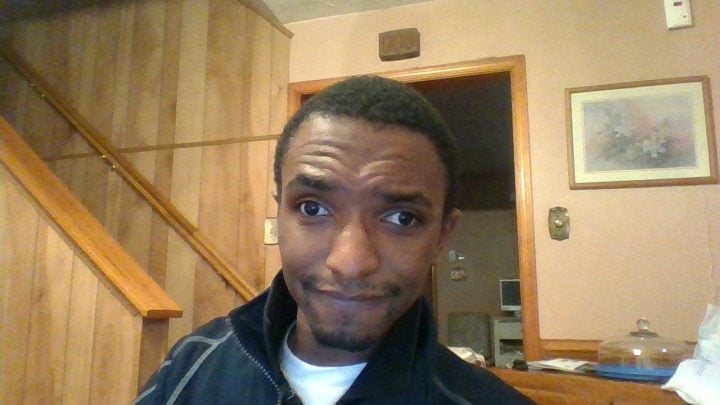 Microsoft's Windows 10 operating system is a big improvement over Windows 8 and Windows 8.1. That being said, Lenovo offers Windows 7 installs on the ThinkPad X1 Carbon too.
Read: Windows 10 Review
Lenovo ThinkPad X1 Carbon (2016) Review: Specifications
Processors: Up to an Intel Core i7 vPro with Intel HD Graphics 520
Memory & Storage: 16GB of RAM & UP to 512GB SSD
11 Hours of Battery Life
Display Options: 14-inch WQHD IPS Display (2560 x 1440 resolution) or 14-inch FHD Display (1920 x 1080 resolution)
Ports & Connectivity: Bluetooth 4.1, Integrated Mobile Broadband card, 802.11 AC Wi-Fi, HDMI, 3 USB 3.0 Ports, MicroSD Card slot, Mini DisplayPort, OneLink+ and WiGig connectivity.
Extras: Fingerprint reader with Windows Hello Support, Lockslot, TPM chip, 720P front-facing camera
Lenovo ThinkPad X1 Carbon (2016) Review: Should You Buy?
If you're in need of a well-built, well-designed notebook you absolutely should consider the ThinkPad X1 Carbon. In fact, I'd say it's one of the few Ultrabooks I can recommend without reservation.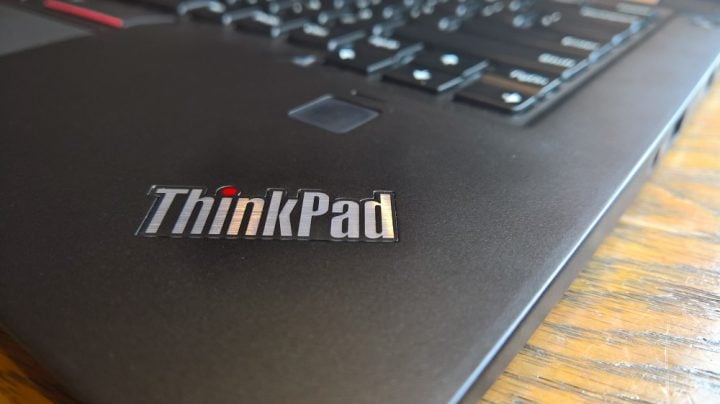 There are no serious problems here that prevent me from doing so. The WQHD display looks fantastic and is glare free. The keyboard is comfortable. Ports are plentiful. The notebook actually does get all-day battery life, provided you're conservative with the screen brightness. It's sturdy and offers a keyboard every bit as comfortable as bigger options in the ThinkPad portfolio. The powerful Core I5 processor pushes the ThinkPad X1 Carbon into home run territory.
Lenovo has perfected the Ultrabook.

As an Amazon Associate I earn from qualifying purchases.