Lenovo ThinkPad X1 Tablet Review
Everyone plays favorites. The detachable is my favorite computing form factor right now. These Windows 2-in-1s are as thin as an ultrabook, but can turn into iPad replacements instantly. I knew Lenovo was on to something at CES 2016 when it showed off the ThinkPad X1 Tablet.
Lenovo Yoga notebooks keep the old designs and traditions alive. They have reversible touch displays, but still look like laptop PCs. With the ThinkPad X1 Tablet, Lenovo is betting on a second horse, and that horse actually is a legitimate rival to the Surface dynasty.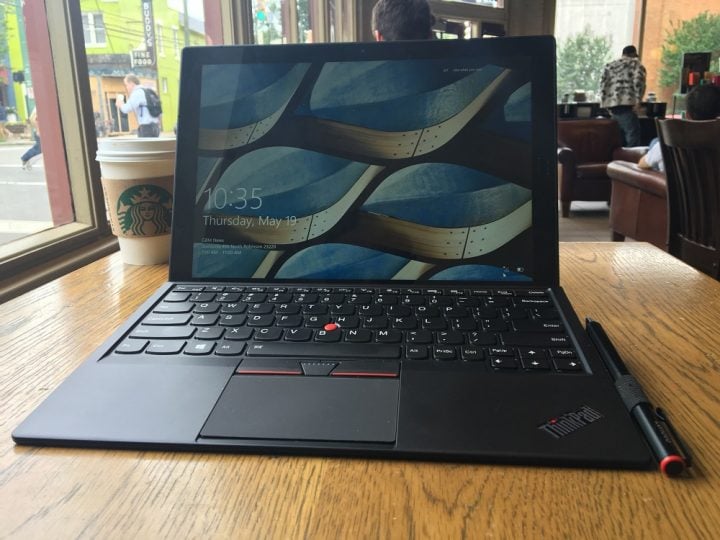 Lenovo ThinkPad X1 Tablet Review: Design
The ThinkPad X1 is a genetic mutation of the same idea that Microsoft presented to tech reviewers back in 2012. The notebook form factor is fine for some, but a growing number of people want devices that can morph as their tasks change.
Every port and essential piece of internal hardware is stuffed into the tablet's frame. On the left side there's a Kensington slot, speaker grille, volume buttons and a headset jack. On the right side is Display Port, USB 3.0 and another speaker grille and USB Type C. A MicroSD card slot for adding more storage lurks behind the kickstand. Above the kickstand is a rear-facing 8 megapixel camera with flash – a rarity for tablets. A ThinkPad Logo sits on the rear of the ThinkPad X1 Tablet. There's another logo just below the keyboard deck.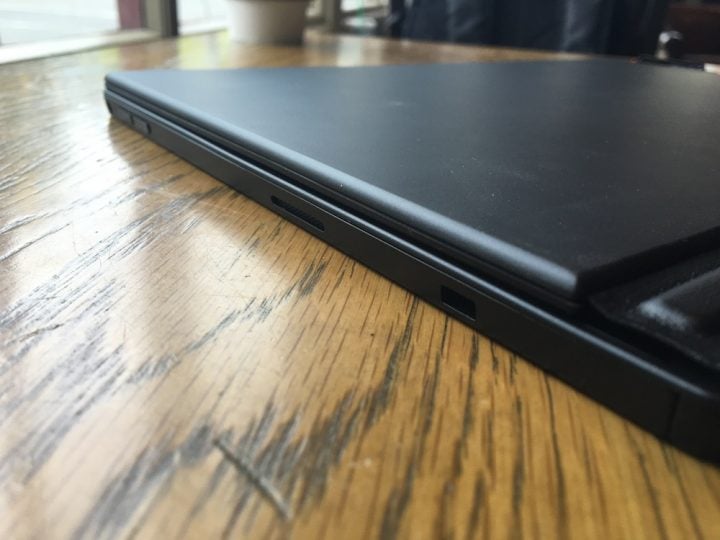 So, sure, the ThinkPad X1 Tablet is definitely influenced by the Surface Pro, but Lenovo attempts to improve on it in ways that I find interesting.
Read: Surface Pro 4 – The Best There Is
As with all ThinkPads, it is military tested. It can handle lots of vibration, temperature shock and humidity. In all, Lenovo says that the ThinkPad X1 Tablet has passed ten different MIL-STD 810G tests for durability. You can still scratch and scuff the Magnesium and PPS frame, but those scratches and scuffs won't be as easily viewable as they would be on devices with a metal body. Gorilla Glass 4 lends the 1.69 pound package some rigidity that the Surface Pro 4 lacks.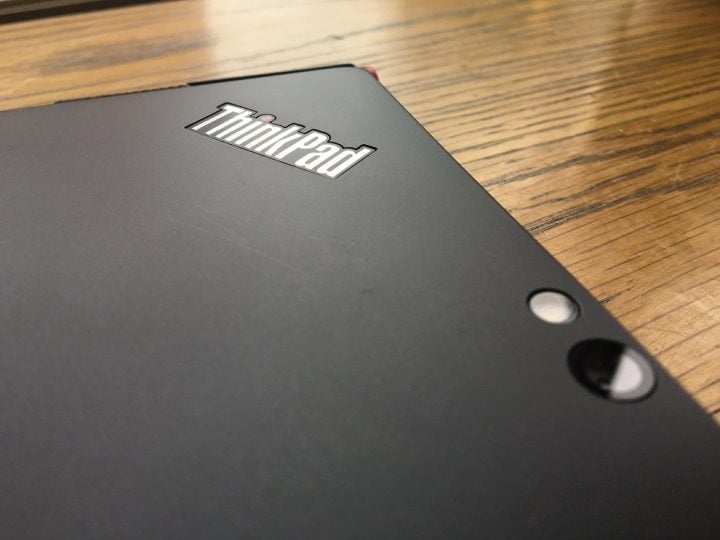 Lenovo went a fingerprint reader for easy security. I haven't had any trouble with the device not realizing who I am. The Surface Pro 4's optical sensor manages to fail to log me in at least once a week.
Some bets that Lenovo made don't pay off.
The device is dominated by 12-inch display that has a resolution of 2160 x 1440 pixels. That's a little smaller than the 12.3-inch 2736 x 1824 display that's in the Surface Pro 4. Lenovo seems to have opted for a slightly smaller display to fix the device's bezel and bottom-mounted expansion port.
The ThinkPad X1's Tablet's kickstand has just as much range as other Windows 2-in-1s in its category. You can have the display sit at a 90-degree angle for a notebook-like experience or get a really low angle that's better for writing using the included ThinkPad Pen.
You can expect some bounce on the keyboard with some of the lower angles, a byproduct of the company opting for a fold-down design instead of a foldout design. You have to feel around for a button on the back of the device to extend the kickstand. I'm not impressed by that at all and its tendency to wobble when typing didn't help.
Lenovo ThinkPad X1 Tablet Review: Internals & Features
The kickstand might be a misstep for the ThinkPad X1 Tablet, but it redeems itself. As far as internals go, Lenovo goes on a winning streak.
Everything from display to mother board is directly integrated into devices like these. That means, it's very important that device makers give users the right mix of power and expandability out of the gate. The ThinkPad X1 Tablet has all the right hardware specs in all the right places.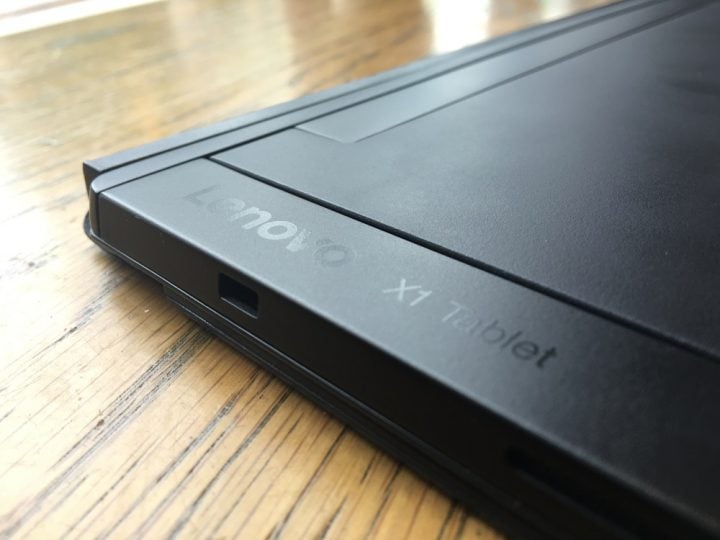 The base model comes with a 1.1Ghz Intel Core M5 processor. It can be upgraded to an Intel Core M7 VPro processor with a clockspeed of 1.2Ghz, too. Either way, we're looking at more power than the base-level Intel Core M3 Surface Pro 4 comes with at $799.99. You have to add a $129 basic cover or $149 cover with a fingerprint reader to that price too.
Those processors are backed up by 8GB of RAM and 256GB of solid state storage. That's double what Microsoft's entry-level device offers. I should note that Microsoft makes up for this by allowing users to leapfrog Core M processors entirely for as little as $999.
Lenovo tells Gotta Be Mobile that ThinkPad X1 Tablet configurations will sell for as little as $600. Complete with all the accessories, CDW has a model for $1,349.
Intel HD 515 graphics are used here. Devices of this type all stick with integrated graphics to keep their physical profiles low and heat down. VPro, TPM 2.0 and TPM 1.2 technologies make it easy for enterprise users to lock this device down.
Endless Possibility
What Lenovo offers buyers of this device is something beyond keyboards. A hidden expansion that sits underneath a false bezel allows the device to accept add-on modules. The plan is to allow companies and users at home to create the perfect Windows 2-in-1 for their needs and activities.
Eventually, there'll be a Productivity Module, Presenter Module and 3D Imaging Module. The Productivity Module adds another USB 3.0 port, an HDMI port and an additional 5 hours to the device's 10 hours of battery life. The Presenter Module adds HDMI In, HDMI Out and a projector. The 3D Imaging Module will add an Intel RealSense camera for capturing 3D pictures and information. These modules are $149.99 add-ons on-top of the base cost of the ThinkPad X1, but Lenovo is on to something.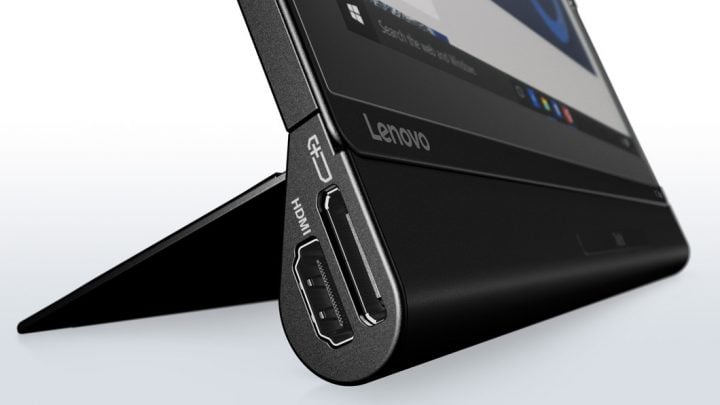 I love the idea. I love the idea so much that I've dubbed it "The Port of Endless Possibility." I wish I'd had the opportunity to try out the concept for myself, but they weren't ready in time for this review.
Lenovo ThinkPad X1 Tablet Review: Experience
Living with the Lenovo ThinkPad X1 Tablet for two weeks was a mix of highs and some non-obvious lows. Some things I expected to be problems. Other things came out of nowhere.
The USB Type-C port delivers ridiculously fast transfer speeds from a smartphone also equipped with USB Type C. The trouble is the device uses this same port for charging. I wish there were two instead of one.
As A Notebook
As a notebook, the ThinkPad X1 Tablet performs admirably. This isn't a device that you're going to want to render video or play games on, but it's a device that can handle running a business or staying productive. 8GB of RAM makes it possible to multitask with this device in a way that a lot of 2-in-1s can't. Open lots of tabs in Chrome and Photoshop on the entry-level Surface Pro 4 and you'll appreciate all this extra RAM.
Lenovo managed to take the typical ThinkPad keyboard experience and make it into a thin add-on that no one will have a problem typing with. Because this is a 12-inch device, the keys are certainly smaller, but not uncomfortably small. There's a somewhat large trackpad and a TrackPoint. Anyone that has used a full-size ThinkPad and loved that keyboard will love this one.
As a Tablet
As a tablet, the ThinkPad X1 Tablet really, really shines. The 12-inch display has a resolution of 2160 x 1440 pixels. It can get bright enough to fight off glare, but has a glossy finish that also means you can see objects behind you sometimes.
The pen accessory that comes with the device uses Wacom technology to let users take notes and navigate Windows 10. The technology itself is capable of measuring over 2,000 different levels of pressure, making it more sensitive than the Surface Pro 4. It relies on two buttons that are built into its barrel. There's no eraser cap to keep your writing immersion intact. The included software also lets you launch programs of your own choosing like a sort of shortcut. The ThinkPad Pen is good, but not the best.
Tablet Mode feels a bit awkward, but only because the sliding bezel at the bottom of the device throws off the position of the display when held in portrait mode. I'm used to folding the keyboard cover back on my Surface, quickly transitioning from notebook to Tablet Mode. You can do this with the Lenovo ThinkPad X1 Tablet, but the two magnet bars on the lip make it a bit awkward. Lenovo shuts down the user's keyboard automatically, but a driver issue meant my device's touchpad was still enabled when it shouldn't have been.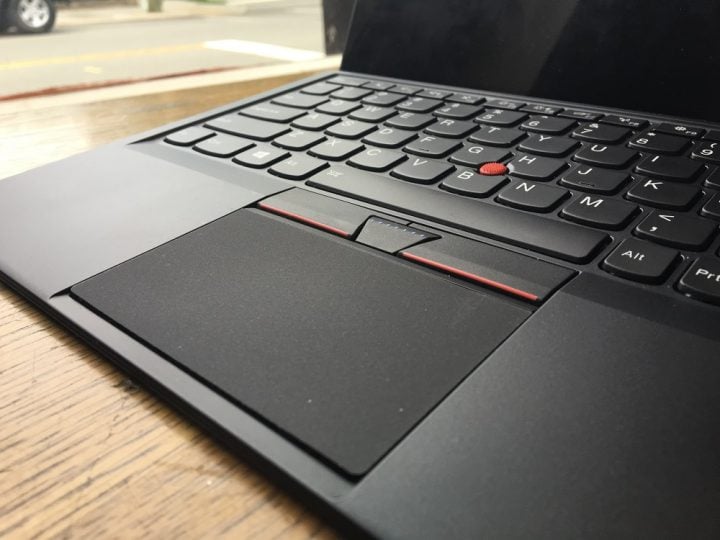 Windows 10, Microsoft's latest operating system runs on the Lenovo ThinkPad X1 Tablet just fine. Another round of driver updates are needed to solve a few crashes and power issue that I ran into, but there's nothing so bad about the software experience that it's unusable. In fact, Lenovo does an admirable job of keeping the software cruft to a minimum.
Read: Windows 10 Review – A Love Affair
In or out of tablet mode, the physical buttons on the ThinkPad X1 are frustrating. They're pretty stiff and nearly flush with its body. The placement of the headphone jack bothers me, too. You're stuck dangling a cable across your keyboard deck since it's in the top-left corner in notebook mode.
Lenovo ThinkPad X1 Tablet Review: Specifications
| | |
| --- | --- |
| Processors & Graphics | Intel Core m5 and Intel Core m7 vPro. Intel HD 515 Graphics |
| Memory | 8GB of RAM |
| Display | 12-inch FHD Led Display with a resolution of 2160 x 1440 pixels |
| Storage | 256GB SSD |
| Connectivity | USB 3.0, USB 3.0 Type C, Mini DisplayPort, Headphone jack, Bluetooth 4.0, 802.11AC Wi-fi. Optional LTE Mobile data support. |
| Cameras | 2.0 Megapixel Front-Facing Camera. 8.0 Megapixel Rear-Facing Camera |
| Battery Life | 10 Hours |
| Extras | TrackPoint, Fingerprint Reader, Kensington lock slot, TPM 2.0 and TPM 1.2 security chips. |
Lenovo ThinkPad X1 Tablet Review: Should You Buy?
The Lenovo ThinkPad X1 Tablet is a Windows 2-in-1 that was clearly designed to emulate what's been successful on other devices.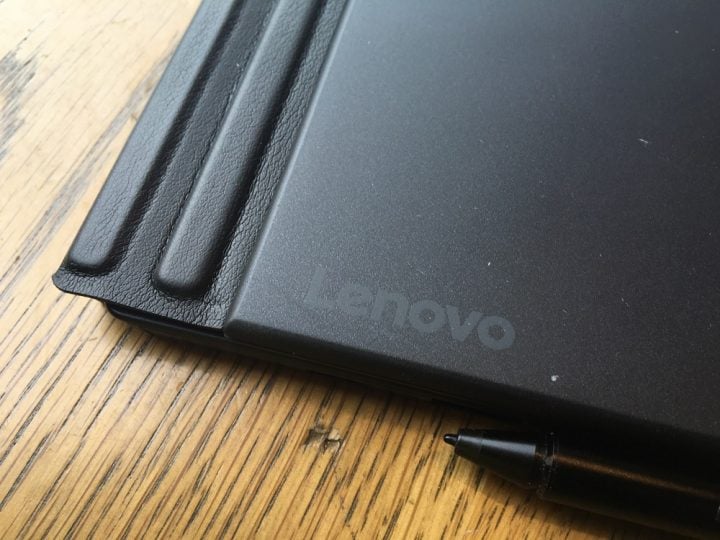 Tiny upgrades won me over little by little. There are enough upgrades on this device compared to what the Surface offers to make the two very competitive. If you're worried about durability but not design, get the ThinkPad X1 Tablet. The device can take a beating. If you absolutely need the most pressure levels possible for artwork, the ThinkPad X1 Tablet wins again. Looking for LTE for connecting to mobile data networks or USB Type-C for transferring files quickly? You guessed it, the ThinkPad X1 Tablet wins. The ThinkPad X1 Tablet's keyboard cover is just as good as the Surface Type Cover, even if the included stylus isn't.
Lenovo took what has become a standard design and improved on its internals. It's not better looking than the Surface, but good looks only get you so far anyway. I wouldn't describe the device itself as a clear win for Lenovo, but the ThinkPad X1 certainly deserves to be mentioned in any 2-in-1 conversation. Starting at $600, it could prove to be the best money you've ever spent.

As an Amazon Associate I earn from qualifying purchases.