Lenovo ThinkPad X1 Yoga 2016 Review: The Things You Love & One Thing You Won't
Purpose, that's what some say distinguishes those that complain about what they need to get done and those that have a knack for doing what has to be done. The Lenovo ThinkPad line has managed to keep users coming back by focusing on its purpose. It has the features and options that power users and business users need to get their jobs done. The Lenovo ThinkPad X1 Yoga 2016 keeps its sense of purpose by focusing on what professionals love about ThinkPads.
Starting at $1,349.99, the ThinkPad X1 Yoga 2016 isn't dissimilar from its predecessors. The same design, keyboard and ports make their return. So does the metal hinge that allows the notebook to turn into a tablet and back in a moment's notice. This isn't the notebook for those looking for more fashionable devices to show off at a coffee shop. One thing that doesn't look dull is the 14-inch OLED display that's new for this model. In fact, the ThinkPad X1 Yoga 2016 would be a tremendous notebook out of the box, if it weren't for one flaw.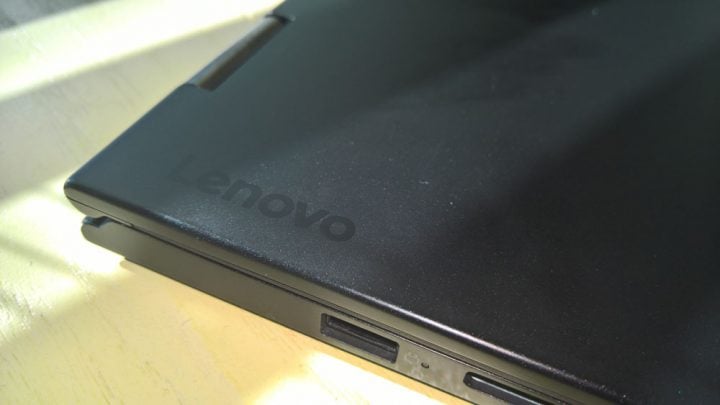 Lenovo ThinkPad X1 Yoga 2016 Review: Design & Internals
The ThinkPad X1 Yoga is a solid black affair. Battle tested plastics and metal are used in the notebook's chassis and frame. It's rigid for sure; you can't flex this thing when it's closed. Lenovo manages to deliver that solid frame while keeping the notebook really, really light. It weighs just 2.8 pounds. From top to bottom, this device measures 0.66-inches. That is to say, it's very, very thin.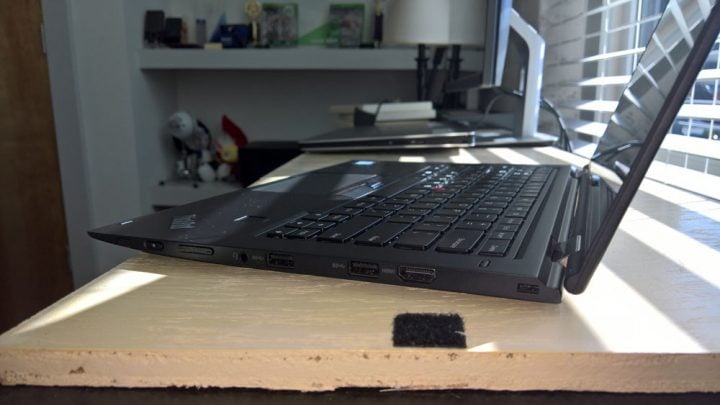 An expansion port, power port, USB 3.0 port and Mini DisplayPort sit on its left edge. On the right are two more USB 3.0 ports, a full-size HDMI port and a headset jack. The power button and volume buttons are on the left edge too. There aren't any Thunderbolt or USB Type-C ports, but that's ok for a notebook looking to infiltrate small businesses and enterprises and not the user market. Three sides of the notebook are tapered so that it feels just a bit smaller in your hand than it would otherwise.
The TrackPoint sits in the middle of Lenovo's excellent backlit keyboard. It's left, right and center buttons sit just below the keyboard and just above precision touchpad. To the left of both of these things is a great-to-have fingerprint reader. This keyboard retracts into the body of the ThinkPad X1 Yoga when in Tablet Mode.
Internals
The ThinkPad X1 Yoga's configurations are wide in scope. They include up to an Intel Core i7 processor, 16GB of DDR3 RAM and a 512 GB Solid State Drive. While the body does allow for some beefy processor options, there's no space for discrete graphics. Buyers will need to make do with the Intel HD Graphics 520 chipset inside.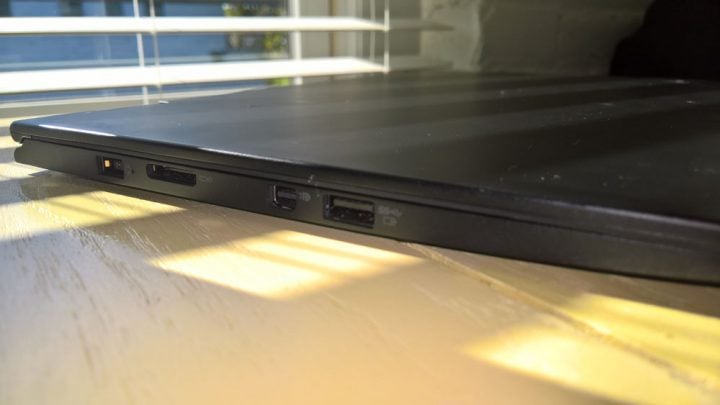 Our review model came with a 2.50GHz Intel Core i7-6500U processor and 8GB of RAM. It also had this year's big upgrade for this new generation of ThinkPads, a 14-inch OLED touch display with a resolution of 2560 x 1440 pixels. Frequent buyers of high-end smartphones might be familiar with the OLED technology. It's the reason you probably prefer watching movies on your Samsung tablet or smartphone instead of the old television you purchased because of its size.
Lenovo ThinkPad X1 Yoga 2016 Review: Experience
Paired with Lenovo's excellent anti-glare coating, I have almost nothing but praise for the ThinkPad X1 Yoga's screen. Colors are bright and vivid in movies and the web. Sometimes you maybe even notice some shades on your favorite websites or movies that you hadn't noticed before. Things get more interesting when you switch on the Paper setting in the Lenovo Settings app. That option changes the tint and hue of the notebook's display to something akin to real paper. Together, they're a digital reader's dream.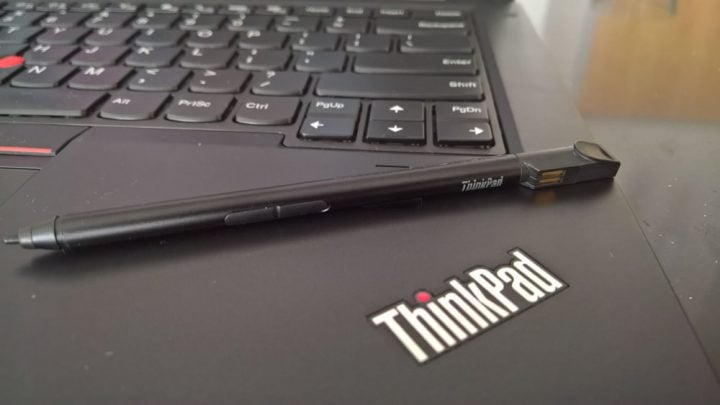 But I said, "almost" nothing negative. The blacks don't look as dark to me as they should with this notebook. On my smartphone, I'm used to OLED blacks being so dark that they blend into the display at a certain angle. That doesn't happen with the ThinkPad X1 Yoga's display. I'm not sure if it's because of the display itself or the matte coating that prevents glare. Whichever, I was a little disappointed by that.
My other issue with the display is more about its software. Lenovo calibrates it at the factory, but there's no way to change its hue or saturation levels like you would on a television or phone equipped with the same technology. That's a rare software miss from Lenovo, which has everything from location-based screen settings to hotspot connectivity options built into its Windows 10 app.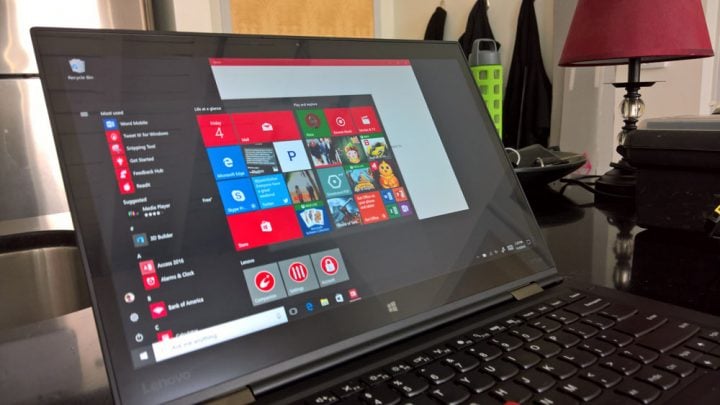 I also wish that Lenovo would kill off the capacitive Windows button that sits underneath the device's screen. When you have the notebook in tablet mode, it can be easy to trigger accidentally. Microsoft's decision to keep the Windows taskbar on-screen in Tablet Mode has made this button an unnecessary design risk. The notebook's speakers are on the bottom. It's SD card slot is fitted into its spine.
The locking keyboard is as good as it's ever been. It still offers a lot of travel without much noise per tap. Having it all disappear into the body when in Tablet Mode still feels a lot safer than risking snagging a finger or object and possibly damaging a key. The trackpad is slick and accurate. Lenovo hasn't made any significant changes to the function keys. The FN and CTRL keys are still in each other's place, but you get used to it after a few days.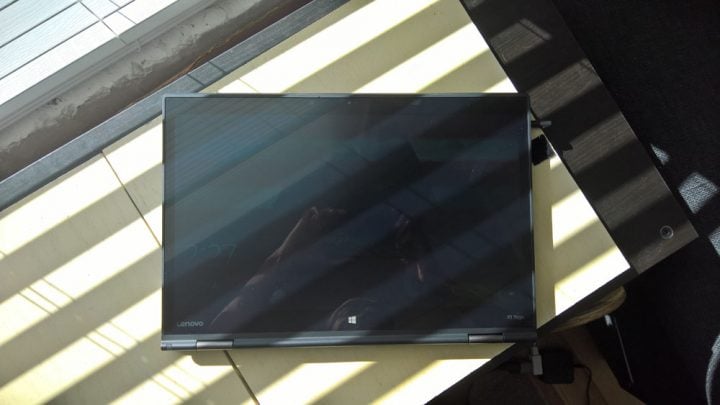 The digital pen that's hidden in the body of the ThinkPad X1 Yoga feels too tiny and dainty to me. There's no built-in eraser cap, either. It does use Wacom's technology for super-accurate stroke in apps like OneNote and SketchPad. More importantly, it charges in just seconds. I once spent four hours hunting down AAAA batteries for my Surface Pro 4's Surface Pen. As such, I can't praise that charging technology enough. Windows 10 has a new Ink Workspace area for taking notes, drawing and leaving reminders in Sticky Notes, which I did a lot with the ThinkPad X1 Yoga.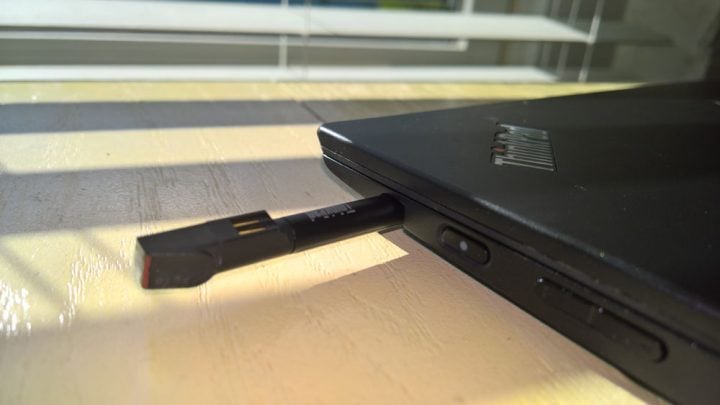 Battery Life
A mobile professional needs all the battery life their system can muster. Usually, turning to the ThinkPad series for that battery life is a no-brainer. At first, I wasn't so sure that was the case with the ThinkPad X1 Yoga. Lenovo says that it can stay mobile for 11 hours, but I couldn't come close to hitting that.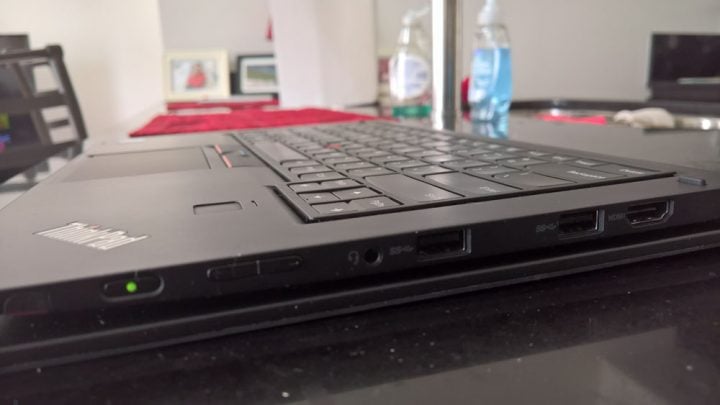 I didn't manage to get longer than 6 hours out of the machine for the first few days. It wasn't as if I was running demanding programs, either. This was with battery friendly apps downloaded from the Windows Store and display brightness set to 50% of what the OLED screen could do. Turning on Windows 10's Battery Saver mode actually caused the battery estimate to drop by a few minutes.
Thinking that it might be a software issue, I went searching for the cause. Uninstalling apps running in the background did not fix the issue. Next I went into the Intel control panel and changed some settings. It was set to balance power and performance by default. Making battery power conservation its goal when mobile finally got me up to roughly 10 hours on single charge.
Lenovo ThinkPad X1 Yoga 2016 Review: Specifications
| | |
| --- | --- |
| Processor & Graphics | Up to Intel Core i7 vPro Processor, Intel HD Graphics 520 |
| Memory & Storage | Up to 16GB of RAM, 512GB SSD Storage |
| Display | 14" OLED 2560 x 1440 display |
| Ports & Extras | 3 USB 3.0 Ports, HDMI, microSD, OneLink and Mini DisplayPort, Bluetooth 4.1, 802.11ac Wireless Internet, LTE Mobile data optional, Wacom Pen with fast-charging internal dock |
| Battery Life | 11 hours of Battery Life |
| Dimensions & Weight | 13.11-inches x 9.01-inches x 0.67-inches. 2.8 pounds |
Lenovo ThinkPad X1 Yoga 2016 Review: Should You Buy?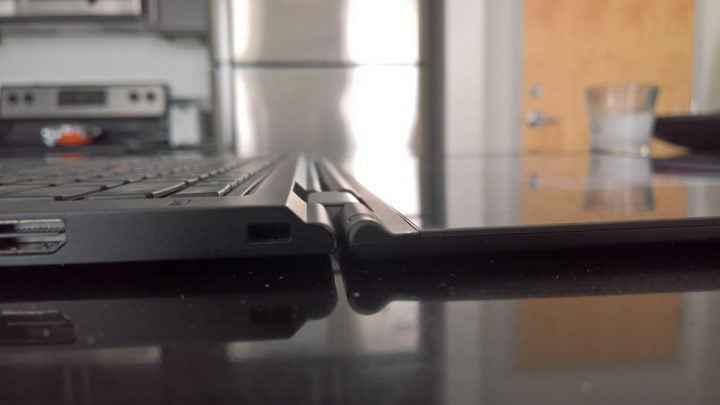 When something is working well, you don't come up with an all-new formula. You augment it until you have something that's almost perfection. For a long time, Lenovo described its ThinkPad notebooks as machines that are made "for those who do."
These people are going to love the ThinkPad X1 Yoga's OLED display and fast-charging Pen technology. I think they'll love its fast-acting fingerprint sign-in too. The machine is speedy, and as light as any device with an Intel Core i7 processor could be. It's also quiet when not being pushed by resource intensive programs.
With the battery life mystery solved, there's little reason to not recommend the ThinkPad X1 Yoga to anyone looking for a business notebook that can also become a tablet.