Lenovo Thinkpad X61 Tablet PC First Impressions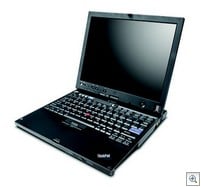 First impressions time. I received an evaluation model of the Lenovo ThinkPad X61 Tablet PC on Friday and have spent time this past weekend checking it out and comparing it to the X60 that I've been using for awhile. I've installed my usual mix of applications and migrated all of my data. From a form factor standpoint there aren't any major differences between the X60 and the X61. You'll find ports, buttons, and their respective functionality to be the same with two exceptions. The X61 has done away with an IR port, and you no longer see the IBM Logo on the case, just the word ThinkPad. What's new is on the inside.
This X61 is a Core 2 Duo running the L7500 chip at 1.60GHz. By way of comparison the X60 is a Core Duo machine running the L2500 chip at 1.83GHz. Both units have 2GB of memory and both units have a SXGA+ screen. The X61 has SuperView technology. This X61 also is running Intel Turbo Memory. The X61 is using the Intel 965 graphics chip and the X60 uses the 945GM. Vista Performance score on the X61 I'm evaluating is 3.4 and on the X60 3.1. (Click on the thumbnails for a larger view.)
General Impressions
The X61 is definitely faster in all respects. From boot up to opening applications it is a much faster performer. It also runs much cooler than the X60. The screen is brighter, although I haven't found a way to decently photograph this yet so that you can see the difference. The Finger Print Reader on the X61 is working much more efficiently and effectively than the one on the X60. The X61 also feels an ounce or two lighter, but that might be my imagination. I like what I see very much and think Lenovo has once again created a Tablet PC that raises the bar. I'm impressed.
Now on to some specifics:
Intel Turbo Memory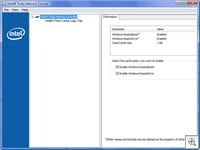 Intel Turbo Memory is designed to improve general system performance by storing frequently accessed data in flash memory. It supposedly results in faster access to applications and data as well as decreased boot times. The caching helps reduce system power consumption by allowing the HD to enter low power modes more often. All well and good. I note in the Intel Turbo Memory Console that it reports Windows ReadyBoost and Windows ReadyDrive are both enabled. I've not experienced great things with Windows ReadyBoost using a different medium (SD Card) and reported on that here. Here's hoping that after using the X61 for awhile I won't experience similar results. As of this point, I don't have any specifics on Windows ReadyDrive to share. As for now, as I've mentioned, the performance of the machine is extremely responsive and I assume Intel Turbo Memory is part of that good news.
SuperView
There has been a lot of confusion on this, some of it due to some confusing info on the Lenovo product site where, depending on where you were looking, it was called Multi-view or SuperView. SuperView is the correct terminology. It is designed to make viewing in outdoor conditions better especially in sunlight. I can't really report on any significant results for this because our skies have been cloudy and we've had rain for the time I've had the X61 in my hands. From what I can tell the process is called ""Direct Bonding" and it is designed to cut down on reflectivity and make the screen less susceptible to scratching (although I hadn't noticed any problems with scratching at all on the X60), and more durable under harsh conditions. Here's what I have noticed. There appears to be an extra layer on the screen. All well and good. But when you have a white background on the screen there is a detectable moire pattern viewable. It seems to be more pronounced in portrait mode than in landscape mode. I don't find it distracting, but it is there. I also notice that the screen is particularly susceptible to fingerprints, or rather the grease or oils that may come off your skin. More so than the X60. Using any sort of cleaning solution designed for this purpose only serves to smear it around, so you'll need a dry cloth to keep those impressions off the screen. (Remember this is a demo unit, so shipping units might be different.)
UPDATE: See this post for an update on Superview.
Performance
As I said earlier, this unit really is a screamer compared to the X60. Don't get me wrong, I was perfectly satisfied with the X60's performance until the X61 arrived. The difference with the newer model is very noticeable. Not only does the X61 I'm evaluating come with Intel Turbo Memory it also ups the L2Cache from 2.00mb to 4.00mb over the X60. Dennis is running some benchmarking tests between the X60 and the X61 he has in his possession (both are multi-touch.) He'll be publishing the results of those tests soon. I'm not running benchmarks for these early impressions. Instead I'm going to give you some times for some of the tasks I do on a regular basis and compare between the two models. In all candor, these kind of practical results mean more to me than benchmarks do, but I'll be doing those for another post down the road. Here are a series of tests I ran on applications and processes that I frequently use:
Cold Boot: The X61 boots up in approximately 3:00 minutes. The X60 in about 4 minutes and 10 seconds.

Returning from sleep mode: The X61 returns from sleep in about 15 seconds and the X60 in about 29 seconds. (This includes typing an identical password on both.)

Going to sleep: The X61 is in sleep mode (closing the lid) in 15 seconds. The X60 in 29 seconds.

Producing a movie in Windows Movie Maker: Using the same file the X61 produced a movie in 28 seconds. The X60 produced the same movie in 57 seconds.

Producing a movie in Camtasia Studio: Again using the same file the X61 produced the final product in 1 minute. The X60 produced it in just over 2 minutes.

Printing to OneNote 2007: On the X61 printing a medium sized word document to OneNote 2007 took 10 seconds versus 15 seconds on the X61.

Opening a mindmap: Opening a large mindmap in MindManger 7.0 took 4 seconds on the X61 and 13 seconds on the X60.

Opening iTunes: On the x61 this pig of an app took 7 seconds to open. On the X60 it took 13 seconds.
Battery Life
An interesting development regarding battery life is that the 8 cell battery is now listed as the standard battery. With the X60 this was an option. It is too soon to really tell on battery life without running some benchmarks, and again, I'm not sure how effective they really are in my usage scenarios. That said, with a full charge and running the ThinkPad Default setting it reports 5hrs and 20min available initially with everything turned on. That quickly drops down to 4hrs and 32min with both wireless and Bluetooth on. If I turn off Bluetooth, it will jump back up to almost 5 hours. I'll be testing this without either radio on this week. I do notice a difference between the two battery meters that are available.
The larger horizontal meter on the left reports almost an hour less available than the vertical battery icon adjacent to the wireless icon in the picture above. So, I'm not sure what is going on there. I'll have a better idea of real world battery life in a week or so.
First Impressions Summary
I'll be reporting more as the days go on. Dennis and I hope to be putting a combined InkShow together on the two units we are evaluating. In the meantime if you're looking of visuals on the form factor check out these InkShows (here and here) on the X60 as very little has changed externally. I'm about to enter an intense period of rehearsals and will really be putting the X61 to the test during that time. I'm anxious to see if I can get through a 4 to 6 hour rehearsal period on just battery, and I'm also looking forward to seeing how this unit settles in with Superfetch and the ReadyBoost feature. It takes some time for those processes to settle in. As I said, I'm very impressed with the new Lenovo ThinkPad X61 so far. It is one heck of a Tablet PC.

As an Amazon Associate I earn from qualifying purchases.