Lenovo ThinkPad Yoga 260 Review
Just another black box. That's how the uninitiated tend to describe Lenovo's ThinkPad series of devices. Those of us who've spent more than a passing moment know the truth. That durable black frame is unassuming. ThinkPad machines are battle tested, durable, faster notebooks built for the mobile warrior. The $989 Lenovo ThinkPad Yoga 260 doesn't buck the trend. It's a Windows 2-in-1 that's stuffed with extras and understands that looks aren't everything.
Available online for purchase from Newegg, the ThinkPad Yoga is thin and light, but includes the latest Intel Core i5 and Intel Core i7 Processors. It's definitely a thin and light notebook first, but it brings some improved tablet tricks that older devices didn't have.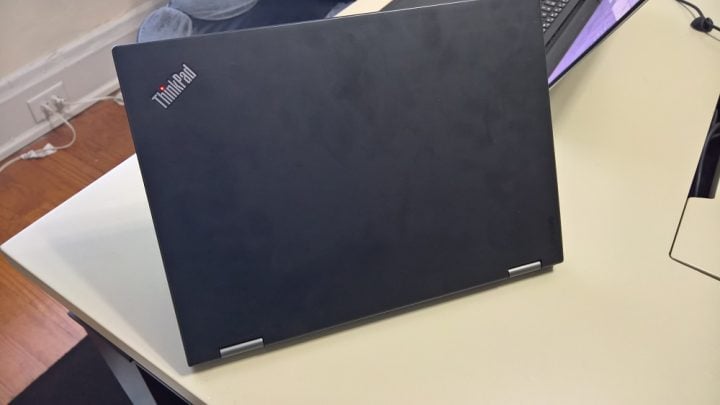 I like the Lenovo ThinkPad Yoga 260. I suspect a lot of other people will too, and they won't have a problem with its matte black frame.
Lenovo ThinkPad Yoga 260 Review – Design & Internals
When Lenovo set out to make an incredibly thin and light ThinkPad notebook with a lot of features, it didn't play around. The Lenovo ThinkPad Yoga is about the size of a real one subject notebook. Even better, it's just as light as one, weighing 2.9 pounds. From top to bottom it measures .70-inches.
As for the design itself, what I'd describe as the hallmarks of the ThinkPad experience aren't changed in the ThinkPad Yoga 260. The lid of the ThinkPad Yoga 260 is black with a ThinkPad logo and status light on the right edge and the Lenovo word mark embossed on the left edge.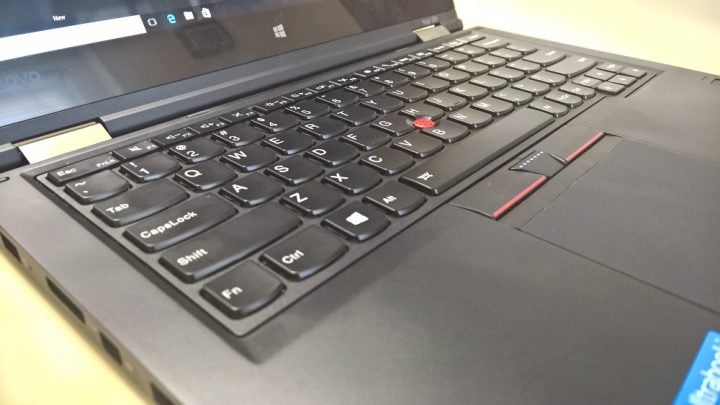 All ports are on the edges of the ThinkPad Yoga 260, with power, OnePlus port, DisplayPort and USB 3.0 on the left. The USB 3.0 port can charge other devices when the notebook is closed and in sleep. On the right edge are a full-size HDMI port, another USB 3.0 port, MicroSD port, SIM Card port and combo audio jack on the right edge. The OnePlus port is for quickly docking accessories to the device with just a single cable.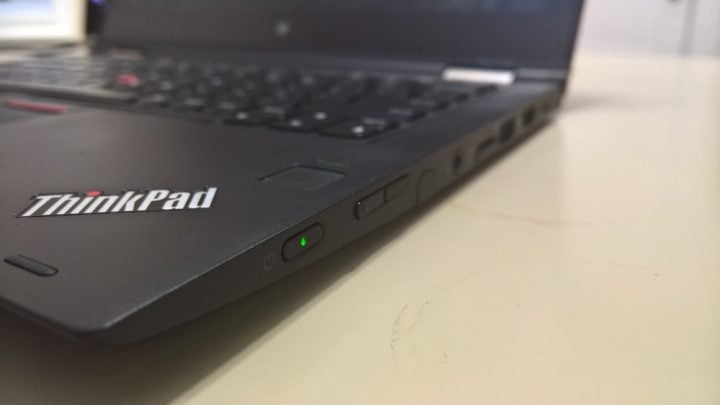 Volume buttons and a power button are on the right edge of the device too because the Lenovo ThinkPad Yoga 260 has metal hinges that allow its touch-screen display to fold backward. The ThinkPad Yoga 260 is also a tablet. As you fold the screen backward, the still ridiculously nice ThinkPad keyboard retracts to make this mode more comfortable. This hinge also makes Stand and Tent Mode possible, for presentations and video watching.
Internals
Thin notebooks don't necessarily have the best internals. Notebooks with the latest internals don't always have the thinnest profile. Throwaway those notions for the ThinkPad Yoga 260, the internals that you want are an option – provided that you aren't looking to render video or play games with a discrete graphics card.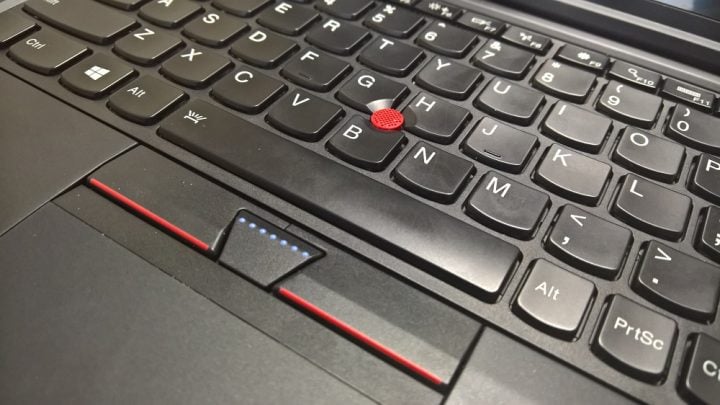 Models come with either a high-definition 12.5-inch display with a resolution of 1366 x 768 or a full 12.5-inch FHD display that's capable of 1080P video. Configurations can come with either an Intel Core i5 or Intel Core i3 processor. 16GB of RAM is an option for heavy multitaskers too.
A 512GB solid state drive is a possible addition too, though not the default. What does come default is Bluetooth 4.1, TrackPoint sensor, spacious trackpad, Wi-Fi, and a fingerprint reader. The model I used had 8GB of storage, 8GB of RAM, an Intel Core i5 Processor and 256GB of solid state storage.
Lenovo ThinkPad Yoga 260 Review – Experience
As a thin and portable notebook PC, the ThinkPad Yoga 260 checks all the boxes. Full days were spent at Starbucks, writing away, free from a power cable and all. I loved it.
Productivity apps – Microsoft Word, a web browser and even Photoshop Elements – worked just fine on the notebook. The machine was whisper quiet during almost every task.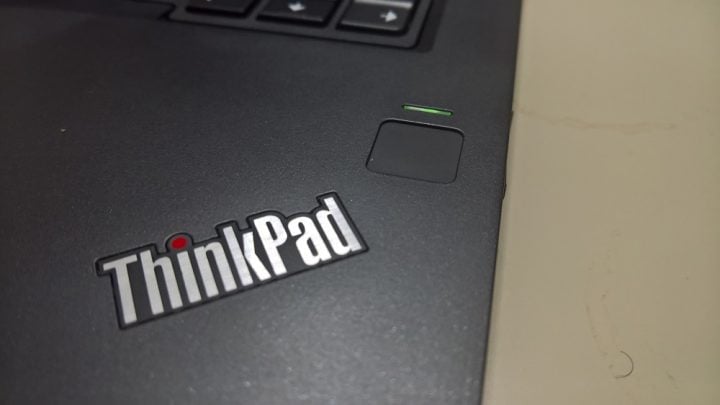 The ThinkPad keyboard, trackpad and TrackPoint weren't anything out of the ordinary for a ThinkPad notebook. That is to say, they were fantastic. Each key is springy and comfortable without it sounding like you're tap-dancing on a table as you type.
As for being a tablet, the ThinkPad Yoga 260's lack of girth lends itself well to it. Smartly, Lenovo didn't make the power button stick out from the machine. As such, you don't accidentally end up turning the machine off. Volume button placement is fine too, with only the placement of the headphone jack standing out as awkward in a tablet situation.
Also awkward is the capacitive Windows button that sits below the ThinkPad Yoga's display and adds to a really sizable bezel. The wide bezel does mean that you don't have to worry about touching the display accidentally when you hold it in Tablet Mode. Your thumbs will have to work a little harder to tap something when you're using the device in portrait mode.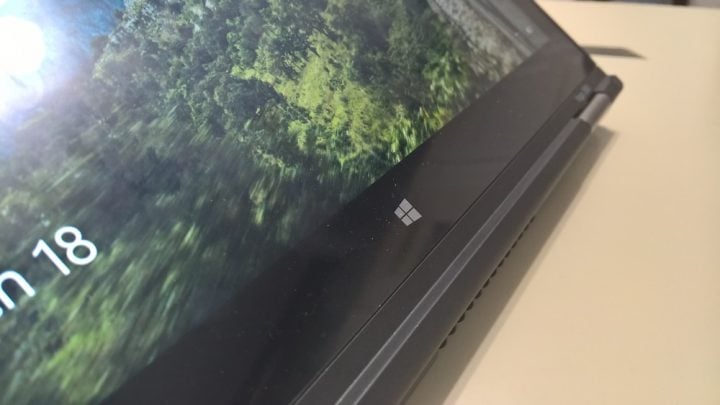 Sitting in an alcove just to the left of the ThinkPad Yoga 260's volume buttons is the ThinkPen. This stylus is a standout feature for the Windows 2-in-1.  It's less like an actual pen than the Surface Pen, with side buttons and a thin profile. On the other hand, it's more pressure sensitive than the Surface Pen and recharges in that alcove from the notebook's battery. Lenovo pairs the pen with its own Write software, which is serviceable. The time it takes for a pen stroke to surface on-screen with the ThinkPen is minimal. Lag is always a worry with any digital stylus.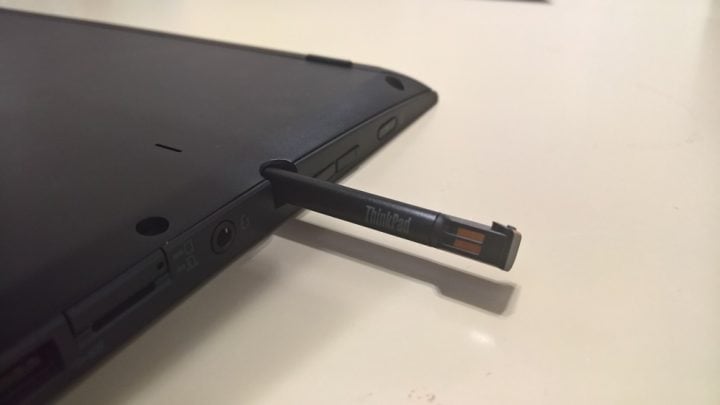 This being a business notebook, Lenovo keeps the software pack-ins to a minimum beyond Write. The company does include a software utility for enhancing battery life and swapping audio settings. The utility even allows the ThinkPad Yoga 260 to double as a wireless router for other devices. Location awareness is built into the app too; letting you change some of the notebook's settings based on your location. I don't just like this feature. I love this feature.
Windows 7 and Windows 10 are both options, though I urge everyone to go with Windows 10. It's more stylus and finger friendly. I've beat up on Lenovo for including too many software extras for a long time. I'm glad to see them making some significant progress in the apps that they do choose to install.
Lenovo hands over control of the built-in fingerprint reader to Microsoft with Windows 10. The operating system uses the reader as a quick way to login and authorize purchases with Windows Hello. The fingerprint reader on the ThinkPad Yoga 260 worked the first time, every time.
Lenovo ThinkPad Yoga 260 Review – Should You Buy?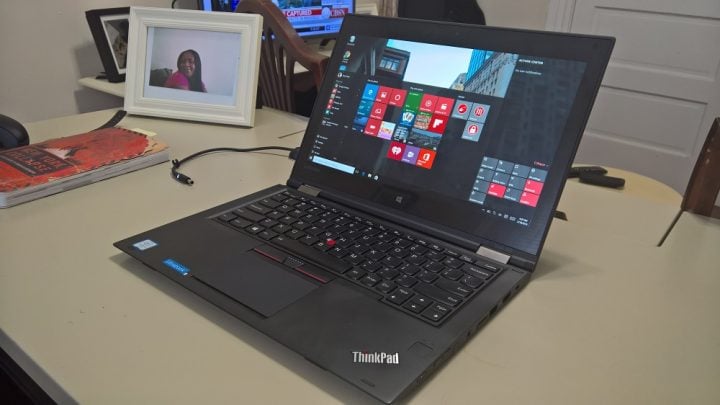 The Lenovo ThinkPad Yoga 260 is an amazing device. Its thin profile makes it just as convenient to carry as any tablet, honestly. You get the battery life of a tablet too, something Windows 2-in-1s still fail to do today. The touchpad is accurate and the keyboard is fantastic, as they always are.
If you're looking for a Windows 2-in-1, this is your machine. I love the ThinkPad Yoga 260, I absolutely love it.

As an Amazon Associate I earn from qualifying purchases.