Lenovo ThinkPad Yoga 460 Review: Everything is Alright
There are so many ways that a notebook review can go wrong. A device that you expected to do well could turn out to not have as much battery life as you thought. The keyboard placement could be off. The touchscreen for its conversion into a tablet could be unresponsive. I went into my Lenovo ThinkPad Yoga 460 review expecting there to be some issues with its Tablet Mode.
The $1,229 Lenovo ThinkPad Yoga 460 surprised me in some ways. It's not exactly the greatest form factor if you're looking for a device that easily turns into a tablet. It's also a more than competent notebook PC for any office worker looking to stay productive.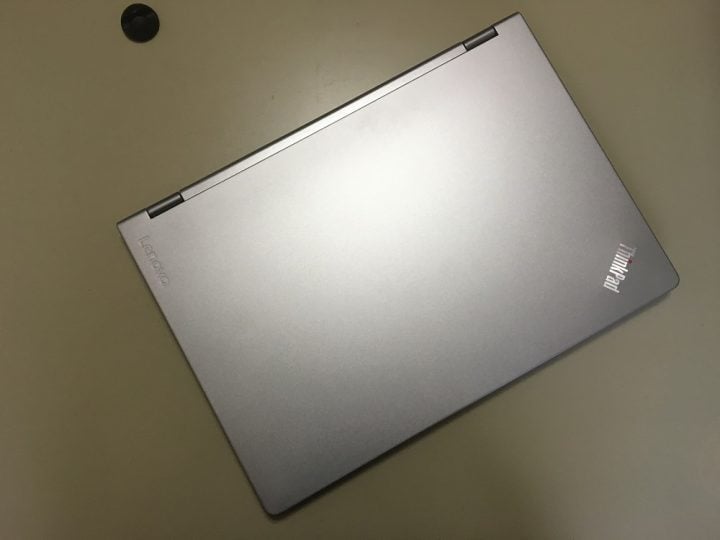 Lenovo ThinkPad Yoga 460 Review: Design & Internals
The ThinkPad Yoga 460 is your typical ThinkPad convertible at this point. Lenovo has prodded and refined the attributes that give their PCs the "Yoga" branding so much that there's very little to get excited about. To be clear, that's not a bad thing.
ThinkPad Yoga 460 comes in bright silver or black. The review unit sent to Gotta Be Mobile had a silver metal skin. The only defining feature on the front is the typical metal ThinkPad logo. There are no ports on the front or bottom of the notebook.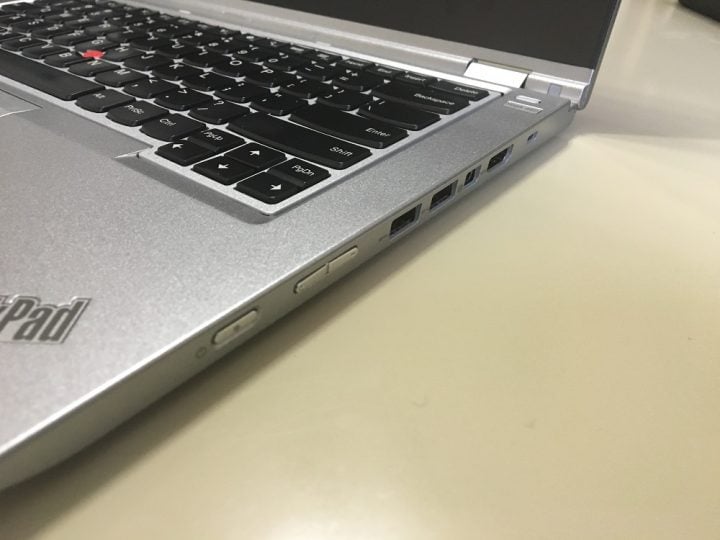 Again with this notebook, Lenovo is aiming to reach out to businesses and enterprise customers with something they can use as their everyday device. Accordingly, ThinkPad Yoga 460 embraces its curvy figure. The front edges are tapered to make the notebook feel light when you pick it up, but left and right sides are straight. The left side holds the charging port, OneLink port, USB 3.0 port and media card reader. On the right are the power button, volume buttons, two more USB 3.0 ports, a mini Display Port and a full-size HDMI port.
Lenovo offers tons of configuration options that I didn't get to experience. My version of the PC packed a 14.1-inch 1920 x 1080 display, a solid state drive from Samsung, 8GB of RAM and a 6th Generation Intel Core i5 processor clocked at 2.3 GHz. It also came with Windows 10 Pro installed. This is definitely a nice touch given that Professional offers some Virtual Machine and enterprise control features that businesses would have to upgrade manually for otherwise.
Online, the ThinkPad Yoga 460 also has options for a WQHD display with a 2560 x 1440 resolution if your work really demands screen clarity. Users can upgrade to as much as 16 GB of RAM, an Intel Core i7 processor and 256GBs of solid state storage too. You'll only get Intel's integrated HD 520 graphics with this machine in the United States. Users abroad report seeing a configuration option for adding an NVIDIA GeForce GTX 940M graphics card in their countries.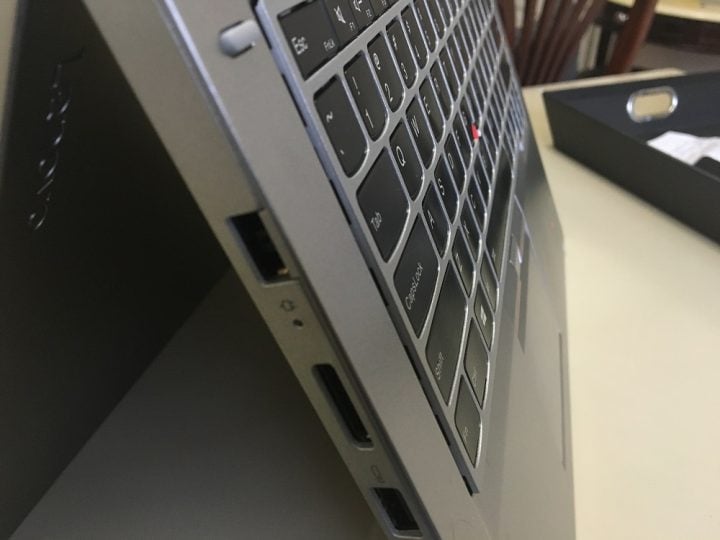 In a somewhat interesting move, which color ThinkPad Yoga 460 you decide on dictates your upgrade options. The black model has options for mobile data support, anti-glare screens and a fingerprint reader for extra security.
Display
Even if you don't spring for the upgraded display, the ThinkPad Yoga 460 offers great visuals. At 14.1-inches, I couldn't see each pixel when I watched video. The display often battled the bright daylight and won, except for when it came to glare. I compensated for the glare in front of my office window by kicking up the display brightness. The trick definitely worked, but decimated battery life.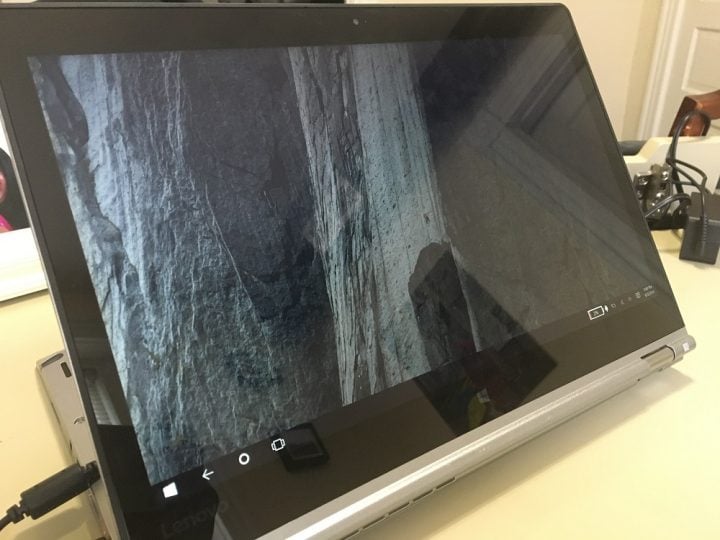 Flipping on the display's Paper Mode from the included settings app definitely made reading a bit more comfortable. It adjusts the displays temperature and brightness to look more like a piece of paper. Thanks to the glare, you don't forget that you're staring at a computer display though.
I did have to play with the ThinkPad Yoga 460's display settings to get things just right. Fresh from its box, the display super-sized every program that I opened in Windows 10. You may find that you also need to fiddle with it to get everything just right.
TouchPad, TracPoint & Keyboard
The keyboard deck of the ThinkPad Yoga 460 is stuffed. Lenovo likes to offer business customers some options. The nearly always amazing ThinkPad keyboard has a slick texture and just the right amount of travel. Everything from the function keys that provide Windows shortcuts to the arrow keys is just what you'd expect. The TracPoint, the navigation dot that sits in the middle of the keyboard, works as expected. The plastic trackpad on the ThinkPad Yoga 460 isn't bad, but I like the slick feeling of glass trackpads more.
Pen
Fold the Lenovo ThinkPad Yoga 460's display backward and the keys disappear into its body. It gives you some reassurance that you won't wreck the keyboard by accident in Tablet Mode and more. The mechanism is smooth and works without fail.
When in Tablet Mode, Lenovo hopes that you'll breakout the ThinkPad Pen Pro. The Pen Pro technology is capable of sensing 2048 different levels pressure, which is great for artists, sketchers and those that like to draw models of what they're thinking. The pen charges in just minutes for hours of usage, which is a highlight. I've spent way too much time looking for random batteries at drug stores for other digital pens.
I have two problems with the ThinkPad Yoga 460's pen. First, it's not hefty in the way that other modern digital pens are. It feels more like a cheap mechanical pencil than something I want to take notes with in meetings on the daily. That's a problem the ThinkPad X1 Tablet's pen doesn't have. Two buttons on the side provide for left-clicking and erasing. Also, the tip feels just a bit too slick to me. All digital pens aim to give you a more pen-and-paper like experience on some level, but the ThinkPad Yoga 460's pen reminds you that you're using a digital pen at every chance. At least there's a slot to carry and charge it in.
As a tablet, I have to say that the ThinkPad Yoga 460 is heavy. The retractable keys and pen improve the tablet experience somewhat, but there's only so much comfort to be eked out of a carbon fiber frame that weighs over three pounds and is this thick.
Lenovo ThinkPad Yoga 460 Review: Performance & Battery Life
The Lenovo ThinkPad Yoga review period took a turn for me after the first day. I'm used to companies promising all-day battery life at this point. I'm also used to them not necessarily delivering on that.
Lenovo says that the ThinkPad Yoga 460 can last up to 10 hours on a single charge. I found it really only lasted around five hours. I had the screen brightness set on slightly more than half to compensate for overhead lighting. The black model with matte screen won't have that problem, thankfully.
Over the course of the roughly two-week period I had the machine, I maybe reached 6 hours on that single charge while staying productive in Microsoft Edge and Google Chrome. Of course, when I was only watching movies and videos the Yoga 460 hit its battery goals, but that was because the device wasn't doing a lot of processing behind the scenes.
One thing I never had a problem with was processing power. The Intel Core i5 and 8GB of RAM handled Windows 10 beautifully. Apps and programs alike open quickly. To push the machine, I used it to edit some short video clips. It handled the rendering as well as any machine with an integrated graphics processing unit would, but there was plenty of fan noise. I can't foresee a mission critical app or program the ThinkPad Yoga 460 wouldn't be able to handle amicably.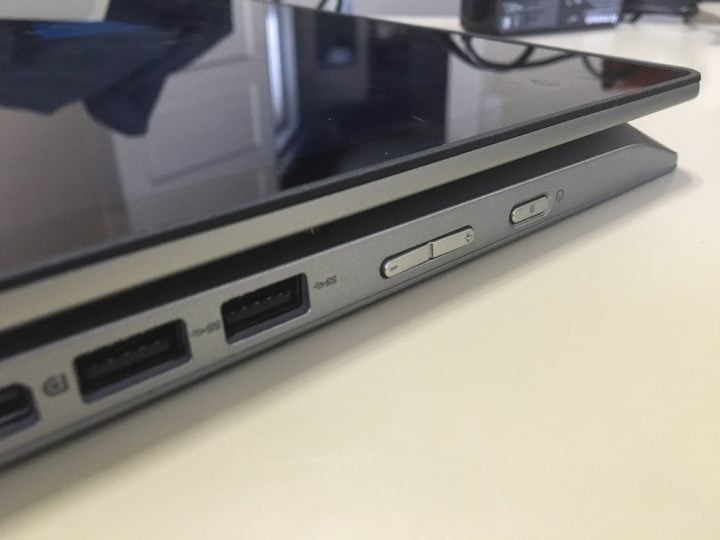 I wouldn't go editing long slices of video or gaming on the device, but Lenovo isn't billing it as anything other than a mobile productivity powerhouse. Performance test passed.
Lenovo ThinkPad Yoga 460 Review: Should You Buy
What We Like
Locking keyboard
Build Quality
Processing Power and Options
Notebook First Design
Wealth of Ports
What We Don't Like
ThinkPad Pro Pen is too tiny and feels unnatural in the hand
Physical Windows button when Windows Now supports on-screen buttons
Silver model is very, very susceptible to glare
Heft
The ThinkPad Yoga 460 is a perfectly competent notebook. The keyboard is terrific and even the base-model display is great to gaze at for hours. You just want to be sure you invest in the anti-glare model if you'll be outside or near a light source a lot.
The ThinkPad Yoga 460 is described as a Windows 2-in-1, which I suppose it is. In that respect, the design still doesn't work for me. It's fine for watching the occasional video or jotting down notes; but it's heft prevents it from being the ultimate 2-in-1. You're trading great internals and sturdy build quality for a Windows 2-in-1 that isn't slim or light. It's a trade-off worth making for enterprises or users nervous about other 2-in-1 form factors. This is definitely what I expected.
It's not the trade-off anyone who doesn't need a lot of processing power and truly wants a tablet-like experience should make. For something closer to that, I'd go with the Lenovo Yoga 900s.

As an Amazon Associate I earn from qualifying purchases.