Lenovo ThinkPad X1 Carbon Touch With Windows 8 Now On Sale
Today Lenovo announced its newest Ultrabook, the Lenovo ThinkPad X1 Carbon Touch is now on sale starting at $1399.
The new Lenovo ThinkPad X1 Carbon Touch is an updated version of the ThinkPad X1 Carbon with a new touchscreen to make it more Windows 8 friendly. The new models still features a 14.1-inch display with the same "HD+" resolution of 1600×900.
The touchscreen adds some weight to the ThinkPad X1 Carbon. The touch version weighs in at 3.2 pounds compared to the 2.99-pound non-touch model. The Ultrabook is still easily portable, and has a 3G radio for when users want to take it on the road.
Read: Ultrabook Convertible: 10 Transforming Laptops with Intel Inside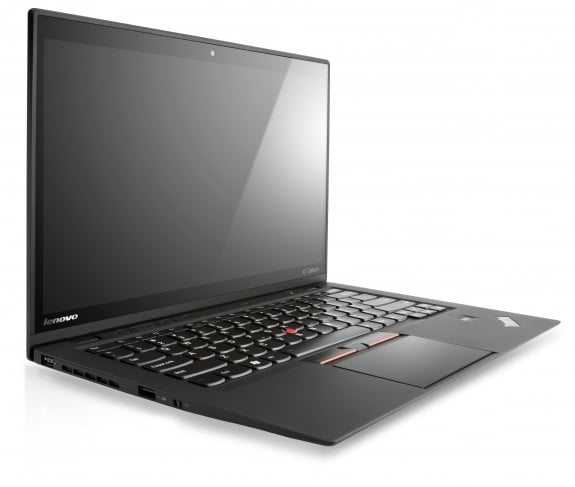 Lenovo also claims the X1 Carbon Touch can last for 8.2 hours on a single charge. That's the same as the original X1 Carbon. If the claim holds true the Ultrabook will likely last a full day for most users. When the battery does run low, 35 minutes of charging will provide five hours of battery life.
The Lenovo ThinkPad X1 Carbon Touch comes with Windows 8 pre-installed. Unlike the Lenovo Yoga there's no easy way to make this Ultrabook into a tablet, but it can lie completely flat on a table for presentation if necessary.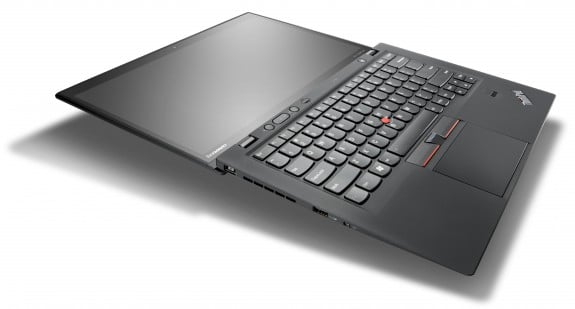 In addition to the touchscreen the glass trackpad of the ThinkPad X1 Carbon Touch now works with Windows 8 gestures. With it users have the option to use touchscreen gestures, trackpad gestures, or keyboard combinations to work with Windows 8.
The ThinkPad X1 Carbon also includes a backlit keyboard, Dolby Home Theater v4 sound, dual-array microphones, one USB 3.0 port, one USB 2.0 port, a 4-in-1 card reader, and a face tracking webcam optimized for Microsoft Lync.
At $150 more than the original ThinkPad X1 Carbon, the ThinkPad X1 Carbon Touch is likely the best option for users who want a new Windows 8 Ultrabook. Those who want to stick with Windows 7, or who don't want a glass display can save $150 and buy the original model.