Lenovo Vibe Z Hands-On: Aiming for the Galaxy Note 3
To kick off the new year Lenovo announced a collection of new smartphones including the company's first 4G LTE, the slim and sleek Galaxy Note 3 competing Lenovo Vibe Z.
Taking direct aim at Samsung's latest popular Note smartphones, the Vibe Z offers a large 5.55-inch 1080p display and tosses out the S-Pen in favor of a thinner, lighter overall design, even with an aluminum construction. You'll be running Android of course, but it's been skinned with Lenovo's own user interface changes, and we spent a few minutes with the new device here at CES 2014 for Showstoppers.
Offering specs and a size similar to the Galaxy Note 3, Lenovo could finally have a smartphone capable of stealing some of those high Galaxy sales here in the US. Equipped with a slightly lower Snapdragon 800 than the Note 3, coming in at 2.2 GHz instead of 2.3, it will still be plenty quick for browsing the web and any other tasks most smartphone users partake in.
The Lenovo Vibe Z is a slim smartphone that's silver and titanium in color with a 7.9mm body and it weighs only 147 grams. The back cover is laser etched with a fabric feel, similar to the Galaxy Note, yet remains comfortable and lightweight. Users can also expect 2GB of RAM and 16GB of internal storage, along with a fast 13 megapixel camera with a f1.8 lens, which should help with low light photography.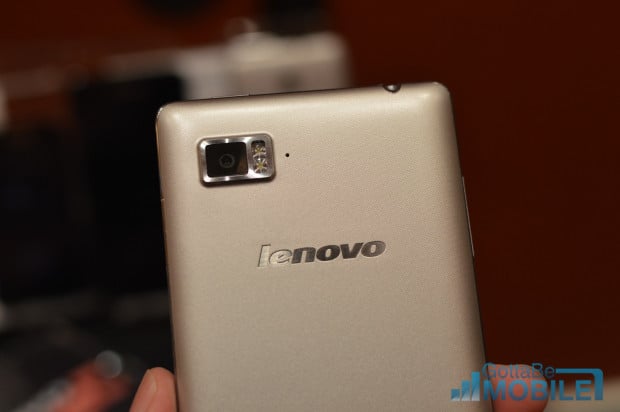 Not only will you be shooting with 13 megapixels on the rear, but Lenovo outfitted the smartphone with a massive 5 megapixel wide angle lens on the front for self portraits or video calling and Google Hangouts.
Running on Android 4.3 Jelly Bean Lenovo told us we could expect a timely update to KitKat, but didn't have any other details at this time. Overall it was nice to hold, as comfortable as the Galaxy Note 3, yet extremely lightweight.
The Lenovo Vibe Z release is set for February in Indonesia, Malaysia, Thailand, Saudi Arabia, United Arab Emirates and the Philippines with a $549 price off contract. So far there's still no word on a US release, but with a Snapdragon 800 and 4G LTE we could see AT&T or some US carriers jump aboard soon.