Lenovo W700 Dual Screen ThinkPad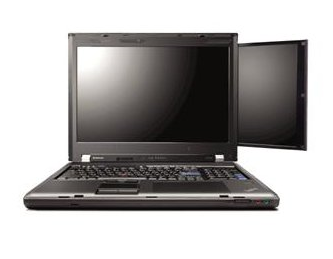 No, you won't be lugging this one around on your mobile misadventures, but it sure is an interesting desktop replacment from Lenovo. The W700 has an integrated second display that folds into the device. It is 10.6 inches with 768×1280 resolutoin on a LED backlight screen.
Beyond the dual screen magic this model also packs a ton of amazing specs for all kinds of computing goodness. Note that we're talking a digitizer and pen here but I believe that's on the wrist wrest and not the screens.
From the product announcement:
The ThinkPad W700 is the first mobile workstation to deliver:
Intel Core 2 Extreme processors
High-capacity RAID HDDs
Integrated color calibration
Onboard digitizer and pen
What's new
Intel Core 2 Quad Core Q9100 processors
10.6-in diagonal second display panel
Intel Turbo memory 4 GB support
4 GB memory DIMM
System features
RAID DASD high-speed storage
Integrated color calibration
Integrated WACOM palm rest digitizer and pen
Displays

17-in WUXGA with CCFL backlight and 1920 x 1200 resolution
10.6-in WXGA with white LED backlight second display and 768 x 1280 resolution

High-performance mobile graphics:

NVIDIA Quadro FX 2700M, 512 MB dedicated video memory
NVIDIA Quadro FX 3700M, 1 GB dedicated video memory

Intel  Centrino ® 2 with vPro and Core 2 Extreme technologies
Intel PM45 Express chip set
PC3-8500 double data rate 3 (DDR3) SDRAM 1067 MHz SODIMM high-speed memory
Intel Active Management Technology 4.0
WLAN: Intel WiFi Link 5300 AGN (3 x 3)1
64 GB solid state drive (SSD) for fast, reliable, lightweight, energy-efficient storage
DisplayPort
Dual Link DVI
Integrated camera
Intel Turbo memory
ThinkPad layered security: Trusted Platform Module (TPM) chip, ThinkVantage Client Security, hardware-based HDD encryption, and fingerprint reader
via Engadget

As an Amazon Associate I earn from qualifying purchases.