Lenovo Working on ARM Windows RT Tablet
In addition to the latest ThinkPad tablet running on Intel's chipset architecture and Windows 8, Lenovo may also have a second tablet with Microsoft running the company's ARM-based Windows RT OS. According to the latest report from The Wall Street Journal, Lenovo's latest effort will result in a convertible form factor with a keyboard that swivels to the rear. It's unclear if that design will ultimately be similar to the design that was shown off earlier this year in the form of the IdeaPad Yoga.
The publication is reporting that Lenovo's latest efforts will center around NVIDIA's ARM processors.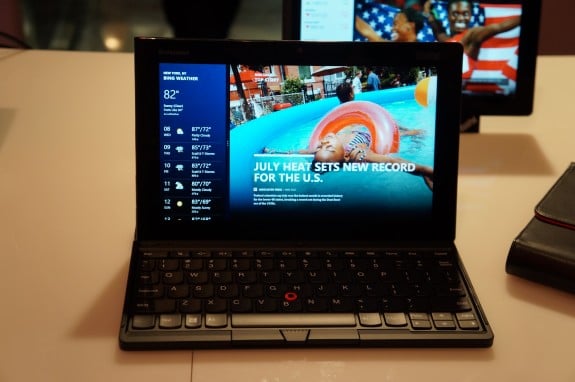 So far, only two companies have officially unveiled their plans to support the ARM-based Windows RT architecture. Microsoft has unveiled its Surface tablets with a smart keyboard cover, though the company has not revealed pricing for that line of tablets, and Asus has shown off some hardware earlier this year at Computex detailing a Transformer Pad-inspired Windows RT hardware.
Microsoft will likely need to be more price competitive when it comes to licensing Windows RT. Right now, it is speculated that each license costs OEM $85, and pricing will likely have to come down for hardware prices to be competitive with the iPad.
Windows RT tablets will not be able to run legacy Windows programs and must rely on the Metro UI and HTML 5 apps.

As an Amazon Associate I earn from qualifying purchases.