Lenovo X1 Family Puts Surface to Shame at CES 2016
Microsoft began its experiment in creating hardware by trying to prove that it could balance the demands of having its own Surface hardware in stores and providing the support that its hardware partners needed to make their own flagship Windows devices. Former CEO Steve Ballmer is said to have given the Surface project the go-ahead because he was worried Apple's domination of the high-end media creation and productivity market would hurt the Windows ecosystem. It seems that he though Windows device makers weren't offering any direct competition to the MacBook Pro and MacBook Air.
It's therefore ironic that Microsoft is getting shown up in this high-end space by one of its biggest partners. The Consumer Electronics Show hasn't kicked off yet, but it's safe to say that Lenovo's X1 line-up of devices will have people talking about how ridiculous we all were for thinking that Microsoft might eclipse what its partners are offering.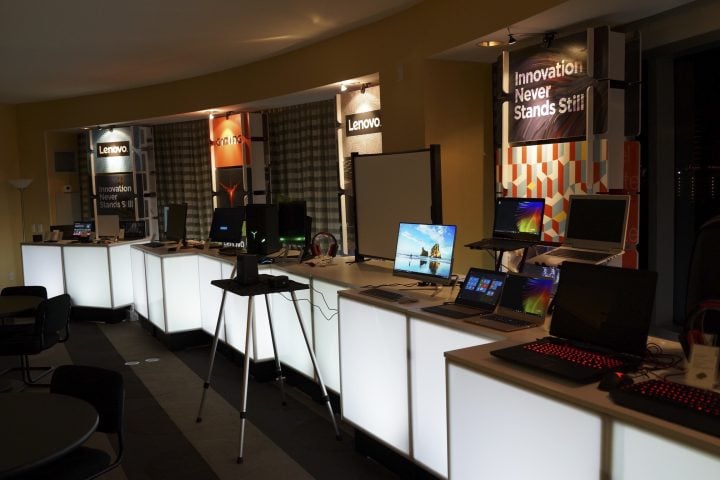 The Lenovo X1 line-up has always been a bastion of durable design and advanced internals. Lenovo could have rested on that, releasing yet another ThinkPad X1 Carbon machine with a thin profile and robust chassis. In addition to doing that, Lenovo saw where the industry was going and decided to focus on what the modern high-end PC buyer wants. This year the company is back with fancy machines that offering great designs and a new laser-focus on improving their products and building their own accessories.
The Machines
The machines themselves are the most impressive we've seen from Lenovo yet. The ThinkPad X1 Yoga takes the transformational hinge of previous Yoga devices and brings them to the X1 design family. The 12-inch notebook can be configured with an OLED display that has a resolution of 2560 x 1440 pixels. The Lenovo Stylus Pen that's included with the $1449 notebook packs over two-thousand points of pressure. This pen doesn't have rechargeable batteries and doesn't have an embedded magnet for keeping track of it. Instead, the Stylus Pen slides into the ThinkPad X1 Yoga's body to charge. 5 seconds of charging gets users 100 minutes of taking notes and navigating Windows 10.
The Lenovo ThinkCentre X1 is a $1029 all-in-one Windows machine that's shipping in March. It's ridiculously handsome and thin, measuring 11MM from front to back while providing up to a 1 TB of Solid State Storage, 16GB of RAM and an Intel Core i7 Pro processor. The $1299 refreshed ThinkPad X1 Carbon notebook is "the world's lightest 14-inch business notebook, with a weight of 2.6 pounds, according to Lenovo. New Intel Core i7 processors, 16GB of RAM and 1TB of storage and LTE mobile data technology are all included in this refreshed business notebook.
To cap everything off there's the ThinkPad X1 Tablet. Early on Microsoft tried to cultivate the idea that expandability offered limitless potential. Early Surface covers added battery life. Every Surface cover has a keyboard and a trackpad. In quick order Microsoft abandoned the idea of using this port for anything but covers with embedded keyboards outside of the Surface Book. Meanwhile, Lenovo is at CES 2016 showing off what has to be a contender for best new Windows device.
Read: Lenovo Brings OLED Displays to the Desktop With ThinkPad X1 Tablet and ThinkPad X1 Yoga
The $899 Lenovo ThinkPad X1 Tablet has an Intel Core M7 vPro processor. The things that one would expect are present. A 12-inch display and options for adding more storage. A kickstand comes out of the back of the ThinkPad X1 Tablet, giving users just the right angle. There's an optional ThinkPad Keyboard coming too that sticks to the nearly perfect typing experience that the ThinkPad line has offered over the years.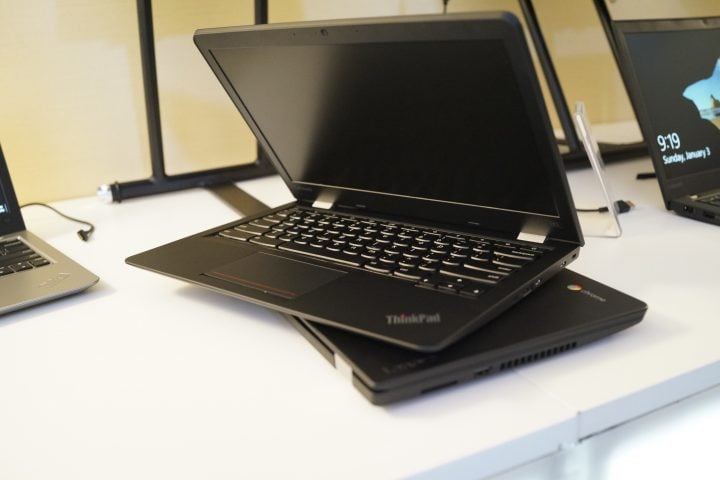 The expansion port on the bottom is where things get very, very interesting. Lenovo is doing what Microsoft won't with its Surface line. It's built different Modules that slide onto the bottom. Each module enhances specific tasks. The Productivity Module adds another 5 hours of battery life, an HDMI OneLink+ port and HDMI out. The Present Module boasts a 60-inch project with HDMI in and out. The 3D Imaging Module packs a 3D camera for scanning objects. Add the perfect module for the task you want and leave the extras behind.
The Accessories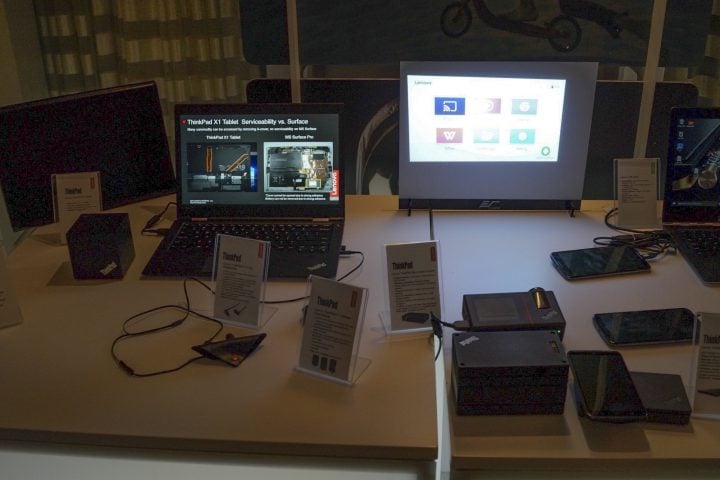 Endless possibility through accessorizing. Lenovo hasn't just found its footing in the X1's hardware line-up. There's a tidal wave of new add-ons for the X1 line-up that make them more compelling.
The $250 WiGgig Dock let users keep their workspace organized by connecting displays, speakers and USB accessories into a stylish cube that interfaces with the X1 machines without wires. $69.99 gets users a rechargeable Bluetooth Mouse that doubles as a presenter remote and a touchpad. The ThinkVision X1 display supports USB Type C technology and has a 27-inch 4K2K display, a USB hub, built-in speakers, Qi wireless charging for smartphones and an adjustable 3D camera that tilts and leans on its own arm.
Read: Lenovo Introduces Wireless Displays & Ultra-thin Bezels
Meanwhile, Microsoft is offering its Surface buyers a $60 Pen, a $199 Wired Dock and an updated keyboard cover that's better to type on, but doesn't exactly do anything completely unexpected.
It Adds Up
If they each existed in a vacuum, everything that Lenovo has for the X1 family wouldn't be worth talking about, I suspect. We'll never find that out though. They don't exist in a vacuum. They're all part of an absolutely fantastic experience that Lenovo is building up.
Lenovo has smartened up to Microsoft and Apple's games. It's building a virtuous cycle, a family of devices and accessories that offer something for everyone at a different level but fit together in some way. That same WiGig adapter that makes transitioning from mobile to desktop work on the ThinkPad X1 Yoga works when users upgrade to another device. Everything looks like it belongs together and makes you dream of what's possible if only you had that dream X1 machine with the accessories that'd make your work routine easier to manage.
Microsoft may have kick-started a revolution in PCs when it introduced the Surface line, but it's coasting outside of the Surface Book. Meanwhile, Lenovo is at CES 2016 offering unique designs and vision. I'm more excited for this new-line up of machines than I've ever been for anything made by Lenovo. I'm also seriously considering putting my Surface Pro 4 up for sale.

As an Amazon Associate I earn from qualifying purchases.