Lenovo X200T and Fujitsu T2010 In Pictures
My ongoing soft-review of the Lenovo X200T (Warner and Rob have done a much more thorough review) continues with a pictorial comparison between the X200T and Fujitsu's T2010. Over the last few weeks, I have found myself really liking the X200T. I was finally able to turn off the startlingly loud beeping during power changes by using Lenovo's Power Manager. Thanks to the readers who pointed me in the right direction! So without further delay, check out the pictures with brief descriptions after the jump.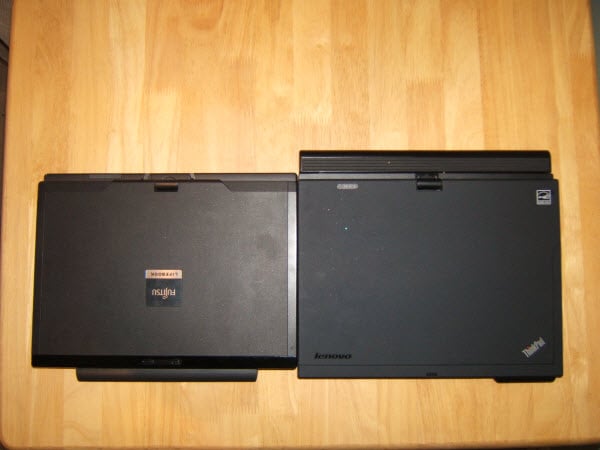 With the T2010 and X200T placed side-by-side, the Lenovo's footprint is a little bit bigger. These devices are relatively small so the difference in the pictures is actually not that significant in real world applications.
The height difference is about 0.75″. Unfortunately, this also resulted in a larger screen bezel but screen real estate is the same 12.1″ on both devices.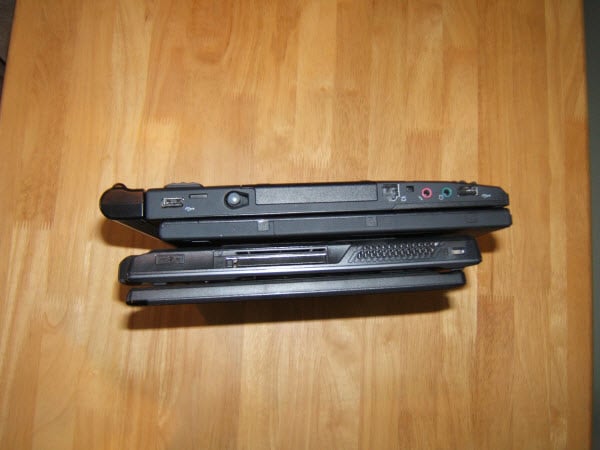 The thickness is roughly the same for both devices at a little over an inch thick.
You can really see the difference in TouchStick design in these two pictures. The Lenovo's pointer is raised and easy to use. The Fujitsu's flush design is not as comfortable or sensitive. I find myself pushing on the keys around the T2010's pointer.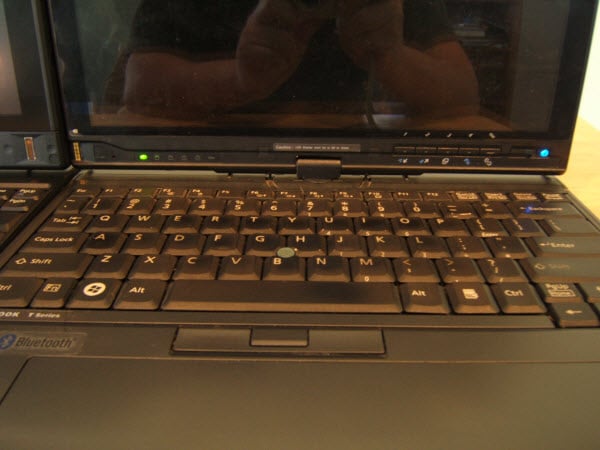 The keyboard on the Lenovo is much better to type on than the Fujitsu. The Fujitsu isn't bad by any means, it's just that the Lenovo keyboard really shines.
Both computers have a full compliment of bezel buttons for controlling the computer in tablet mode. The Lenovo comes with an accelerometer that can switch screen orientation on its own depending on how you hold it, but I have found that the auto-rotate works only intermittently.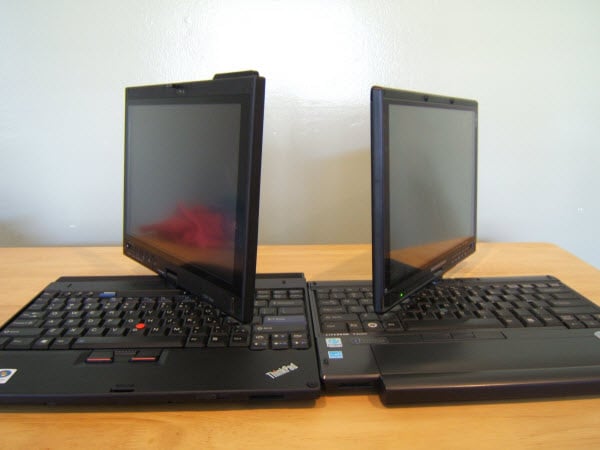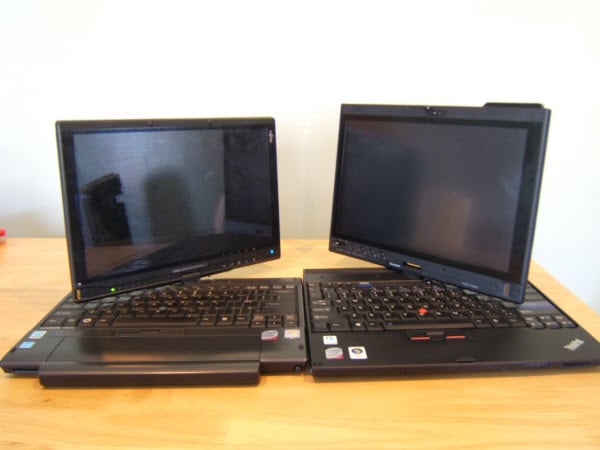 Both computers offer bi-directional hinges and offers solid indentations when the screen is returned to notebook mode. After a few weeks of use, the Lenovo's hinge has developed some play and isn't as rock stable as it was when new.
I've been using the Lenovo for a few weeks now and the chassis is still very solid. The screen hinge has developed a little more play, much like the Fujitsu. The Lenovo has proven a great performer with the Centrino 2 processor and is still whisper quiet compared to the Fujitsu. The keyboard is great, the TouchStick is wonderful, and the battery life is spectacular.
If there are other things you'd like me to look at between the two devices, I'll be more than happy to do more head to head comparisons.

As an Amazon Associate I earn from qualifying purchases.