Lenovo x60 ThinkPad Tablet PC InkShow Exclusive Interview on GottaBeMobile!

Well, we are pretty excited at GottaBeMobile, and we have got some great exclusive video for you! If you have been following our site for the last week or so, you may have seen several references to a secret mission we have been mentioning, and we can now bring you information on what the big mission is all about. Well, the mission is officially over, and it was a raging success! Here's the scoop on what all the fuss is about.
A few weeks ago, we posted some early information on a as of yet unreleased Tablet PC from Lenovo. Dennis and Warner put on their best sleuthing outfits, geared up with cameras and a a GPS (another story, we won't go there), and took off to Lenovo Corporation headquarters in Research Triangle Park, NC. We were on the trail in search of X60 ThinkPad Tablet PC information and video, and boy did we ever get some great stuff for you guys! We went hunting, and Lenovo coughed up the scoop for us. Drumroll, please!
Today Lenovo is introducing the new X60 Series ThinkPad Tablet PC >, and it has been well worth the wait! We are very excited to be helping Lenovo Corporation today to announce this awesome piece of hardware, and in the process have managed to produce some great videos for you, our GottaBeMobile readers and viewers. To get us started, the first one up today is a great video of an interview we did at Lenovo headquarters. We spent time talking with Mr. Mike Hagerty (our special thanks to Mike!), who is the WorldWide Segment Manager for the ThinkPad X series at Lenovo. In this video Mike will
introduce you to lots of new features, specs, options, etc of this great new product in the highly successful line of ThinkPad computers, plus give you the heads up on official launch and delivery dates and how to get your order in at ThinkPad.com! If I were you, I would order early (and often

).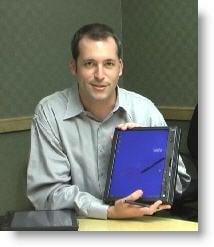 As an added bonus, Lenovo also supplied us with a couple of different configurations of units of the X60 ThinkPad Tablet PC to try out and bang on for ourselves. Warner has a Hi-Res version, Dennis has a touchscreen/outdoor model! In the hands of a couple of inquiring tablet PC users like Dennis Rice and Warner Crocker, these things have been going through the wringer for the past week or so, and I gotta tell you, we are LOVING them (no Rob, I am not sending you mine yet!). Be sure and check out the interview video with Mike, but also be ready for a couple more videos here very shortly. Warner will be doing a very comprehensive review (and I mean very — I have seen it!) of most anything you want to know about this machine, and Dennis will very shortly follow that up with a video of a some special features of his configured unit, namely the ""Multi-Touch" touchscreen and Outdoor viewing screen, plus the great new ""X6 Tablet Ultrabase" mobile docking solution (yes I said ""mobile" docking solution) that makes this tablet PC very special. Here is a quick list of some of the general specs just to whet your appetite:
Base Unit Price

$1,699.00

Processor

Up to 1.83GHz Core Duo L2500

Memory

Up to 4gb PC2-5300 / 667MHz or higher RAM

Hard drive

Up to 100GB 7200rpm or 120GB 5400rpm drives

(2.5" SATA)

Platform / Chipset

Napa / 945GM

Display / Screen

(all 12.1")

XGA (1024×768)

XGA(1024×768) MultiTouch/Outdoor Option

SXGA+ (1400×1050)

Graphics

> >

Intel GMA 950 with up to 128MB of shared memory

> >

Batteries

X60 Tablet 4 Cell Li-Ion Battery

X60 Tablet 8 Cell Li-Ion Battery

Advanced Ultrabay Battery (for use in ThinkPad X6 Tablet UltraBase)

Battery Life

Up to 9+ hours!

Options

X6 Tablet Ultrabase $199:

Ultrabay Slim port for Optical drive/ extra battery

4 USB 2.0 ports

VGA

Microphone in

Headphone out

Speakers

RJ-11 modem

RJ-45 Ethernet

Parallel, serial

Cable lock slot

Key lock security

ThinkPad X60 Tablet Sleeve $49

ThinkPad X60 Tablet Digitizer Pen $49

X60 Tablet Digitizer Pen

21" Tether — Straight w/Standard Loop $10

>
To get the full specs, prices, options, etc. on this model, head over to ThinkPad.com.
So if you are of the ""inquiring mind" type, then you will not want to miss any of these extensive reviews we are doing. Just to get us started, here is the interview with Mike Hagerty:
Once again our special thanks to the team at Lenovo for their invitation, hospitality, and really great product!
And be sure and stay tuned for MORE InkShows on the Lenovo X60 Tablet PC coming VERY soon!
All GottaBeMobile.com InkShows are sponsored by: