Lenovo Y Gaming Precision Mouse Review
Sometimes the PC gaming market can feel like it's another world, both unfamiliar and terrifyingly different. Different styles come in to play. Different features, mostly unknown to those outside of PC gaming circles, are a must. The Lenovo Y Gaming Precision Mouse straddles two worlds. Weights, a precision click wheel, tons of buttons and angry look are unquestionably from the world of PC gaming. It's price is more mainstream than you'd think.
A month with the Lenovo Y Gaming Precision Mouse convinced me of what other gamers and other companies tried for years. The device sold me on the necessity of a mouse made specifically for my favorite hobby.
Lenovo Y Gaming Precision Mouse Review – Design & Internals
The Lenovo Y Gaming Precision Mouse both speaks for itself and belongs to a great family of add-ons and PCs. As of late, Lenovo has made big bets on creating an ecosystem around its PCs in all segments. When you're the world's largest PC maker it makes sense to create anything that a user could possibly need. The Y Gaming Precision Mouse shares its design with the Lenovo Y Gaming PCs, headset and backpack.
The Y Gaming Precision Mouse is black, with deep opposing abstract angles forming almost every surface. The top of the mouse itself is curved, with an upside down Y logo in its center. A red and black click wheel juts out at the head of the mouse, but just under where your finger sits to reach that wheel is a clickable button for adjusting precision.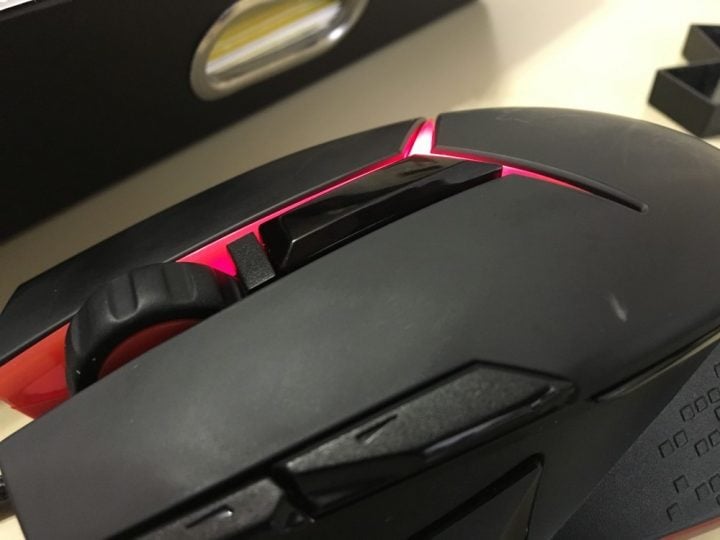 Lenovo means for you to slide in your thumb for easy access to four different programmable buttons along its left edge. In total, the Y Gaming Precision Mouse offers nine different controllable buttons.
Casual PC and console gamers opt for wireless connectivity, but those that demand true precision and the best experience with their gaming accessories usually go for something that's wired. To that point, the Y Gaming Precision Mouse has a full-size USB port on the end of a long and luxurious textured cable. Lenovo clearly understands what gamers need here. The connections at both ends of the cable are reinforced and stiff to prevent shorting and tearing when sharp angles are unavoidable. The cable measures over 5 feet long, too, which is perfect for gaming setups that rely on a tower a bit farther away from the monitor.
Specifications
Ultra high DPI, up to 8200 DPI
9 Buttons
Omron Switches Underneath Each Button
Adjustable weight tuning cartridges
1,000Hz Ultra polling
Max Acceleration: 30G,
Max Speed: 150 IPS
You use the button on the top of the Y Gaming Precision Mouse to change how sensitive the red optical sensor on the bottom of the mouse is on the fly. Four different levels let you get the exact bit of movement you want without diving into the companion settings app. It's a smart move on Lenovo's part since the precision I want from my mouse in Homeworld 2 is very different from what I expect while playing Call of Duty: Black Ops 3. You can set the resolution as high as 8200 DPI.
Lenovo Y Gaming Precision Mouse Review – Experience
A comfortable gaming experience is what Lenovo hopes the Y Gaming Precision Mouse will give you. It succeeds in all the ways that matter.
The finger well on the left side of the Y Gaming Precision Mouse is pretty comfortable. Smartly, Lenovo added a textured pattern there to offset it from the rest of the mouse. It's a grip of sorts, a grip that feels exceptionally comfortable and works well on flat surfaces.
Despite the adjustable DPI resolution, I had some initial issues adjusting to how light the mouse is. I flipped the Y Gaming Precision Mouse over to take advantage of the included weights that come with device. Adding a bit of heft to make the mouse feel more substantial made whizzing around and attacking players with phasers in Star Trek Online more comfortable. Four 5 gram dd-on weights come with the mouse.
The mechanism underneath the clickwheel isn't as silent as Lenovo makes it out to be. The mechanisms underneath all the buttons are just as satisfying to push and just as loud. Other people will hear these buttons in an enclosed space and coffee shop for sure. I don't consider that a problem though as you'd already look pretty conspicuous with a large gaming notebook in a Starbucks where everyone else is studying. Also, I actually prefer an audible click when I press anything.
I find myself only upset that Lenovo didn't take the grippable pattern from the edges of the Y Gaming Precision Mouse and apply to the curved upper body too. For a guy that's particular about his computer mice, that's a pretty menial list.
Lenovo Y Gaming Precision Mouse Review – Should You Buy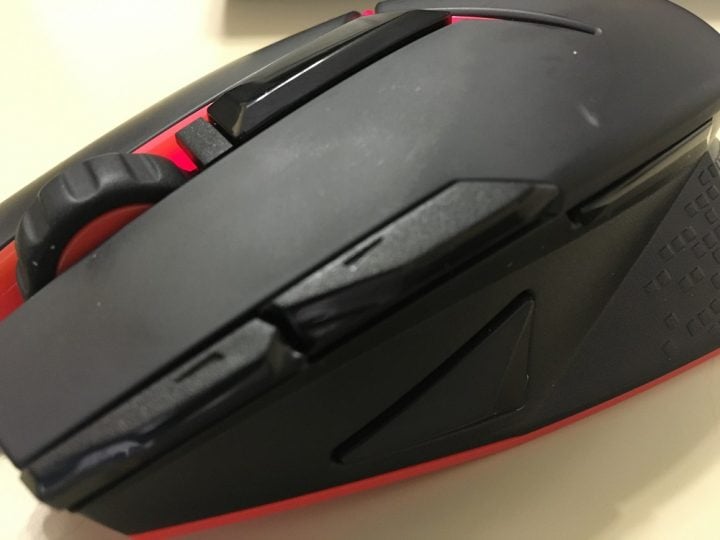 Above all else, the Lenovo Y Gaming Precision Mouse skillfully makes the case for why a gaming mouse is necessary. Its satisfying click mechanism, button placement, weights are enough to make anyone reconsider playing their favorite games with a wireless mouse meant for the masses.
No, I wouldn't replace my everyday travel mouse with it, but I would game with it specifically, and that's the point. Lenovo Y Gaming Precision Mouse is better for gaming than your average mouse on every level.

As an Amazon Associate I earn from qualifying purchases.