The Lenovo Yoga 2 Pro is a Windows 8 2-in-1 that delivers a tablet and a notebook experience in a single package that starts at $899 and improves on the original IdeaPad Yoga which we previously reviewed.
Windows 8 2-in-1 devices are growing in popularity and the new generation of devices brings marked improvements to the device type, including a better overall experience as a notebook and as a tablet.
While the IdeaPad Yoga 2 Pro doesn't feature the retracting keys found in the ThinkPad Yoga, it is a very impressive Ultrabook and 2-in-1 that combines an incredibly high-resolution display with a thin and light form factor to deliver a very good user experience without breaking the bank.
Pros

Thin and light design with premium materials
Tablet mode and Notebook mode both work great
Best in class Windows 8 touchpad and gesture controls
Impressive performance in a light package.

Cons

Battery life could be better.
Still feel keys when using in tablet mode.
Sound is OK, but could be better.
Lenovo Yoga 2 Pro | $899 and up

Yoga 2 Pro Review Guide

Related Yoga 2 Pro Review Articles

Buy the Yoga 2 Pro
Read: Why Your Windows 8 Notebook Needs a Touch Screen
Yoga 2 Pro Video Review
Check out our Lenovo Yoga 2 Pro video review to see the capabilities and various modes of this affordable Windows 8 2-in-1 that is a very nice device available for less than $1,000.
https://youtu.be/PggjvrDsFa4
Design
The Lenovo Yoga 2 Pro is a thin and light Windows 8 2-in-1 that weighs just over 3 pounds and measures 0.61-inch thick. That's slightly heavier than the MacBook Air, with a thinner profile and it is still able to pack in a touch screen and hinges that allow users to flip the screen into one of four modes.
Yoga 2 Pro owners will quickly notice the premium soft touch material used on the exterior and on the palmrest area of the device. This is especially important considering the edges of the palmrest and keyboard tray are where users will be touching when they use the device in tablet mode.
Open up the Yoga 2 Pro and users will experience a familiar notebook look. But the familiar hinges allow users to not only open the display completely flat, but to also keep going until the Yoga 2 Pro becomes a Windows 8 tablet that runs Windows 8 apps and legacy apps on the desktop. The tablet mode feels more in place than on the previous generation thanks to the thinner lighter design.
While the keys and touchpad are still on the back of the device in tablet mode as a tactile distraction they will not interfere with use and they fade away better than on the previous model. While the Yoga 2 Pro is more hefty than a Surface 2 Pro or an iPad Air it is still usable in tablet mode to read a book or watch a movie.
The Yoga name comes from the ability to also use it in a stand mode, which tucks the keyboard behind the screen and in tent mode, which props the tablet up for watching movies or playing games when the touch screen is all that is needed. The hinges are very fluid, allowing for seamless transitions between the many modes.
From a connectivity standpoint, The Yoga 2 Pro includes a USB port on the right, next to a headphone/microphone jack. The left side includes a power charging port, USB 3.0 port Micro HDMI and SD card slot. There are also volume buttons, an orientation lock and recovery button on the right side and a capacitive Windows button on the display.
Lenovo Yoga 2 Pro Display
The Lenovo Yoga 2 Pro utilizes a QHD+ display with a 3200 x 1800 resolution. This is one of the highest we've seen in a 13-inch notebook, beating out the MacBook Pro Retina 13-inch. The display quality is also very impressive, with excellent brightness levels and very sharp-looking images with nice looking colors on photos and on movies.
While using the Yoga 2 Pro in the Windows 8 Modern user interface with tiles and apps, the display shines, as items are scaled very well, similar to how Apple handles the MacBook Pro Retina screen. When you open an app in the desktop mode it is another story, as the high-resolution can make things tough to see. Users can change the resolution, but doing so will prompt warnings from Windows to switch back to the optimal resolution.
Because of the very small size of fonts and apps on the desktop mode I found myself using the Yoga 2 Pro in the new Windows 8 user interface more than normal. This isn't a big deal, but if you rely on legacy apps that only run in the Desktop mode this is something to keep in mind.
In addition to high-resolution the Yoga 2 Pro comes with a touch screen that is responsive and easy to use and, as an added plus, is fairly good at avoiding errant taps when in tablet, stand and tent modes.
Yoga 2 Pro Performance
Lenovo uses the latest Intel fourth generation processors in the IdeaPad Yoga 2, so no matter which model you buy, the machine is equipped with the power sipping, performance-ready chips inside.
Our Yoga 2 Pro review unit comes with a 1.6GHz Intel Core i5 4th generation processor, 4GB RAM and a 128GB SSD that delivers a speedy combo. While using the Yoga 2 Pro to work and switch between multiple apps and tasks we didn't run into slowdowns or bottlenecks that older hardware might introduce. While using the Yoga 2 Pro, the overall Windows 8 experience shined, especially when compared to several cheaper notebooks we've helped family members set up.
When it is all said and done the Yoga 2 Pro delivers very good performance, especially in the $1,000 and below price range. Typically we see trade offs made to hit price points but when it comes to performance, but Lenovo didn't cut corners.
When it comes to the sound, Lenovo places two speakers on the bottom edges of the device which deliver good sounding music and dialogue in movies, but leave us wishing for a little more oomph when at full volume. It is certainly loud enough to use in a quiet office, but not loud enough to get into the music and get motivated on a Monday morning.
Keyboard and Touchpad
The Yoga 2 Pro comes with a backlit keyboard that is easy to type on for long periods, even though the key travel is a little on the low side. Travel is the distance a key moves when pressed, and these keys run out of room to be pressed fairly quickly, but thanks to good key spacing and a very nice soft touch feel the keyboard is still very usable. The only real complaint about the Yoga 2 Pro keyboard is the inclusion of a row of function keys to the right of the keyboard which push Backspace and Enter keys in farther than most keyboards and results in a very small right shift key.
Lenovo finally nails the touchpad with a nice size soft touch touchpad that knows when we want a tap to be a left click and when we are trying to tap on the right mouse button, responds to gestures with ease and in general works wonderfully. Many Windows touchpads we try fail to register gestures, taps and scrolls reliably, but that was not the case with the Yoga 2 Pro.
The Lenovo Yoga 2 Pro is the best touchpad and touch screen combo we've used on a Windows notebook.
Yoga 2 Pro Battery Life
The Yoga 2 Pro battery life is pretty good, but it won't match the new MacBook Air's dominance in this area even with the power sipping fourth generation Intel Core i processors inside.
Lenovo claims 9 hours of battery life, but while watching videos we saw around six hours and web browsing was not much better, ranging from six to 7 hours with the screen at about 40% brightness.
For comparison the MacBook Air with an Intel fourth generation processor lasts ten to 12 hours. The high-resolution screen is likely the culprit behind this battery life.
Software and Apps
The IdeaPad Yoga Pro 2 runs Windows 8 with a free update to Windows 8.1. The high-resolution display shines in the Modern user interface thanks to a scaling of 200%, which keeps apps usable and legible while delivering a very good overall look. Lenovo includes a few apps to get users started as well as access to the App Store to download more.
Additionally, when you switch between various usage modes, the tablet will pop up a small notice with suggestions for apps to use in the tablet or laptop mode.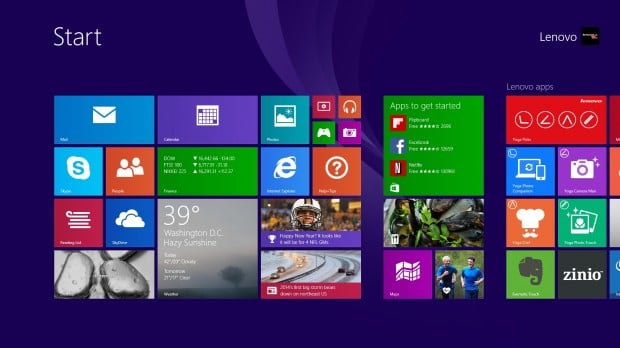 The apps Lenovo includes with the Yoga 2 Pro include a Chef app that offers access to recipes and a motion control mode that works most of the time for easy use in the kitchen. Yoga Camera Man and Yoga Photo Touch allow users to have fun with the built-in webcam and arranging photos in collages in a scrapbook style.
The Yoga Phone Companion app is also on board to sync to an Android phone wirelessly for making calls responding to texts, sharing files and playing back phone content on the Yoga 2 Pro. This works with most Android phones, but won't work with Windows Phones or the iPhone.
Other included apps are Evernote Touch, which offers a touch friendly note taking and cataloging and Dragon Assistant, which offers voice control of the computer.
Lenovo includes a one year warranty with 24/7 phone support.
Is the Yoga 2 Pro Worth It?
The Yoga 2 Pro is a steal at $899, and even at $999 it delivers one of the best Windows 8 notebook experiences available on the market, even when placed against higher-priced competition.
With a beautiful high-resolution display, an excellent touchpad and touchscreen, premium materials and a thin and light design with OK battery life the Yoga 2 Pro is a top-notch Windows 2-in-1 that students, mobile professionals and families will find capable and fun to use.
Yoga 2 Pro Gallery