Lenovo Yoga 2, ThinkPad Yoga & Flex Notebooks Announced
Lenovo announced a collection of new notebooks today with the Yoga name and ability to transform from notebook to tablet as well as a new line of Flex notebooks that come with a very flexible hinge, but not the ability to fold flat like the Yoga 2 and ThinkPad Yoga.
All of these new Lenovo products include the latest Intel Core i 4th generation processors as options. These latest Intel Core i 4th gen processors deliver dramatically better battery life and prices for these new Lenovo notebooks and Ultrabooks start at $629 later this month.
Lenovo also announced the new ThinkPad Ultrabooks for Business earlier this week, including a ThinkPad T440S, X240 and ThinkPad S series.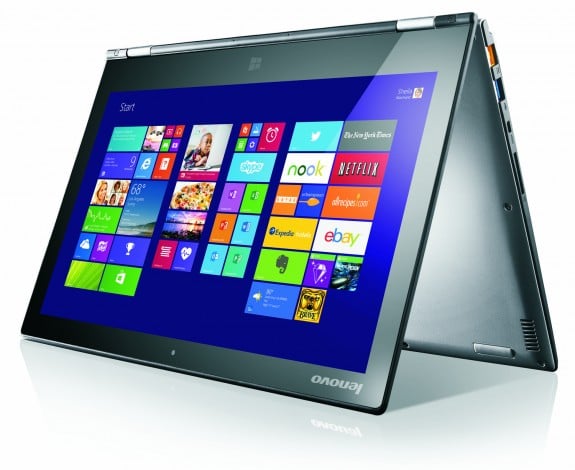 Previously the Yoga line was limited to Lenovo's IdeaPad consumer line of notebooks, but now businesses can purchase a ThinkPad Yoga which includes the ThinkPad hallmarks as well as a special "Lift n' Lock" keyboard that tucks the keys into the device while in tablet mode.
The Lenovo Yoga Pro 2 doesn't include the same Lift n' Lock keyboard technology, but it does offer a slimmer, lighter device to users. The Flex 14 and Flex 15 bring some of the flexibility of the Yoga 2, but only offers stand and laptop modes.
ThinkPad Yoga
The ThinkPad Yoga comes with a 12.5-inch touch display covered in Gorilla Glass for enhanced durability. Like the original Yoga, this ThinkPad hinge allows users to swivel the display into stand, tent and tablet mode, in addition to using it as a laptop. The ThinkPad Yoga also supports Onelink and Onelink Pro docking to connect to power and accessories at a desk with one cable.
The ThinkPad Yoga pushes a keyboard plate out when swiveled into stand or tablet mode, removing the tactile feel of the keys which pestered owners of the original Yoga notebook. When this pushes out, small feet also come out to keep the keyboard off of a desk. The video above shows this in action.
Users can also purchase the ThinkPad Yoga with a Wacom Digitizer supporting Pen input, with an included Pen for use on the Full HD display. Users also get NFC, Mini HDMI output, an SD card reader, headphone / mic jack, two USB 3.0 ports and Onelink. The device weighs 3.48 pounds and measures 19mm thick.
The ThinkPad Yoga starts at $949 with availability in November.
IdeaPad Yoga 2 Pro
The IdeaPad Yoga 2 Pro takes what we liked about the Yoga Lenovo first brought to market and adds QHD+ higher resolution display into a thinner and lighter package.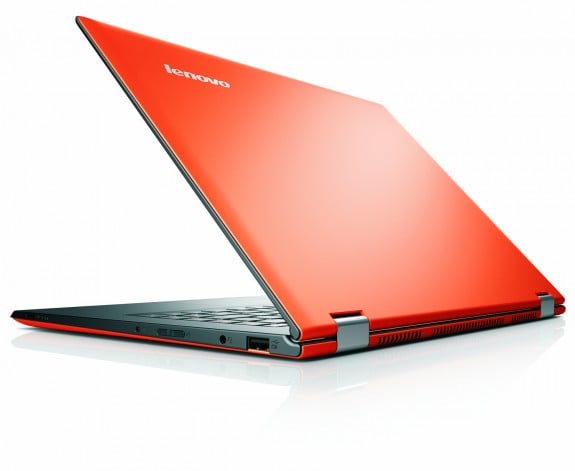 The Yoga Pro 2's 10 finger multitouch display comes with a 3200 x 1800 resolution and brightness rated at 350 nits, which should help users who plan to take this device outside. The device uses the latest Intel Core i 4th generation U series processors which should help deliver better battery life overall. Still, this notebook is only rated at 6 hours of battery life.
The Yoga 2 Pro lets users wave a hand in front of the 720P camera to cycle through photos and presentations and there is software to detect when uses switch between laptop, tent, stand and tablet mode in order to deliver faster access to apps that fit that mode.
The Yoga 2 Pro starts at $1,099 and arrives in October.
IdeaPad Flex 14 & Flex 15
The IdeaPad Flex 14 and Flex 15 don't make the full transition to tablet like the Yoga, and are much heavier, but they do let users swivel the display around to stand mode, which is a plus for watching movies in bed or on a plane.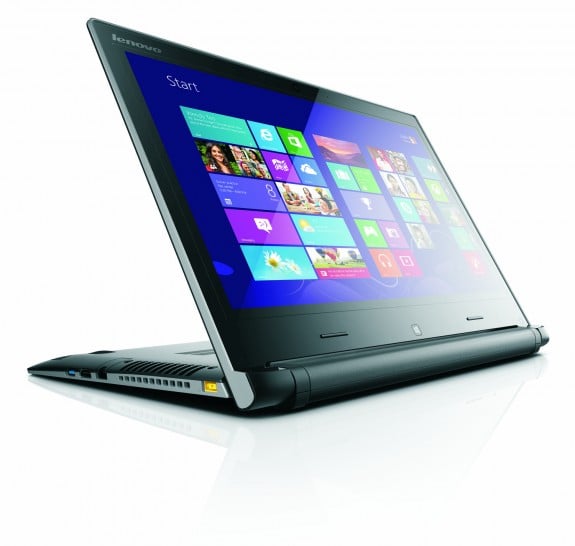 The Flex 14 comes with a 1366 x 768 resolution 14-inch display while the Flex 15 can be equipped with up to a 1080P Full HD 15-inch display. Both offer the option of up to a 4th Generation Intel ULT Core i7 4th generation processor and up to 8GB of RAM. Users can configure the notebooks with up to a NVIDIA GeForce GT740M GPU with 2GB RAM.
The Flex 14 comes with up to a 500GB HDD and the Flex 15 up to 1TB. Both notebooks can be configured with an optional 16GB SSD. The Flex 14 weighs 4.41 pounds and the Flex 15 weighs 5.07 pounds.
The ThinkPad Flex is available later this month starting at $629.