Lenovo Yoga 710 15-Inch Review
Windows PC maker Lenovo likes to take chances on new form factors and ideas. It's able to do that because of its stable of established hardware designs. Take the Lenovo Yoga 710 15-Inch for example. You'd never know that aluminum-clad machine isn't a regular notebook by just glancing at it.
The Lenovo Yoga 710 15-Inch is more than a notebook, though. It gets its "Yoga" designation thanks to two hinges that allow its display to lay flat on its back. Even if the idea isn't fresh and new, the high-end feel of the machine is. Add in some upgraded Intel hardware and a fingerprint reader and you've got a machine that handles well and looks nice for a perfectly reasonable $829.99.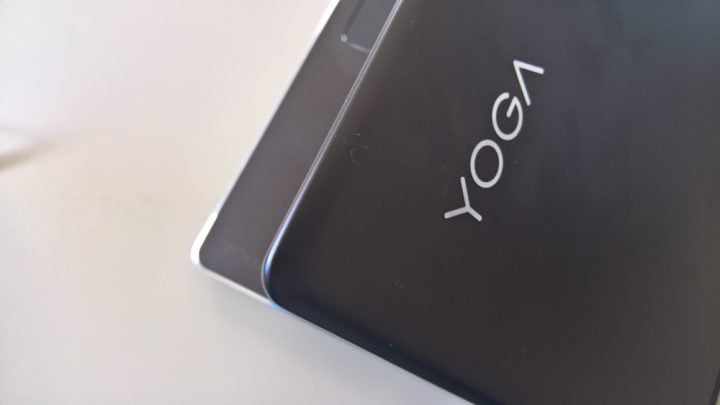 Lenovo Yoga 710 15-Inch Review: Design & Internals
Lenovo makes a lot of notebooks besides the Lenovo Yoga 710 15-inch. Almost none of them are as attractive and elegant looking.
The notebook's cover and body are all sculpted pieces of aluminum. Mixed in with all of this slick black surface area are silver accents that glisten in the sunlight. These silver edges run around the 15.6-inch display. They run around the perimeter of the keyboard deck, too. Their smartest use is as visual markers for where you should place your finger when using the touchpad and the fingerprint reader. Despite being a fingerprint magnet, the aluminum looks nice.
Lenovo calls this color, Black Pearl, which is fitting, I suppose. Priced at $849, the company is hoping that this notebook will appeal to shoppers for whom design is just as important as how the hardware inside performs. To underscore that further, the machine comes equipped with JBL Stereo speakers and an NVIDIA 940MX graphics card with 2GB of dedicated RAM. The keyboard also has backlighting, which is something usually left out of less costly machines.
The Yoga 710 15-inch is attractive and stunning, but it's not light. It weighs 4.41 pounds. That's definitely a minus for anyone that's trying to use it as a tablet mainly. Of course, I doubt those users would be in the market for something with a 15.6-inch display anyway. On the positive side, the machine is relatively thin for a 15-inch notebook. From front cover to back cover, the Yoga 710 15-Inch notebook measures just 0.71-inches.
Gotta Be Mobile's review unit of the Yoga 710 15-Inch came loaded with a 7th Generation Intel Core i5 Mobile processor and Intel HD Graphics 620. It also had an NVIDIA GeForce 940 MX graphics card with 2GB of dedicated memory. There was 8GB of RAM and 256GB of solid state storage. Every one of the machines comes with 802.11AC wireless technology and Bluetooth 4.0. Everyone gets a 720P web camera, 2 full-size USB 3.0 ports, micro-HDMI, a media card reader and a headset jack too.
The media card reader, headset jack and power plug all sit on the left edge. The other ports are aligned on the right with the side-facing power button. The power button is there for easy access in Tablet Mode.
Lenovo Yoga 710 15-Inch Review: Performance & Experience
The Lenovo Yoga 710 15-Inch's claim to fame are those new internals and fingerprint reader. I'm happy to say that both are valid reasons to buy this notebook.
The fingerprint reader is managed by Windows 10. By scanning your finger, you're able to login to the PC without typing your password or PIN code. The fingerprint reader in the Yoga 710 worked well. It recognized my fingerprint every time. What's more, it supports using multiple fingers. For the best experience, I programmed it with my entire right hand. Apps in the Windows Store make use of the fingerprint reader for logins too.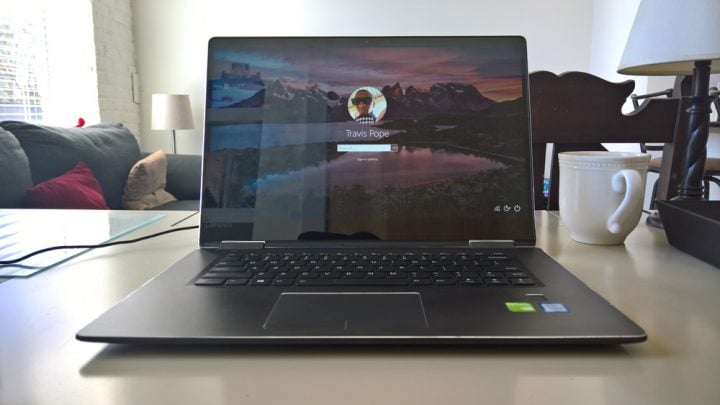 I was worried that I wouldn't be able to rely on the fingerprint reader because I switch in and out of tablet mode regularly. Luckily, the fingerprint reader is in the perfect position for both form factors. It stays on in Tablet Mode despite the keyboard being disabled.
It's also worth pointing out that Lenovo has ditched the usual touch-sensitive Windows button below the display in this device. Though tapping on the on-screen Windows button may take some adjusting to, the company is right to do so. I always managed to accidentally trigger the touch-sensitive button when handling older Yoga devices in portrait mode.
Intel's 7th Generation Core i5 processor allows the Lenovo Yoga 710 15-Inch to run mostly quietly and eek out 8-hours of battery life from its internal battery. I never once felt like the notebook was struggling with a task I gave it. Photo editing and splicing together a few short video clips went well. Web browsing and using Windows 10 felt effortless.
When people see or hear NVIDIA GeForce, they think gaming. While the Lenovo Yoga 710 15-Inch wasn't explicitly designed with gaming activity in mind, the latest games run on the system. Users just have to keep them tuned down to their minimum settings because there's only 2GB of dedicated video RAM. Less demanding games like Minecraft and the casual stuff in the Windows Store run just fine. Expect lots of fan noise and heat. Don't look for anything above 30 frames per second in high-end games either.
Windows 2-in-1s designed to be notebooks first have to get heat management right. You don't want to hear a fan when you're snuggled up to your tablet trying to watch a movie. You certainly don't want hot air from its processor spilling onto your hand as you hold it to read either. Neither are an issue for this notebook. Unless it's really being pushed, the fan is silent and the notebook stays very cool.
A tight hinge ensures that the Yoga 710 15-inch doesn't fall prey to a problem that's ruined a few other devices in its category. Only when you tap the screen pretty high up in Notebook Mode do you get a lot of screen wobble. You'll struggle a little against the hinge the first time you turn it into a tablet, but it's not too tight. Some of the design decisions that make it a look like an unassuming notebook also make it feel pretty awkward one you hold it in Tablet Mode. That curved edge below the screen is one of those things. With this design, such compromises are necessary. It's  a notebook first and tablet second.
The JBL speakers and spacious 15.6-inch display on this machine make it a video watching powerhouse. For devices that are meant to be used outside of a corporate environment, Lenovo usually goes with a glossy display that makes colors look vibrant and pop. It has done that here to great effect. The display's brightness is going to take some people time to get used to, though. At 50% it's sometimes not capable of withstanding the screen glare its glossy display cover creates. At minimum, you're going to want to keep this machine at 75% brightness. Sadly, that's going to eat into that promised and totally obtainable 8 hours of battery life.
Lenovo Yoga 710 15-Inch Review: Specifications
| | |
| --- | --- |
| Processor & Graphics | Intel 7th Generation Core i5-7200U Mobile Processor, Intel HD Graphics 620, NVIDIA GeForce 940MX with 2GB of dedicated RAM |
| Memory & Storage | 8GB of RAM, 256GB of Solid State Storage |
| Display | 15.6-inch 1920 x 1080p IPS Display |
| Ports & Extras | Bluetooth 4.0, 802.11 AC Wireless, Backlit Keyboard,2 JBL Speakers, 2 USB 3.0 Ports, 1 micro-HDMI port, 720p web camera, card reader, headset jack, fingerprint reader |
| Battery Life | 8 Hours |
| Dimensions & Weight | 14.13-inches x 9.57-inches x 0.71 inches, 4.41 pounds. |
Lenovo Yoga 710 15-Inch Review: Should You Buy?
Lenovo revealed its first Yoga around the same time that Microsoft launched Windows 8. In that time, it's slowly refreshed everything about them. The keyboards aren't too shallow anymore. Power button placement has improved. More importantly, Intel has managed to create processors that get rid of unwanted fan noise and excessive heat.
There's nothing so wrong with the Lenovo Yoga 710 15-inch that you shouldn't buy it. It's taken some time, but the company is hitting a decent stride with this line of devices. The notebook does have a tad too much screen for shoppers that are going to use it in Tablet Mode often, but that speaks more about buyers than the device itself.
The Lenovo Yoga 710 15-inch is a well-functioning, well designed Windows 10 notebook.

As an Amazon Associate I earn from qualifying purchases.