Lenovo Yoga 710 14-inch Review: Luxury at a Reasonable Price
If I told you that there was a Windows 2-in-1 with a spacious 14-inch display, tons of storage and a high-end aluminum finish you'd probably assume it wasn't reasonably priced. We expect quality Windows 2-in-1s to be expensive because they always have been. The Lenovo Yoga 710 14-inch isn't expensive at all.
This new Windows 2-in-1 can transform from notebook to tablet in a few moments. It offers solid speakers, a bright 14-inch display and great battery life, too. It does all of that for just $799.99 in the configuration we tested.
Lenovo Yoga 710 14-inch Review: Design & Internals
Lenovo describes the Yoga 710 14-inch as "Platinum Silver." That's actually a pretty fair description. Closed, the clamshell is a metal wedge with a few design flourishes in the right places. The Yoga name sits embossed on the aluminum lid's left corner. The Lenovo logo is in on the right-bottom corner. The whole PC oozes a premium feeling. Its metal skin is cool to the touch and makes a smooth grating sound as you run your fingers across it. The bottom of the notebook is basically a mirrored edge of the top, but with large fan vents interrupting it to provide cooling for the powerful processors that users can configure the Yoga 710 with. From top to bottom the machine measures just 0.68-inches.
The edges of the Yoga 710 are tapered so that the machine feels more comfortable in Tablet Mode and when you're picking it up by its edge. A charging port, media card reader and headset jack sit on the left edge of the notebook. On the right edge are two USB ports and a Micro-HDMI port that makes connecting to external displays simple – provided you have the appropriate adapter.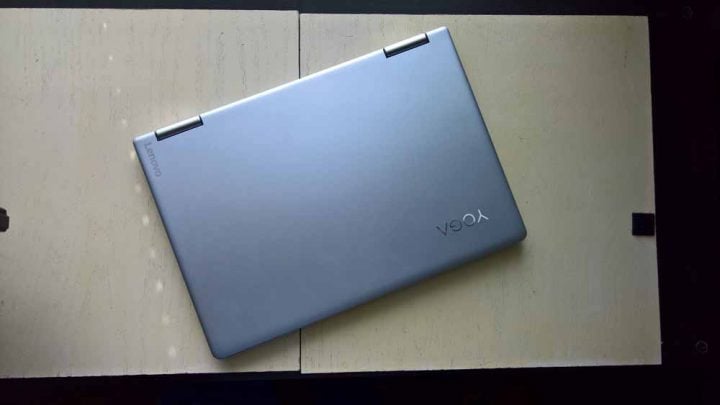 The Lenovo Yoga 710 14-inch looks very, very high-end thanks to silver beveled edges that run along most of the machine's components. The accent is used on the keyboard deck, touchpad, and display. The entire notebook weighs just 3.52 pounds.
Internals
Lenovo managed to stuff a lot of options into the Yoga 710's slim body. The machine can be configured with 6th Generation Intel Core processors. Gotta Be Mobile's review unit came with a 2.8Ghz Intel Core i5 processor, 8GB of RAM and a 256GB Solid State Drive. That's plenty of storage for PC and more than enough storage when compared to tablets the Yoga 710 hopes to convince users they don't need.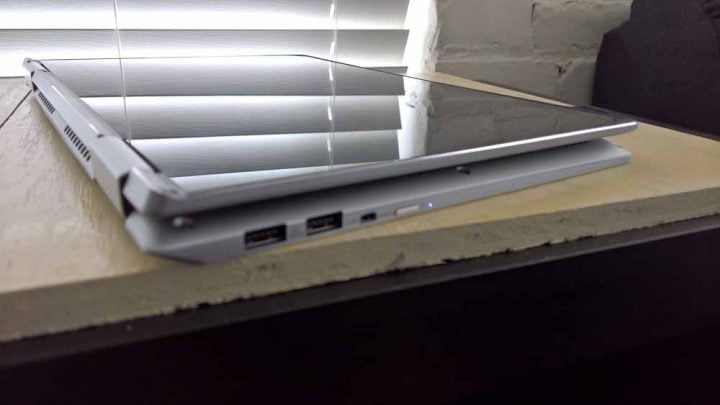 With a 2-in-1, you're usually left to figure out whether you want less girth or graphics horse power. Really thin notebooks all rely on Intel integrated graphics, thus PC makers can get the thinnest profile possible. In what I consider to be a pretty thin and svelte chassis, Lenovo has stuffed in an NVIDIA GeForce 940MX graphics card with 2GB of RAM. The notebook switches between the two, depending on what your demands are at that point.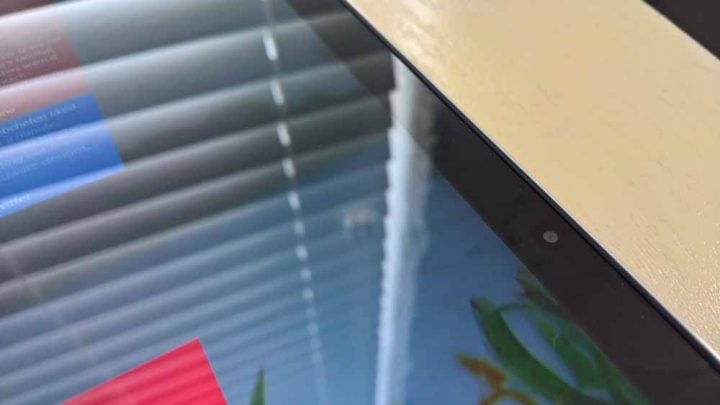 JBL provides the speaker technology inside the Yoga 710 as Lenovo is keen to position the Yoga 710 for both work and play. Together with the 1920 x 1080p display, watching movies and television shows is a treat on the machine. Through Lenovo's companion apps, you can tweak the Dolby settings and set different sound profiles. The speakers are definitely loud enough to fill a room, but playing around with the settings didn't allow me to get a lot of bass out of the notebook. That's not necessarily a bad thing, if you're someone who uses headphones frequently or doesn't like a lot of bass response anyway.
Lenovo Yoga 710 14-inch Review: Experience
Lenovo says that the Yoga 710 can last up to 8 hours in between charges. I don't think they're wrong, especially after you enable the system to automatically adjust its screen brightness to account for your current lighting conditions. Problem is, you need to turn that feature on from the Lenovo Companion app; it was not enabled by default.  7 hours and 30 minutes is how long I managed to last with the notebook adjusting brightness. I got about 6 hours and 30 minutes when the feature wasn't enabled. My mix of apps included word processing, some picture editing and lots of web browsing.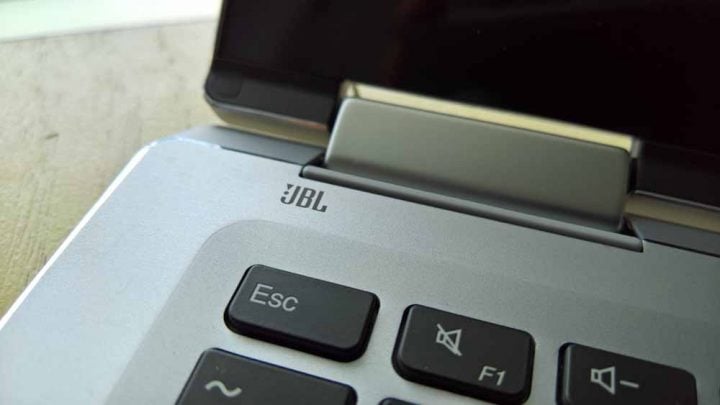 As a notebook, the Yoga 710 is superb. The touchpad has just the right amount of friction to balance your mouse movement on-screen and your gestures on the touchpad. I can't speak highly enough of the Yoga 710's keyboard either. The keys on its deck have more travel than you'd assume. Lots of 2-in-1s in this category end up with weak hinges that wobble as you type or tap on things. Microsoft's Surface Book suffers from this problem. The Yoga 710 doesn't wobble unless you tap on the very top corners of its screen. That's to be commended.
The Yoga 710 doesn't always impress, though.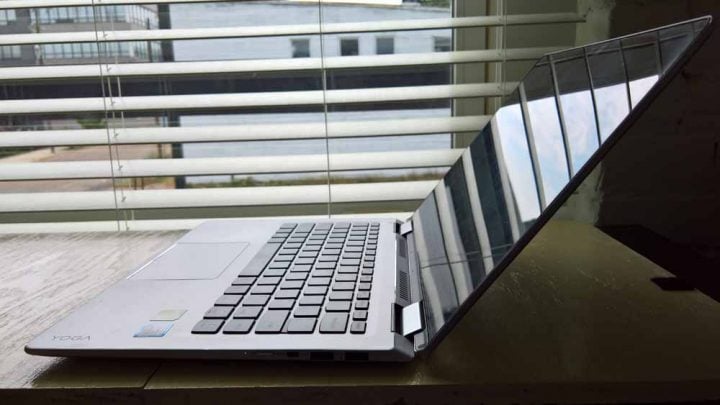 If you're just looking at a few websites, the Lenovo Yoga 710 stays quiet, but updates running in the background or keeping a few programs open can kick the notebook into overdrive. When this happens, the fan is pretty audible. In tablet mode you are reading or watching a video. You don't want to hear fan noise. Sometimes the fan and its high-pitched wine kick on when the notebook is at just 10% of its processing capacity in a cool room.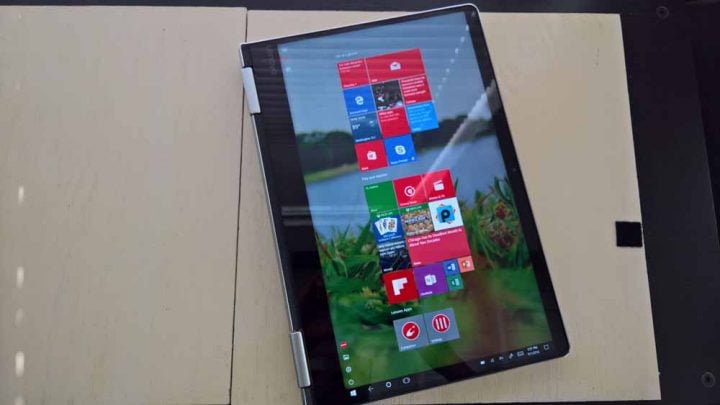 If you are right-handed, the spine of the Yoga 710 sits in your left hand as you read in portrait mode. That's fine as long as you're not doing anything too intensive. An exhaust fan blows out of these areas, warming your finger tips if you are doing something that taxes the processor. This isn't awful, it's just not ideal. With a notebook that turns into a tablet you are compromising on heft. The Yoga 710 14-inch is not nearly as thin as a pure tablet is. Again, that's not new to this machine; it's a trait all devices in this category have in common.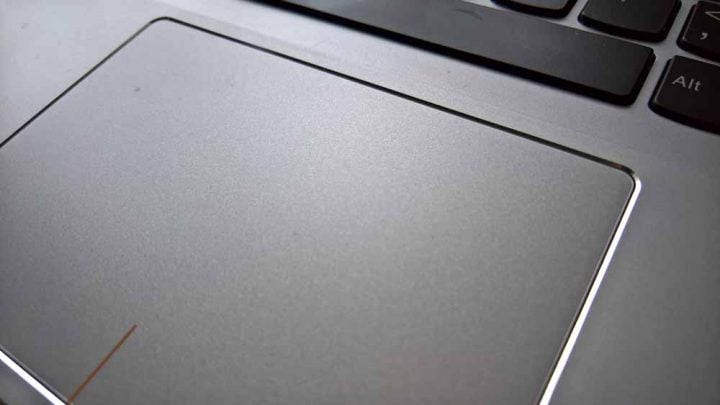 One software feature that enhances the tablet experience is a reading mode switch that forces the notebook's display to mimic newspaper or an E Ink screen. This mode makes reading the New York Times, or your latest Amazon Kindle download, easier on the eyes.
Lenovo Yoga 710 14-inch Review: Specs
| | |
| --- | --- |
| Processor & Graphics | 2.8 Ghz Intel Core i5-6200U, Intel HD Graphics 520 & NVIDIA GeForce 940MX with 2GB of Dedicated RAM |
| Memory & Storage | 8GB of Memory & 256GB SSD |
| Display | 14-inch FHD touch display with a resolution of 1920 x 1080 pixels |
| Ports & Extras | 720P web camera, JBL Stereo Speakers, 1 USB 3.0 port with device charging, 1 USB 3.0 port, micro-HDMI, media card reader, headset jack |
| Battery Life | 8 Hours in best conditions |
| Dimensions & Weight | 3.52 pounds & 0.68 inches from top to bottom |
Lenovo Yoga 710 14-inch Review: Should You Buy?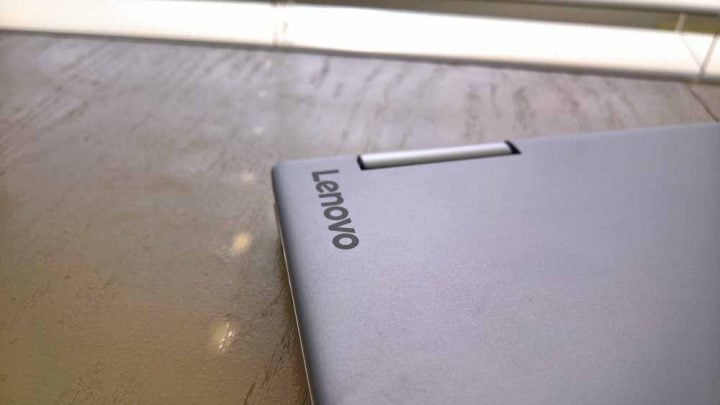 If you've tried other Windows 2-in-1s and they just didn't meet your standards, I'd say give the Lenovo Yoga 710 a try. It's a notebook that doesn't compromise on style, weight or keyboard. Its Micro-HDMI port is less than ideal, but anyone that doesn't connect to displays in meetings and conferences often won't be too bothered by it.
The Lenovo Yoga 710 is a machine that manages to balance affordability and high-end features just fine.  The 710's problems in tablet mode – save the exhaust fan – are the problems of the form factor in general. At least you're getting a durable, elegant machine with enhanced graphics, a high-definition display and $799 price tag for your trouble.

As an Amazon Associate I earn from qualifying purchases.